Math is not always the easiest subject to teach kids. There are always some concepts that are quick to teach because your student catches on right away and there are others that your student will struggle with. Fractions can be one of those subjects - one that students either get or they don't get. When we had the opportunity to review
Math Mini-Courses
from
A+ Interactive Math
, I looked at the mini-courses they offered and I was very excited to find courses on fractions. We received two different mini-courses to review. I picked Early Elementary Fractions for my 2nd grader and Advanced Fractions for my 7th grader.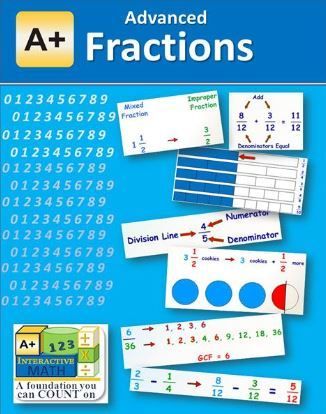 The Online
Math Mini-Courses
from
A+ Interactive Math
are designed to help close the learning gaps in areas of math that students commonly struggle or have weaknesses with. They offer 20 different math mini courses covering a wide range of topics. Some of the courses are for early elementary school children (1st - 3rd grade), some course can be used for all elementary school children (1st - 6th grade), and some courses are designed for upper elementary and middle school (4th - 8th grade). The number of lessons in each mini-course depends varies. The mini-courses offered are:
Counting and Identifying Numbers
Place Value and Number Combinations
Naming, Comparing, and Arranging Numbers
Early Elementary Fractions
Early Elementary Addition
Early Elementary Subtraction
Elementary & Middle School Multiplication
Elementary & Middle School Division,
Tables, Charts and Graphs
Elementary Geometry
Elementary Algebra
Advanced Geometry
Advanced Fractions
Decimal Numbers
Percentages
Time
Money
Number Types and Conversions
Ratio, Proportions, Probability & Statistics
Measurements and Conversions
You can see that these Math Mini-Courses from A+ Interactive Math cover a wide range of topics. Each course covers a group of specific math concepts from several grade levels. The courses are completed online (you can print off worksheets and enter the answers in after your student completes the worksheet) and the student can see their progress as well as you can in the teacher tracking area. The courses feature automatic grading, animated lessons, audio, and tracking so you can know how far along your student is. The Mini-Courses are affordable too. They range in price from $9.99 to $19.99 and include access for a full year even though each course can be completed in just a couple of months.
A screenshot of one of the lessons
So how did we use our Math Mini-Courses? I chose to receive the Early Elementary Fractions for my 2nd grader and the Advanced Fractions for my 7th grader. My second grader is just now starting to learn the beginning of fractions in her regular math book so I thought this mini-course would be perfect to help supplement what she was learning. The Early Elementary Fractions course covered several topics including an introduction to fractions, equivalent fractions, and adding fractions. As she started working on it, we realized that this program was ahead of her math book which was okay. It just meant that I had to help make sure that she paid close attention to the explanation videos and then she wanted me near when she was answering the questions since she was covering new material. She was unsure of the new concepts she learned at first, but as she worked her way through the interactive review questions she gained confidence and really knew what she was doing. Her favorite part of the program, besides learning new fraction concepts was clicking the frog's belly to submit her answers. I heard cheerful "I clicked his belly" calls repeated as she worked through the lessons. In just a short amount of time with the program, we got about halfway through completing the whole mini-course. She will continue to work her way through the Early Elementary Fractions until she finishes the course.
Here is the frog and his belly that you click (this was from my son's course)
I also had my son working on the Advanced Fractions Math Mini-Course. He is currently working through Pre-Algebra for school and did some fraction work this year as part of that. I figured it couldn't hurt to have him work on this mini-course as well to just reinforce what he has learned and worked on. This course covered several topics including the greatest common factor, mixed fractions, and several methods of converting fractions. These were all concepts he has learned before, but I felt like this program did teach him some new ways to look at the fractions and it was a great reinforcement of what he has already learned. He didn't mind working through this program as he knows that fractions can be tricky for him. He did comment that he wished you didn't have to wait for the program to read all the answers to you before you select the answer. I however though this was a good thing even though it made the lesson take a little longer because it made him stop and think through all the answers before choosing which saved him a couple of times from choosing wrong. He really did enjoy the fact that the program graded his answers as he went and when he finished the questions, he knew his total score. He is also about halfway through his mini-course after just a few weeks of work. He will also continue to work his way through Advanced Fractions until he finishes the course.
They both loved seeing when they got answers right.
Overall the
Math Mini-Courses
we received from
A+ Interactive Math
have been really great. I think they did fill in some gaps of understanding for my son in the Advanced Fractions and it has been a great starting point for my daughter with the Early Elementary Fractions since her regular math has just been introducing fractions. I feel like it will set her up to work through fractions better in next year's math and she will have an understanding of them already. I also liked having a teacher's login so that I could check on their progress and see what they had been working on. I will tell you that at first it was a little confusing to figure out how to get the courses started for each child. I didn't have any problems setting up each student, but once they logged in figuring out where they should start was a little confusing. When they start a lesson a box pops up that has you mark the lesson as "In Progress" and if you don't mark that it will not record their work and progress. Once we got the hang of doing that we were fine. The other thing that you have to make sure you do is click the frog's belly to submit your answers instead of the "next" arrow. Until we got used to the program, I had to remind them to click the belly instead of hitting next. Other than these 2 things, I think it is a great program and it really helped my kids with fractions. I look forward to checking their knowledge after they completely finish the program. I am also very interested in checking out their other mini-courses to help fill in gaps in our current math program. If your students have any weaknesses with math or you just want to reinforce what they have learned this year, you should definitely check out A+ Interactive Math. It would be a great summer program so they don't lose what they learned over the last year.
This is a sample of what you can see in the teacher's area. I could see what my daughter had completed.
You can check out the Math Mini-Course information
here
. You can find A+ Interactive Math on their
website
as they have other programs to offer too. You can also find them on
Facebook
,
Twitter
, and
Pinterest
. Please go and check them out.
Also be sure that you click the banner to check out more reviews of A+ Interactive Math from the Schoolhouse Review Crew because different crew members checked out different Mini-Courses. I will definitely be looking through the reviews to check out the other courses that I did not try.