Little Miss is always mesmerized when I am typing on the computer and she is always asking when she will get to learn to type. She was super excited when we got the chance recently to review
Read, Write & Type
from
Talking Fingers Inc.
because it was finally her turn to learn to type. This program was not only fun for her to use, it was also very educational which is a win-win in my book. I didn't have any issues getting her to use the program, I only had issues getting her to stop working on it each day.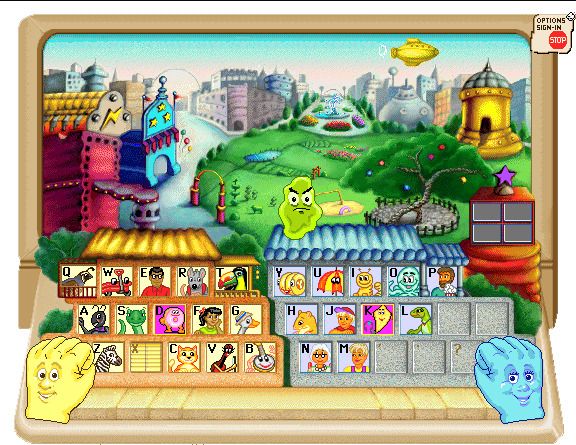 Read, Write & Type
from
Talking Fingers Inc.
is an online program that integrates phonics, reading, writing, and keyboarding. This program has 40 lessons in it and is designed for ages 6 through 9. It pairs speech sounds with a letter and finger stroke on the keyboard while it teaches students to pronounce, segment, type, and spell words as they play games and try to defeat the virus named Vexor who keeps stealing letters. There are also several other characters in this program such as the Talking Hands that give the basic instructions and the story takes place in a city where you can visit many different places in the city and complete different activities. This program also has special features for students with learning disabilities, reading difficulties, or ESL but we did not use these aspects of the program.
Little Miss getting started on Day 1 of the program.
Like I said earlier, Little Miss was super excited when she found out that we had received a One Year Subscription to
Read, Write & Type
from
Talking Fingers Inc.
to review. She didn't have to be asked twice to get on the computer and start working with the program. Once I got her logged in, she jumped right in and began working on the program. She was completely mesmerized by the characters and the stories that went with them. She absolutely loved learning the keyboarding from the program and she would re-cap the stories to me that she had read while learning the letters. She loved the days that she got to send an "email" to other kids (don't worry she wasn't sending real emails, this is just a part of the program that simulates email to other kids). Little Miss liked that she got instant feedback of how she was doing on the program and when she would complete 4 letters, she got a certificate of completion. Even though the program is designed to take only about 15 minutes each day, Little Miss wanted to work each day until she got her certificate. It was her self-imposed daily goal.
One of the Certificates of Merit (it does include her name, but I erased that part for this picture).
Another certificate Little Miss earned.
The program put the completed characters in the appropriate windows. (This was about a week or so into the program)
As a parent and her teacher, I was also really impressed with the program. I really thought that it would just be teaching her keyboarding, but as I was listening and watching her work I saw that
Read, Write & Type
from
Talking Fingers Inc.
was also reinforcing her letter sounds, helping her with her reading skills, and working on her hand-eye coordination as she was learning where her fingers went on the keyboard. I really appreciated that the program has a built in "Bonus Blimp" that kept track of her performance and would send her back to activities that she needed to practice on. I also liked being able to log in under my level (the instructor's level) and get a complete report of how she was doing. The detailed reports tracked each level and how she did in Phonics, Reading, Spelling, and an overall Average of the lesson. There was also an area of settings for my student where I could set which days she was allowed to log in (I left it so she could log in every day, even on the weekends), the passing grade (she had to get at least 70% to pass, but she was always well above that), and the difficulty level of the program. I set the difficulty level at easy for this time since she had no experience with this program. Little Miss definitely wants to continue working on this program even though she has it almost completed (she has finished 8 out of the 10 levels in just a few weeks) and after she completes all 10 levels, I plan to change the difficulty of the program so she continues learning from it and building her typing skills. I also really appreciated that once I got her logged into the site, she could work on her own. She usually worked while I was finishing school with her brother, it kept her occupied, learning, and not interrupting his work. I definitely recommend that you check out this program for yourself.
Here are the settings I could edit in the instructor area.
Read, Write & Type
from
Talking Fingers Inc.
has been a great program for us to work through. We definitely give it two thumbs up and think it is a great value for the price of it. You can try it for yourself on their website because they do offer a free trial of this program. Talking Fingers Inc. has several pricing plans for Read, Write & Type based on how many students you are using this program for and where you are using it (homeschool setting or a school setting). They also offer other products for other ages that you can try out on their website too. Please go and check them out. You can find Talking Fingers Inc. on their
website
,
Facebook
,
YouTube
, and
Twitter
. You can find the Read, Write & Type program that we used by clicking this
link
. Please go and check them out today!
You can also find out what other members of the Schoolhouse Review Crew thought of Read, Write & Type from Talking Fingers Inc. by clicking the picture below: