My daughter had just started learning her multiplication facts after Christmas and she was doing pretty good at the lower multiplication facts - the 0, 1, and 2 fact families, but anything above those numbers and she would get frustrated with her math. When we were given the chance to review
Times Tales
from
The Trigger Memory Co.
I was pretty excited because I thought this program could really help her. These DVDs and accompanying worksheets are designed to make it fun and easy for students to memorize the upper multiplication facts by using stories and mnemonics. I can tell you that it actually works and my daughter is no longer struggling with her upper multiplication facts.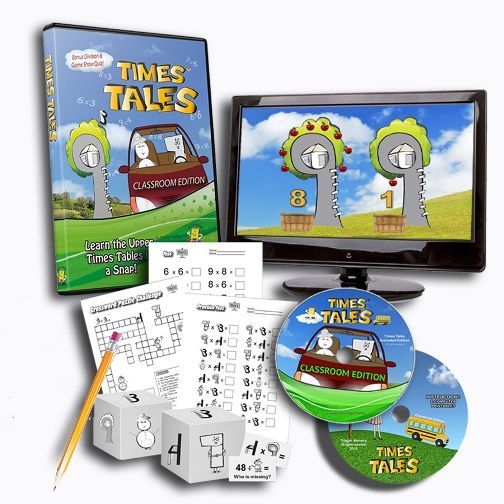 We received
Times Tales
from
The Trigger Memory Co.
as a digital download to review. The digital download includes 2 mp3 files for parts one and two of the Times Tales movies which are about 30 minutes each. It also included 3 PDF files which contained worksheets for each part of the movie and an answer key. The files did take awhile to download, but keep in mind you are downloading movies. The Trigger Memory Co. also has Times Tales available as DVDs if you prefer that format.
Times Tales
is designed to teach the following multiplication facts: 3x6, 3x7, 3x8, 3x9, 4x6, 4x7, 4x8, 4x9, 6x6, 6x7, 6x8, 6x9, 7x7, 7x8, 7x9, 8x8, 8x9, and 9x9.
When we got this product to review my second grade daughter had just really started learning multiplication in her math book. She had the lower multiplication facts down. The ones that were easy - 0, 1, and 2. Her math book had just started introducing the middle and upper facts, but they were really frustrating her because they were not easy for her to remember like the low facts are. You know the rules 0 x anything is 0 and 1 x a number is that number. That was easy for her, but I couldn't teach her an easy way to memorize the middle and upper facts besides just practicing them over and over. Little Miss sat down to watch part one of the
Times Tales
video and she was completely engrossed. The beginning of part one introduces the characters and the format of the program. It also suggested watching Part Two of Times Tales about a week after Part One while reviewing the information learned in Part One.
Watching Part One of Times Tales
The
Times Tales
videos are filled with number characters who each have a story. These little stories that the number characters have are mnemonic stories that teach the students the facts so that they can recall the stories and the multiplication facts. After watching Part One of the video, my daughter came out talking about Mrs. Week, Mrs. Snowman, and Chair. These are some of the number characters in the video. She then told me what the characters were doing. An example of one of the stories that she learned is: Mrs. Week (who is number 7 because there are 7 days in a week) went butterfly hunting. She caught 20 in her net and 1 landed on her head. From this you get the fact 7x3=21. The following day I printed off the worksheets for Part One and my daughter started working through them. She didn't want my help, she said she could do it by herself and she was right. She sat working on the multiplication facts worksheets and she got all the answers right on it about 2 minutes. This is the same girl that was taking at least 30 minutes to answer 12 multiplication facts on her math worksheets. I was blown away! After she finished the worksheets, I had her review the facts the rest of the week.
Watching Part 2 of Times Tales
The second week, I had my daughter watch Part 2 of
Times Tales
and again she came out telling all about what the characters were doing. She of course loved the story about the monkeys getting fed since she loves monkeys. The following day I gave her the worksheets for Part 2 and again she flew through them and got all the answers right. Again I was blown away! Now when she is doing her regular math workbook and she gets stuck on a multiplication fact, all I have to say is what are the numbers doing and she will get the fact right away. I have had her watch both videos a couple more times since the first two weeks just for reinforcement of the facts she learned, but I know without a doubt that she knows her upper multiplication facts from using Times Tales by
The Trigger Memory Co.
Even last night I was asking Little Miss some multiplication problems to see if she still remembered the stories and she rattled off the answers with no problem. Then she told her dad the story about the numbers and that is how she knew the answers. She told us about apples, tree houses, and speed limits because that is how she knows the facts. I truly wish I would have know about this program when my son was younger so he could have picked up his multiplication facts so quickly too.
We are extremely impressed with
Times Tales
from
The Trigger Memory Co.
and the HUGE progress my daughter made on her multiplication facts just by watching these videos and practicing the worksheets. I strongly urge you to purchase this program to use if you have students just learning their multiplication facts, students struggling to learn their multiplication facts, or you just want to reinforce the facts that they have learned. This program has been a HUGE blessing to our school and my daughter's math. You can find The Trigger Memory Co. on their
website
and on
Facebook
. You can also find their product Times Tales in their online store by clicking
here
. I hope you will check it out for yourself and if you do, let me know how it works for you.
You can also find out what other members of the Schoolhouse Review Crew thought of Times Tales by clicking the picture below: