One of my daughter's favorite things to do is paint, but it is always so messy. We were really excited to receive a new kind of paint to review from
The Pencil Grip, Inc
. We received a
Kwik Stix 12 pk
from them that promised to be no mess, yet it would still be fun. No paint mess and it is still fun? That is my idea of a great product and a great product is exactly what we received to review.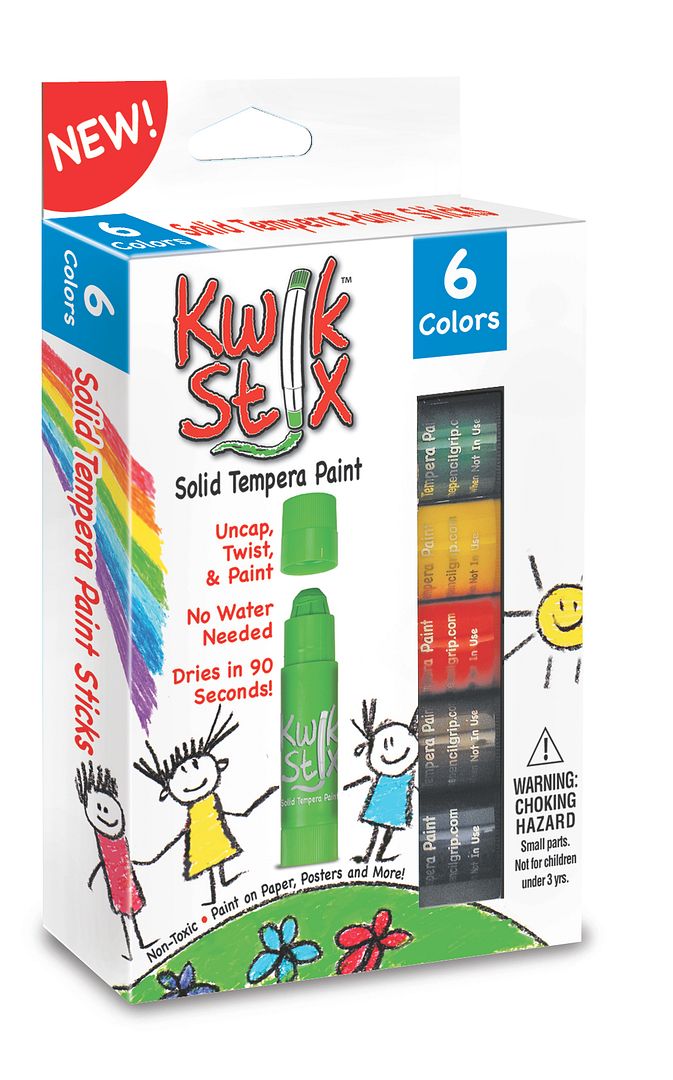 Little Miss was super excited when she found out we would be reviewing a craft product. She is my arts and crafts kid that loves anything to do with creating. Like I mentioned before, painting is one of her absolute favorite things to do, but it can be so messy. It always seems like a water cup gets knocked over, the paint dries out, or the paint takes forever to dry so our table is out of commission the rest of the day while we wait for her paintings to dry. So I was also excited to see if the Kwik Stix were really mess free and fun.
Receiving our Kwik Stix and using it. Also some of the first paintings she worked on.
Kwik Stix
are Solid Tempura Paint sticks that come in many colors. We received a 12 pack of the classic colors which include red, yellow, orange, green, blue, black, purple, brown, white, lime green, dark blue, and pink. They are about the size of a glue stick which is an easy size for little hands to hold. They are easy to open and easy to use. You just pull off the cap, twist the paint up a little, and paint. They feature a fast drying formula that allows them to dry in just 90 seconds with a paint-like finish. You can use them on paper, poster board, cardboard, wood, and canvas. You can even layer the colors on top of each other with our creating a mess because they dry so quickly.
More paintings, showing her work, and testing The PENCIL GRIP Original
Little Miss tore into the package when it arrived and went off to find her drawing paper. She came back, sat down at the table, and started painting with her
Kwik Stix
. She uses them almost every day. She loves being able to draw with her paint sticks instead of having to draw something in pencil first and then filling it in. She also loves that she can combine the colors by layering them on top of each other. She likes that they are not messy and there are no water cups for her to accidentally spill on her painting. She also loves the bright colors of the paint and that her pictures are still as bright today as the day she painted them. I love that the Kwik Stix are mess free and I don't have to worry about where she uses them like I did when she was painting with water colors. The only thing I do when she is done painting is make sure all the caps are closed tightly on the Kwik Stix so they don't dry out. I also like that she is excited to paint and create. I love the bright colors and that the pictures don't fade. I also love to see her artwork covering my fridge. I must also tell you that my 7th grader who also likes to draw had fun with the Kwik Stix when he could get them away from his sister. We only tested these on different types of paper for the review, but we do plan to make even more art projects with our Kwik Stix and try them on canvas this summer.
The Pencil Grip, Inc.
offers other products for sale too. They were very generous to include one of their pencil grips, The
PENCIL GRIP
Original in the package to us. Their pencil grips are designed to help teach the correct handwriting positions. They are soft, flexible, and comfortable to use once you get used to it being there. Both Little Miss and I tried it out and liked using it.
We DEFINITELY recommend the
Kwik Stix 12 pk
from The Pencil Grip, Inc. It is recommended for ages 3 and up. Kwik Stix also come in other size packages and other colors too. I am already planning on buying packs of Kwik Stix for gifts for some little people in my family. You can find out more about The Pencil Grip, Inc. on their
website
,
Facebook
,
Pinterest
, or
Twitter
. You can buy Kwik Stix on their
website
or on
Amazon
.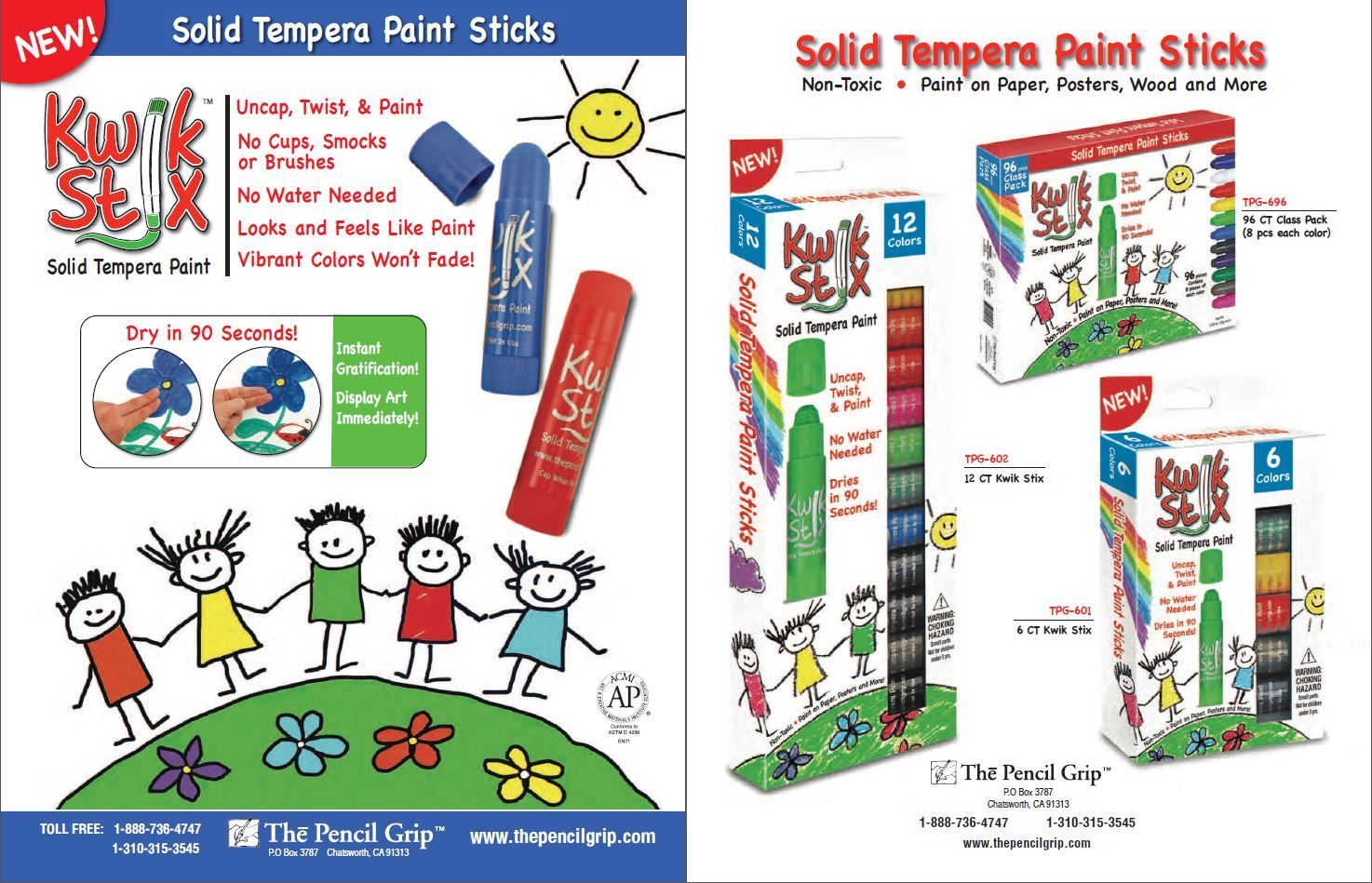 Now I did mention in the title of this post that I had a giveaway for you. This is my first giveaway ever and I am very grateful to The Pencil Grip, Inc. for sponsoring it and supplying one Kwik Stix 12 pk for the prize for one of my blog readers. You can use the giveaway using the form below.
As always my friends on the Schoolhouse Review Crew have been reviewing Kwik Stix as well. Click on the banner below to find their reviews.