Sometimes it is hard to find a subject that your student really enjoys, especially when they hit the middle school age. Lately my son has really been enjoying drawing and art so we were very happy for the opportunity to receive
ARTistic Pursuits Middle School Book One
from
ARTistic Pursuits Inc.
to review. I thought that this book of art lessons would be perfect for him to develop and practice his art skills.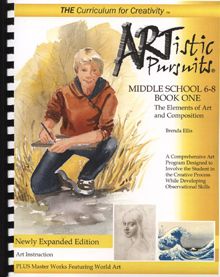 ARTistic Pursuits Inc. has created a homeschool art program that teaches children to create art while developing their observation skills. Their program helps students use their critical thinking skills while they learn about creativity, art history, art appreciation, and various techniques to create real art using real materials and tools. The lessons allow the student to make choices about what and how they will draw. Middle School Book One, which is the book we received, is designed so that students don't need any art experience before they start and they can work through this book on their own without the need for parental instruction (which was great for my son because I am terrible at art). This book is broken down into units and then within each unit there are objectives for the student, techniques for them to try, projects for them to work on, culture and history for them to learn. The materials for each project are clearly listed and at the end of each unit there is a "look back" section for the student to review their projects for what the unit taught them.
Buddy was pretty excited to get this
ARTistic Pursuits Middle School Book One
from
ARTistic Pursuits Inc.
since he is interested in drawing. He was interested to see what the book would teach him and how his drawing would improve. I was also interested to see what he would learn and how his skills would improve, especially since art is one subject that I am terrible at and feel like there is nothing I can teach him about drawing. He has some sketch books that he had been practicing his drawing in before we received this book to review.
Buddy looked through the book and decided that he wanted to start at the beginning of the book with Unit 1 Lesson 1. In that lesson he learned about space and the proper use of space in artwork. He also learned the differences between a sketch and a study among other things. He had a fun time creating his illustration of the story
The Blind Men and the Elephant
. He learned about lines and graphite pencils in Unit 2, I really liked his sketches he made during the unit on lines. Unit 3 was about textures. I have been seeing much more texture in his work since he worked on this unit. It took him about a week and a half to two weeks to get through each unit he worked on because he really wanted to take time to practice the techniques he was learning. He is still working through this book and plans on continuing work on it this summer, but has been going back and re-drawing some of his old drawings to practice the new techniques he has been using.
Learning about space
Learning about texture.
Buddy's drawings have been getting better and I can really see him applying what he has been learning. I can look through his sketch book that he had before he started the Middle School Book and I can tell what he drew before he started working on the lessons and what he has drawn since then. There is much more depth to his work now. He is much more conscience of space and shapes now than he was before. I have seen him really planning what he is drawing and making sure that it makes sense. He said that he does want to continue on working through the book from ARTistic Pursuits and that he really did like working on it. He said the book has been very helpful for his drawing and he agrees that with each lesson he does, his skills are getting better.
Before and after ARTistic Pursuits. The drawing on the right Buddy did for our homeschool Art Gallery coming up
Buddy and I both recommend the ARTistic Pursuits Middle School Book One from ARTistic Pursuits Inc. They do offer different books for several levels of art. You can purchase the book we used
here
. You can also find out more about all that ARTistic Pursuits Inc. has to offer on their
website
and you can find them on
Facebook
as well.
My friends on the Schoolhouse Review Crew have also been reviewing the art books from ARTistic Pursuits Inc. We all got to pick which book we wanted to work on so please go and read their reviews to find out more about the different books.