I love to read, but I love it even more when the book is one you don't want to put down. That is exactly what we got when we received a hardback copy of
The Glass Castle by Trisha White Priebe and Jerry B. Jenkins
from
Shiloh Run Press
to review. I was excited to be a part of this review because I thought this book would be interesting for Buddy to read and honestly, when I read what the book was about, I wanted to read it too.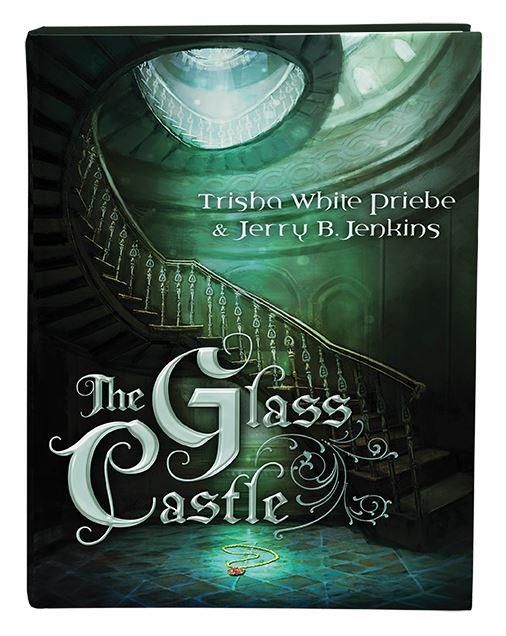 The Glass Castle
is a new action and adventure fiction book for 10-14 year olds by Trisha White Priebe and Jerry B. Jenkins and published by Shiloh Run Press. Shiloh Run Press is a division of Barbour Publishing, a well-known Christian Publisher. Trisha White Priebe is a woman who wears many hats that include author and assistant to Jerry B. Jenkins. If the name Jerry B. Jenkins rings a bell with you, it should because he is the co-author of the Left Behind Series and the author of several other books.
The Glass Castle
is an intriguing, suspenseful, action packed story that keeps you flipping the 256 pages until you hit the end of the book and it leaves you wanting to know what comes next. Avery is the main character of this story which starts out on her thirteenth birthday. Birthdays are pretty important, but where she lives, all thirteen-year-old children are kidnapped and taken to the castle. Why? The King's first wife died not long after giving birth to a child 13 years ago and the new queen wants to be the one that produces an heir. She wants to make sure that the child from the first queen is never found, but what she doesn't count on is that the 13 year olds that are locked in the castle tower will work together to find out what is going on and to create a plan to stop her. Avery is kidnapped while she is in the woods with her three-year-old brother and then taken to the castle tower. Once inside she quickly makes friends with Kate, who takes Avery under her wing, Tuck, who is voted the leader of the teens, and Kendrick, who shares Avery's love of books. As Avery adjusts to life in the castle, she begins remembering all the stories her mother told her about the castle before her mother disappeared and she realizes that she knows more about what is happening in the castle than she ever thought she did, but she doesn't know why she knows these things. Little by little bits of the stories her mother told her start to fit together and make sense as Avery shares what she knows with her friends. They know what they need to find to stop the new queen and gain their freedom. The question is will they be able to do that in time?
Buddy read through this book fairly quickly because the chapters are short. It took him two weeks to finish it, but that was only because he would read a little here and a little there. If he would have sat down and focused on it, it would have take him about 2 days to read it all. He said that it was very easy to read and he definitely wants to read the next book in this new series. This was awesome for me to hear because he doesn't mind reading, but it is not his first choice in activities. So anytime he says there is a book that he wants to read, I do my best to find it for him. Buddy thought the story was really good overall. He said it kept his attention and the only time I told him I wanted him to read this book was when we first received it after that he was picking it up on his own to read. Being an almost teen boy himself, he said he wished the main character had been a boy instead of a girl, but it was "just okay" that Avery was a girl (you have to love the honest opinion of boys) and the only other thing that bugged him about the book was when one of the characters tells the other character how they feel about them (another thing that grosses out boys). Don't worry though, it was a very sweet and innocent moment in the book. The "romance" of the book was limited to characters just saying they liked each other and I felt as a mom that it was very harmless and a downplayed detail of the book, it was just a mentioned thing not anything that was dwelled on. Overall Buddy said he would give the book 2 thumbs up and recommends reading it.
I read this book as well. I chose to read it because the preview I got to read intrigued me and I also wanted to see what Buddy was reading. I think the book is very well written, easy to read, and it really captured my attention. I had to be very careful to only pick up the book when I knew for sure I had a block of time to read because it was so captivating to me. This book is supposed to be for 10-14 year olds, but the story grabbed my attention and I didn't want to stop reading so I think that more ages would enjoy this book too. I really appreciated that it was just a clean book to read and I didn't have to worry about coming across any bad parts. I was a little disappointed with the ending only because it is a cliff hanger and now I have to wait for the next book in the series to come out. I definitely give it 2 thumbs up and I also recommend reading it. I can't wait for the next book to come out.
You can find out more information about Shiloh Run Press at their
website
. You can also find Barbour Publishing (their parent company) on
Facebook
and
Twitter
. You can read an excerpt of
The Glass Castle by Trisha White Priebe and Jerry B. Jenkins
and find out more about the book, by clicking
here
.
My friends on the Schoolhouse Review Crew have been reading this book as well. You can check out their thoughts on it by clicking the banner below.