Our family loves adventure so we were very excited to receive a copy of
Beric the Briton
from
Heirloom Audio Productions
for us to review. This is not the first review from Heirloom Audio Productions that the Schoolhouse Review Crew has done, but it is the first review we have been a part of and it is our first experience with an active listening audio drama. I can tell you now that we have had a chance to listen to this 2-CD audio adventure, I know that have been missing out on great products that are entertaining, yet safe for the whole family. Let me explain…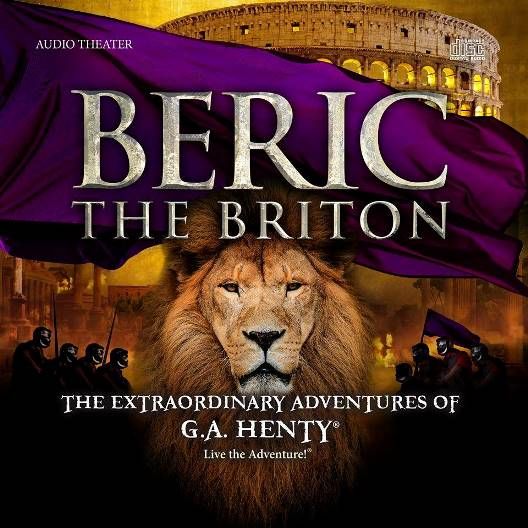 Heirloom Audio Productions is a company with a passion and love of history. Their priority is bringing real history to life for their listeners. They strive to tell the stories of true Christian heroes while teaching strong moral values. Their audio dramas are based on the popular book series
The Extraordinary Adventures of G.A. Henty.
George Alfred Henty, better known as G.A. Henty was a real man who is known for his contributions to literature as a historical and adventure novelist. Although he died in 1902, his books (over 120 of them) are still widely read today. They are filled with themes of bravery, loyalty, family, and happy endings while featuring moral values like loyalty, courage, honesty, and perseverance. So you can see why Heirloom Audio Productions would base their audio dramas on this series. Their mission is "to engage the listener's imagination by taking them back in time and immersing them in a great Christian story. " This is exactly what they did for us.
Beric the Briton is the fifth story from
The Extraordinary Adventures of G.A. Henty
that Heirloom Audio has produced. It is the tale of the Roman invasion of Ancient Britannia. It tells the story of young Beric who was a hostage in Roman territory for 4 years before the story began. Once he has returned home, he is chosen to lead his people against the Roman invasion, but the Roman army is fierce and strong. Beric only has a little time to train his men to be ready to fight. He chooses his best friend Bodouc to help him on his adventure. They have some success but also some setbacks. When the story of "Christus" begins making its way around the Roman Empire, Beric has to make some decisions. Will he continue to seek revenge for his country or will he choose "Christus" and discover true forgiveness? Beric the Briton features an incredible cast of actors that you may already know.
Beric the Briton
which is a 2-CD Audio Adventure in a sturdy tri-fold case, we also received access to the downloadable bonus features that are included with the premium buying option of Beric the Briton. These downloadable bonuses include:
an MP3 of Beric the Briton
a copy of the E-Book
Official MP3 Soundtrack
Printable Cast Poster
A 48-Page Study Guide
Printable Inspirational Verse Poster
Unlimited Access to the Live the Adventure Website
Behind the Scenes Video
The bonuses are amazing resources that go along with the audio adventure. I especially appreciated the study guide which is filled with information, questions for each part of the story, words to define, questions for deep thinking, historical background, and even some Bible study material among other things. I used the E-Book to make sure I was catching the names of the characters and some of the dialogue. I used the Study Guide to get some questions to ask my kids to see if they were really listening to the story. I also spent time looking through the Study Guide to see what all it included and how I can use this for school this year. I decided we will listen to this again and using the study guide, I will put together some mini unit studies for both kids to complete.
You can find out more about Heirloom Audio Productions and all of the products they offer on their
website
. You can also find out more about them on
Facebook
,
Twitter
,
Google+
, or
Instagram
. You can find Beric the Briton like we received,
here
. They also have Facebook Pages for
Beric the Briton
and
The Extraordinary Adventures of G.A. Henty Series
. Please be sure to check out all that Heirloom Audio Productions has to offer. I know we will be checking them out as I have already planned to use another one of their series this year for school. My friends on the Schoolhouse Review Crew have also been reviewing Beric the Briton, so make sure you read their reviews by clicking the banner below.