Science is not my favorite subject to learn or teach, but Little Miss seems to really like it. She learns about science best when it is hands on and fun which is exactly what we received when we recently had the chance to review
Exploring Creation with Astronomy, 2nd Edition
from
Apologia Educational Ministries
. Apologia is known for great educational products and we couldn't wait to dig into this Astronomy curriculum and find out what it was all about.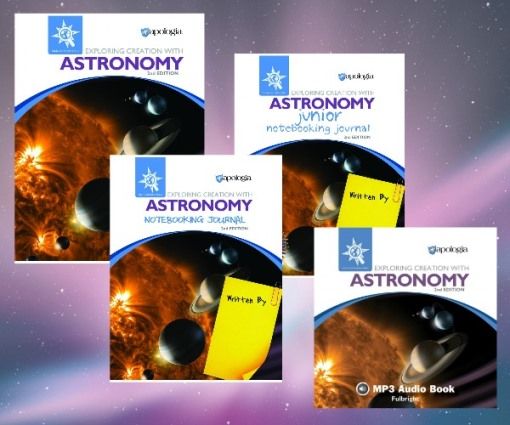 Apologia Educational Ministries is the #1 publisher of creation-based science and Bible curriculum. They believe in homeschooling, being able to defend the Christian faith, and that every academic subject can be taught from a biblical worldview. They publish materials and curriculum for many different academic subjects covering grades K-12. They also offer resources for homeschooling families and even have an Online Academy that students can attend to. Apologia has been a company we have used for years and one that my family will continue to use for years to come.
The Exploring Creation with Astronomy, 2nd Edition set that we received included the Student Textbook, Notebooking Journal, Jr. Notebooking Journal, and an Audio CD. This new edition of Astronomy is intended for grades K-6. There is an additional Science Kit which can be used to complete over 60 activities and a Field Trip Journal that you can buy to go along with this curriculum, but they are not mandatory. The Crew has reviewed the Field Trip Journal and you can read about that
here.
All of the journals are consumable and each student completing this curriculum should have their own journal.
The Solar System Model Little Miss made.
Little Miss is in 3rd grade this fall so before we dove into the textbook and started reading I looked through both of the Notebooking Journals to see which one would be right for her. Apologia's website states that the Jr. Notebooking Journal is for K-2nd/3rd grade and the Notebooking Journal is for 3rd/4th-6th grade. I felt like the Jr. Notebooking Journal was very good and thorough for all of the lessons, but it would be just a little bit too easy for Little Miss. I chose to have her work through the regular Notebooking Journal because it looked like it would challenge her and encourage her to really think about Astronomy more in-depth. She was excited to jump in and get started reading the textbook. I was excited that the notebook includes a suggested schedule for how to divided up the reading and workbook. This made it super easy for us and we just followed this schedule to complete the work. I felt like it was a good pace for us and it the same amount of work that I would normally schedule. You could easily break down daily assignment suggestions if you wanted to go at a slower pace and I liked that as well because we did have a few days where Little Miss was not feeling so hot and worked slower.
Little Miss and her attempt to melt chocolate for an experiment.
We have worked our way through the first 2 lessons in the textbook, completing the activities, experiments, and projects as suggested in the workbook. We did not do any of the activities in the Science Kit because we did not have it and Little Miss was still able to fully grasp all of the concepts (the kit has just recently become available to purchase). Lesson 1 answered the question "What is Astronomy?" Little Miss learned about the star, planets, clocks, calendars, seasons, gravity, the Solar System, and more in this lesson. She enjoyed the activities of creating her own mnemonic for remembering the order of the planets and building a model of the solar system. She especially liked the "Think About This" sections of the textbook because it tied what she was reading about to the Bible and God. She told me that was her very favorite part of this curriculum - it told how God was involved in Astronomy and not just what the world says about it. She also enjoyed working through the workbook each day. She liked the copywork that talked about God making the Heavens and completing the minibook activity where she created a matchbook on "What is Astronomy?" She did very well on the notebook and there were a couple of times she said the questions were hard, but we just talked about them and I helped her find the right section in her textbook to look through and then she found the answer and was able to write down the information. She liked the notes section at the beginning of the lesson workbook sheets so she could write what she thought was important. I really appreciated the "What Do You Remember?" section in the workbook at the end of the lesson because it was a review of the whole lesson and I could easily check to see what she understood from the lesson. Lesson 2 was all about "The Sun." Little Miss loved the experiment she got to do where she tried to melt chocolate with a magnifying glass. She also did a great job on her Sun Wheel Minibook. At first she really struggled with the difference between revolving and rotating, but after we went over that a few times and I helped her with some practical examples, she got it. Again her favorite part of the lesson was the "Think About This" sections. She really liked knowing how God fit into this lesson about the Sun.
Her Solar Eclipse Example
We just started Lesson 3 today about "Mercury" and she is very excited to learn about a planet now. We are using this Astronomy Curriculum as our science for the year and we are looking forward to what we will learn by completing all 14 lessons in the textbook and workbook. I also like that we have the Audio CD of this textbook because if we have a day where I can't read with Little Miss or she doesn't want to read it aloud (she usually doesn't complain about this at all), I can pop in the CD and she can listen to it being read to her. For me, I can't think of one negative thing about this product. We are truly loving it and even though science is not my favorite subject, Apologia has made it easy for me to teach and Little Miss is eager to soak it all it. So we highly recommend this curriculum!
You can find out more about all the wonderful products that Apologia has to offer on their
website
, You can also follow them on
Facebook
,
Twitter
,
Pinterest
, and
Instagram
. You can find out more about the Exploring Creation with Astronomy, 2nd Edition that we received
here
. Many of my friends on the Schoolhouse Review Crew have been using this product too so please click the banner below to read about their experiences with this curriculum.