I am a book lover so you can imagine how excited I was when we were presented with the opportunity to review
The Pray-ers/Book 1 Troubles
by Mark S. Mirza from CTM Publishing Atlanta. Any chance I get to read, makes me very happy, but I was extra intrigued about this book because of its subject matter. This book is about Christianity, prayer, angels, and demons that try to stop Christians.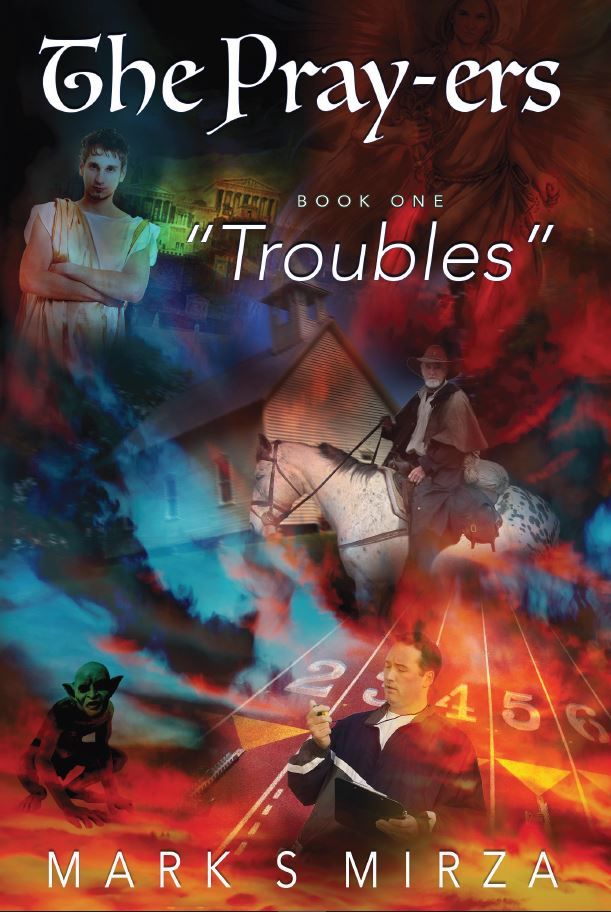 Mark S. Mirza is not only the author of this book, but he is also the founder of Common Thread Ministries. He also previously lead a Men's Prayer Ministry for a well-known preacher. His passion for prayer and teaching others to pray, led him to write this book. While this book does include Biblical references and some people from the Bible, it is still a work of fiction. Mr. Mirza does a great job of explaining about this and his choice of subject matter in preface of the book.
The Pray-ers/Book 1 Troubles
by Mark S. Mirza features 3 main characters and many supporting characters. The book follows the story of Epaphras from the first century, Alexander Rich from the 19th century, and Dale Riley from present day. It is the story of the troubles that each of these men face in their life and how they choose to respond to them in faith. Each of these characters not only had a heavenly angel assigned to them to help guide them in their faith, but they also had a demon assigned to them that tried to plant seeds that would destroy them and their faith. It was interesting to see the ways in which the praying men would chose to respond when situations arose that could cause them to stumble in their faith because not only were these Chrisitian men praying men, but they were also responsible for leading others in their Christian walk. Their decisions affect not only them, but those around them and even those in different eras. The author does a clever job of tying all of the eras and the people together in surprising ways.
Like I already mentioned this book intrigued me because of its subject matter. I know angels exist and demons exist, you can find both in the Bible. I know that demons will try to use your weaknesses and doubts against you so this part of the book felt very real to me. I wasn't shocked by how the author used the angels and demons and I thought he did a good representing both throughout the book. I felt that for a Christian fiction book, the author did a good job of representing everyone in this book, Christians and non-Christians. It did feature more Christians than non-Christians, but I didn't feel it was over the top given the subject matter. I liked the different eras represented in the book and the way the author ended up tying them together eventually. I did find the book a little hard to get into at first because each chapter did feature a different era, but about 100-125 pages in is where it finally felt like the stories were starting to tie together and the overall book felt more cohesive at that point. I will say that typically I would not read that far into a book to find the cohesiveness if I wasn't doing a review for the book, but once this book did start feeling cohesive it got better and better.
I wondered what this book would say about prayer and how it would present prayer since the title is The Pray-ers. Since the main characters are praying men (Pray-ers) this book spent much of the time showing how they prayed and telling what they prayed. They prayed Scripture from the Bible. Sometimes they prayed it just as written and other times they applied it specifically to themselves or to those they were praying for. This really challenged me because it made me think: Do I pray Scripture enough? Do I pray for others enough? and Do I pray believing that God is already at work in the situation? If I am honest, very, very honest, the answers for me to these questions is no. That was quite a gut check for me and because of it this book has helped me see that I need to do these 3 things more and I appreciated getting that revelation from this book.
When we were chosen for this review, my plan was for my son and I to read this book and discuss it as part of his school for Bible class. He has read through 15 chapters of the book. I have read ahead because I wanted to finish the book so that I knew what would be coming up and could come up with topics to discuss from the book. Now that I have finished the book, I am not sure that I will have Buddy continue to read this book as it deals with some more mature topics such as abortion and rape toward the end of the book. These topics are not dealt with in-depth, more just in mentioning what some of the characters in the book have dealt with, but I am not sure that they are topics that are appropriate for my 8th grader right now. For the chapters he has read, we have had some good discussions about angels, about how demons will try to use your weaknesses to attack you and separate you from God, and conversations about prayer and what it looks like to him versus how it is presented in the book. Buddy says what he has read is okay and interesting, but it is hard for him to follow because it jumps to the different time periods.
Overall, once I got far enough into this book I ended up liking it. Like I said I felt it was a little bit of a slow, hard read at first, but I am curious about reading the next book in The Pray-ers Series. I will say that this book is maybe more for mature Christians rather than new Christians as the topic of angels and demons can be confusing to new Christians. I also think this book may be more for older teens and adults rather than young teens because of mature topics that are mentioned towards the end of the book. I really appreciated that book did have footnotes with Bible references so I could look up related verses as I read. That was a nice feature of this 363 page book that is available both in print form (as I received it) and digital form.
You can read more about
The Pray-ers/Book 1 Troubles
by clicking
here
. You can also find out more about it on
Facebook
and
Twitter
. I think this is a book you might want to learn more about before you read it to see if it is a book for you. My friends on the Homeschool Review Crew have been reading this book too. You can read their thoughts on it by clicking the banner below.