We had so much fun listening to the last
Heirloom Audio Productions
drama, that we couldn't wait for them to come out with their next drama,
The Cat of Bubastes
. We were very excited to receive a copy of this drama for us to review. Little Miss was excited to listen to this audio drama because she thought it was going to be all about cats based on the title. I was excited to listen to this drama because it fit with our study of Ancient Egypt that we are just getting into with Little Miss. Buddy, well he was excited to just get to listen along and enjoy the audio drama since he has already studied some of ancient Egypt.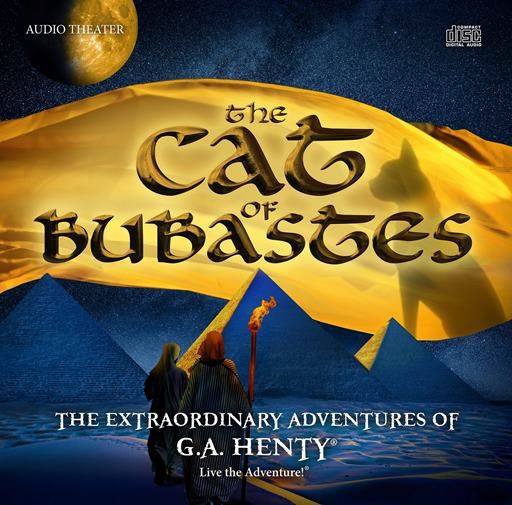 Since we have already had a chance to do a
review
for Heirloom Audio earlier this year, we knew we could expect a quality audio drama that would capture our attention and keep us on the edge of our seats. As a homeschool parent, I have come to really appreciate this company because their priority is bringing real history to life for their listeners and they strive to tell the stories of true Christian heroes while teaching strong moral values. Their audio dramas are based on the popular book series
The Extraordinary Adventures of G.A. Henty.
His books are filled with themes of bravery, loyalty, family, and happy endings while featuring moral values like loyalty, courage, honesty, and perseverance. Since Henty's books are filled with such great themes and morals, you can see why Heirloom Audio would base their audio dramas on this series. They make it easy to complete their mission which is "to engage the listener's imagination by taking them back in time and immersing them in a great Christian story " because their audio dramas captivated us from the opening lines of score to the ending credits.
an MP3 copy of the audio drama
a copy of the E-Book
Official MP3 Soundtrack
Printable Cast Poster
A Study Guide with Discussion Points
Printable Inspirational Verse Poster
Unlimited Access to the Live the Adventure Website
Behind the Scenes Video
The bonuses that go along with the audio adventure are amazing. I especially appreciated the study guide which is filled with information, questions for each part of the story, words to define, questions for deep thinking, historical background, and even some Bible study material among other things. I used the E-Book to make sure I was catching the names of the characters and some of the dialogue. I used the Study Guide to get some questions to ask Little Miss to see if she was really listening to the story. We also used the study guide to learn a little more about Hieroglyphs and to create an activity for Little Miss where she created her own set of Hieroglyphs. She had a lot of fun with this. I also liked having so many options with the study guide because I could pick questions that I thought were appropriate for a 3rd grade level so that Little Miss could answer them. Even though I was using this audio drama mainly with Little Miss, I did ask Buddy a few questions from the study guide because I knew he had been listening in. He couldn't help stopping his work to listen because the drama captured his attention.
Little Miss creating her Hieroglyphs
Her message decoded from her Hieroglyphs
We listened to this audio drama twice and the kids have already asked if we can take it with us on our next long car trip so that Dad can hear it too because they think he will really enjoy it. Little Miss really enjoyed this audio drama and was excited that there were cats in the story. She thought it was very exciting and she said that she could picture what they were talking about and felt like she was really there. Buddy liked the story and really enjoyed the mysteriousness of this story. Both of them and I really liked character that Amuba ended up meeting. Again I can't tell you who this character is without giving away the story, but I hope you will like this character like we did. Little Miss and I also had some good discussions about what the Egyptians believed versus what we believe and why we believe what we believe. We all enjoy the fact that Christianity is present in this story and how it is presented. It gave us a real feel for what being a Christian in that time period was like. Both kids already asked which audio drama we will listen to next and they can't wait to hear another one. Truth be told, I want to listen to more audio dramas from Heirloom Audio too.
You can find out more about Heirloom Audio Productions and all of the products they offer on their
website
. You can also find out more about them on
Facebook
,
Twitter
,
Google+
, or
Instagram
. You can find The Cat of Bubastes like we received,
here
. Please be sure to check out all that Heirloom Audio Productions has to offer. I know we will be checking them out as I have already planned to use another one of their series this year for school. My friends on the Homeschool Review Crew have also been reviewing this audio drama, so make sure you read their reviews by clicking the banner below.