Have you ever thought about what your name means? I have always thought it was very important to know what our names mean so that is why I was very excited to receive a Personalized Framed Plaque with Name Meaning and Bible Verse from
CrossTimber
to review. What I didn't know when I got chosen to review this product is how much of an impact it would have on me.
CrossTimber is a family run company owned by John Denhart. They specialize in name meaning gifts with a variety of ways these gifts can be displayed such as plaques, mugs, music boxes, and more. Each of their Name Gifts include the origin, cultural meaning, Life meaning, and a hand-picked Bible verse that connects with the meaning. This is why CrossTimber takes the time to research your name by looking through various resources. They research not only the historical or cultural origin of each name, but also the encouraging, positive aspect of each name's meaning. They also look to see how the meaning can be applied to a person's character and personality in a Biblical way. The goal of their research on name meanings is to help others realize the significance and purpose of their lives from God's perspective which can being encouraging and inspiring to people.
Hubby's print
I originally thought that I would use this review to order a nice, surprise gift for my husband for our upcoming anniversary since we received one plaque, but I have 2 kids. As I started looking around the CrossTimber website, I really started thinking about how important it is to know who God says you are and that this would be a great present for my kids for Christmas along with the anniversary gift. My next step was to email CrossTimber and ask about my family's name meanings. In the past I have looked up my family's name meanings very quickly on the internet, but I was very curious to see what John would find in his research because I knew his research would be much more thorough than my quick searches. In a matter of couple of hours I had an email back from John at CrossTimber that told me what each of our first names and middles names meant along with Bible verses that went along with each name.
The plaques I ordered for my kids. The frames are gorgeous! I intentionally took these pictures in a way that would not show their names.
As I read what our first name and middle names meant along with the verses that went with them I was in awe. The tears started flowing as I realized that our names are not our names by accident. It dawned on me that God had a plan for each of us when out name was chosen. Even though as parents we don't always know the Biblical history of the names we choose for our children, the names each of us in our family have line up with us fulfilling God's plan for us. We never thought that my daughter's middle name had a Biblical association, but John showed me that her middle name does have a Biblical association and it gave me goose bumps. Her middle name is not common at all, but the meaning he gave me for it says "Treasured by God." This immediately reminded me of when she was a baby and the doctor thought she might have some heart issues. After many tests and much prayer on our part where I told God I knew she was His child on loan to me, we received word back from the doctor that the test was initially misread and none of the other testing showed any issues with her heart and we never received a bill for any of it. I knew way back then she was "Treasured by God" but it was so powerful to see that associated with her name. I was also encouraged and inspired by this review. I personally have never appreciated my middle name even though I knew it had a Biblical meaning. My middle name is Dianne and it means "Divine One." The meaning that brought me to tears of my middle name is "Reflection of God's Glory." When I think about this as my calling and name, it means SO much more to me than Dianne. I am to be reflecting God's glory and that is His calling to me. Wow! I can also assure you that my hubby's and son's names have powerful meanings that just blessed me too. The meaning of my son's name is exactly what we have prayed for him since before he was born. That just amazed me. I was so touched by finding out what our names meant, that I had to forward the email on to my hubby and share about the review and that I had intended to surprise him. He was blessed by finding out our name meanings as well and suggested that we order something for each member of our family. Our kids still don't know about this product and their plaques will be a beautiful Christmas present for them.
My name print
I ended up ordering a framed plaque with the first and middle names for each of my kids to hang in their rooms. This way they can see exactly what their names mean and who God says they are every single day. We pray it serves as a visual reminder of who God is calling them to be. For my son's we picked the background of wolves because he loves them and it actually pertains to his name as well. For my daughter's we picked the background of angel wings since it fit the meaning of her name. I also ordered just a print of our first and middle names for my hubby and myself. I did not order these in frames because I am not sure exactly where we will hang them yet and I want the frame to match the room we hang them in. When the order arrived, very quickly I might add, both hubby and I opened it and I can assure you these gifts are BEAUTIFUL!!! The backgrounds are clear and crisp, the fonts used are elegant, but easy to read, and the frames are perfect for each picture I had framed. Each print also came with either a bookmark or a baseball card size name card of our first names which I appreciate because we can also use these regularly and be reminded of the meanings.
This is my bookmark that came with our order.
I can assure you that we will definitely be using CrossTimber again in the future for personal gifts with meaning. I feel like they really took care of me and truly cared about my order. I added my hubby's gift to my shopping cart and then shopped some more but somehow I deleted it from my cart and didn't see it wasn't in my shopping cart when I ordered. So when I got my invoice email and saw I messed up, I called them and spoke personally with John and he fixed it for me right away. I appreciated that so much. Every email and phone call I had with them was so professional and you can tell that they truly care about what they are doing. This along with being a Christian business ensures my future business. CrossTimber is really a great company! Please go and check out their website and the many products they have to offer. These products make great gifts and the more you order the bigger the discount you get. They are even hosting a giveaway right now that you can enter to win by clicking on the picture below.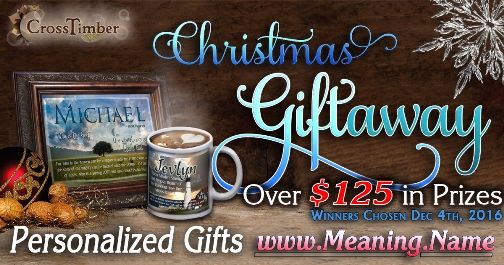 You can get started on ordering your own gifts from CrossTimber on their
website
. You can also find them on
Facebook
and
Pinterest
. Please be sure to check out what my friends on the Homeschool Review Crew ordered from CrossTimber and what they have to say about this company.