Imagine there was an online website that had thousands of lesson plans with printable worksheets in several different subject areas for multiple grade levels, wouldn't that be a great resource to have access to? This is exactly the website we found when we recently got a chance to review the
Educeri Lesson Subscription Service
from
Educeri……Educeri a division of DataWORKS
. This lesson subscription service gives you access to over 1,000 lessons in multiple subjects for all grades.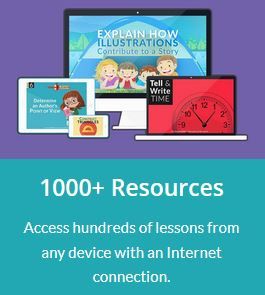 Educeri is a company that wants to have lesson plans ready for you at any time for multiple subjects whether you teach school in a private setting or a public setting. Their lesson plans feature standards-based content, real-time feedback through built-in checking, and research-based, classroom-tested procedures. Every lesson also comes with printable student handouts that you can download and print. They have lessons in Math, Science, English Language Arts, History, Art, P.E., Music, Spanish, English Language Development, and Other Resources such as Engagement Norms. These lessons are available for K-12 grade. They offer plans for individuals (such as homeschoolers) or for schools (such as a public school district).
See the "Additional Resources" area, this is what I forgot when we first did this lesson.
The first lesson that I had Little Miss do was a lesson on multiplication called "Memorize Multiplication Facts." She is currently learning division in math so I thought that making sure her multiplication facts are memorized would be a great asset and help to learning division. I had her sit at the computer and watch as she clicked through the lesson slides. It was nicely set up and had great charts of multiplication facts. As she clicked it would fill in the chart for her and we would go over the fact. The whole time I kept feeling like we were missing something and she should be doing more than just clicking to put up the facts. It turns out we did miss something. I completely missed that before you click the button to start the lesson there is a button you can click for additional resources. This additional resources area is where the printable student worksheet that accompanies the lesson is. So I went back and found that to print off and the lesson made much more sense as she could fill out the worksheet and then use the slides to check her answers. I also had her do a lesson on fractions as she is also learning this concept in her math. I printed off the worksheet before she started the lesson and I had her click to start the lesson. We went through the first few screens of the lesson to introduce it and so I could teach her the material they were discussing. Then I had her fill out her worksheet. Once she had it finished, I had her click through the slides to check her answers and see if they were right. Then we finished up the lesson. Little Miss and I have also tried a couple of the English Language Arts lessons as she has been working on writing a report and there were some very helpful lessons in there.
Check out the
Educeri Lesson Subscription Service
from
Educeri……Educeri a division of DataWORKS
and see if it will work for your school. In addition to finding them on their website, you can also find out more on
Facebook
,
Twitter
, and
Pinterest
. You can also find out what my friends on the Homeschool Review Crew thought about this product by clicking the banner below.