We are very serious about learning a language in our house and Spanish is the language we have chosen to learn. That is why we were very excited for Buddy to receive
Middle School Spanish 1 (Grades 6-8)
from
Middlebury Interactive Languages
for him to review. When I checked out this Spanish course I thought that it was more in-depth than other apps and programs we have tried, so he might learn more of the mechanics and specifics of the Spanish language with Middlebury Interactive Languages.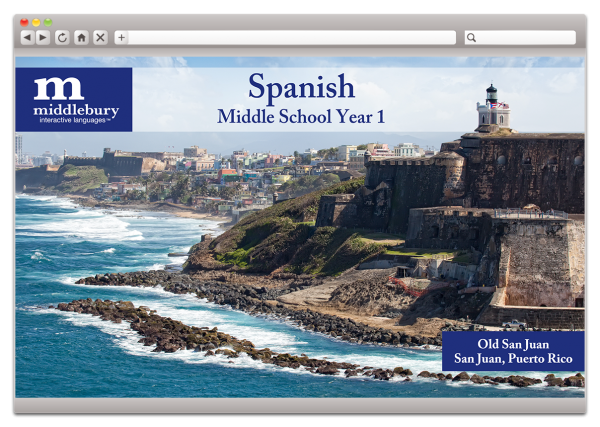 Middlebury Interactive Languages offers many language course for you to choose from for what your family needs. They offer online courses for elementary grades through high school. Each of their K-2 semester courses offer 35 days of content while each 3-5 grade course offers 45 days of content. Each of their middle and high school semester courses offer 90 days of content. This is so you can fit the course into your school schedule. They offer courses in Spanish, French, Chinese, and German.
The online calendar with a suggested lesson schedule.
The Middle School Spanish 1 course (Grades 6-8) that we received online access to is filled with interactive language activities with instructions. This semester long course is equivalent to that found in the first semester of High School Spanish I. This course focuses on four key areas of language study: listening, speaking, reading, and writing. It is broken down into units and within the units they focus on a vocabulary theme for each unit. Each unit also teaches grammar concepts, reading and listening comprehension, speaking and writing, and more. Each lesson has examples of conversation so that your student can hear the language being spoken correctly. Their website says there are no prerequisites for this class, but as Buddy worked through the class it was helpful to him that he had worked on Spanish before.
When we received this online course we started Buddy at the very beginning of it. I chose to follow the calendar they have set up on the website for our lessons, but you do not have to. This calendar had Buddy doing 2 lessons a day and I chose to have him follow it so that we would be able to finish this course during the time period we have access to it, which is 6 months. The two lessons a day usually took him anywhere from 25-45 minutes to complete. I felt like this was a very reasonable pace for him and he didn't complain about it being too much work to get done in a day. For Semester 1 of this course there are 9 units and for Semester 2 there are 9 units for a total of 18 units. Each unit is then broke down into lessons. Each lesson focuses on different skills and activities. There is even the occasional "pop quiz" in the lessons, along with unit quizzes. So far in the different lessons and units that Buddy has completed he has had activities that have made him practice speaking, writing, and reading Spanish. It is much deeper than just the basics of "hola" and "adios." This course has been teaching him how you address different people differently and it even discusses the language differences for different Spanish speaking countries. It is teaching him more in-depth than any of the products and apps we have used in the past. It truly feels like he is in a classroom with a teacher when he is working on his lessons and I really like that for this program. Buddy has completed 4 units and will start his 5th unit tomorrow. He just finished taking the midterms for Semester 1 and he did very well on them. He will continue this online course as long as we have access to it because he really is learning Spanish by using this course. He is able to tell me complete sentences in Spanish now whereas before starting this course he only knew some vocabulary and a handful of common phrases.
A sample lesson
I also really like this course for him because he really is learning the details of the Spanish language with it rather than just bits or pieces. It has also been a little bit of a refresher course for me as I am listening to his lessons while he is working on them and have been reminded of why some things are the way they are in the Spanish language. I like how the units and lessons are divided up. They build on each other, but are also helping you practice the things you have learned consistently. They don't just introduce a concept and then move on, they introduce a concept and continue to build on it as you start learning new things too. I also appreciate that there is a built in gradebook that records his grades on assignments. There are some assignments that I have to grade, but Middlebury gives you a scoring guide so that you can assign the appropriate points for the lesson. The only part of this I have not figured out is how to get these assignment grades into the built in gradebook, but I just ended up keeping track of them in my own gradebook when I recorded the grades for the items that were automatically graded. I do appreciate being able to quickly go into the calendar and see which lessons Buddy has finished and which lessons are scheduled next. I can also see which lessons he finished by going into the Table of Contents and looking through each unit and lesson, the calendar just gives me a quicker view. I really, really like how detailed and in-depth this course is for Buddy. It feels like it is just the right level for him without being too easy or too hard. I like that it is teaching him not only the vocabulary, but also the grammar, mechanics, and the "why" for the language. I like it that it feels just like he is being taught by a Spanish teacher because I can't teach him Spanish by myself because I am not fluent in it.
This is a screenshot of the gradebook
You can find more information about all the courses offered by Middlebury Interactive Languages on their
website
. You can also check them out on
Facebook
,
Twitter
, and
Pinterest
. You can find the Spanish Course we received
here
. My friends on the Homeschool Review Crew have also been reviewing courses from Middlebury Interactive Languages as well, but we have all been reviewing different courses, so check out their reviews by clicking the banner below.