One area of creativity that Buddy has expressed some interest in is photography and filmmaking, but I really do not have enough experience to guide him to a great project. This is why I was very excited to receive a year's membership to the
Online Christian Filmmakers Academy
from Family Gravity Media, a division of Families for Christ Ministries, Inc. to review. I thought that this product could help him learn more about using cameras and creating videos while helping him pursue his creative interests.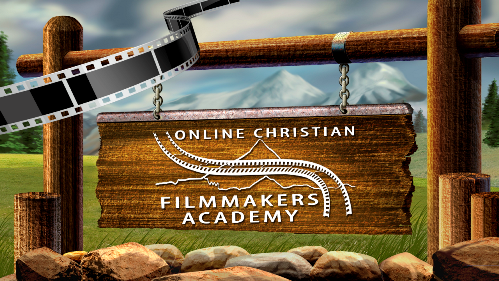 Ken and Zack Lawrence are a father-son team that have been working together at the Online Christian Filmmakers Academy since 2007. Prior to that they were operating the yearly filmmaker camp that students can attend at the Rocky Mountain Christian Filmmakers Camp. Both of these gentlemen have experience with producing, directing, and acting. Ken is also a pastor, author and homeschool father of four. Zack also wrote, produced, and directed the feature film "In His Steps." As you can see, both of these gentlemen have a lot of knowledge they can share with those interested in pursuing Christian filmmaking.
The Online Christian Filmmakers Academy is designed to train those interested in filmmaking and using visual media for the glory of God. This online course is designed so that students can work at their own pace in their own home. It features five modules and includes bonus documents, templates, insider interviews, and quizzes. They are also working to develop and add new content throughout the course. The five modules covered are:
The Camera
Cinematography and Lighting
Sound
Pre-Production
Production
I was very excited for Buddy to get this product to review. He has shown interest in photography and the visual arts and of course being a Christian, I really would love to see him use his talents to honor God. This is another reason I was very excited for him to receive this course, it helps students focus on using visual mediums to promote the Gospel and further the Kingdom of God. The fact that we could take this course right in our own home, was an even bigger benefit of it. This allowed Buddy to watch the videos when it fit into our schedule.
Buddy watching a video for Module 1
Buddy jumped right into Module 1: The Camera and started watching the videos. This module taught him about two different types of cameras and then the different lenses that you could get for those cameras. He also learned about frame rates, shutter speeds, and tripods. This helped him figure out which kind of camera he already has and what kind of cameras he wants to look for in the future. The module finished off with a quiz that checked to see if he learned the information in that module. Buddy was able to answer the quiz questions without any problem and when I asked him to explain why he picked his answer, he would tell me, "It said in
this
video…" and explain what he meant. He really soaked in the info and he used what he learned to figure out more information about the cameras we own.
The videos Buddy has completed for Module 2.
Buddy is currently working through Module 2: Cinematography and Lighting. He is over 1/2 way done with this module. He really focused on lighting on our recent trip to Turkey Run State Park and because he was using what he learned in this module, he captured some really neat pictures. He originally planned to make a movie with our friends we are camping with, but then decided the opportunities to play with taking photographs and the lighting in the park were way too good to pass up. I have to say I am very impressed with the angles he finds for pictures and the lighting he used. I can't imagine what he can do with a better camera (he has Canon PowerShot ELPH115 currently and we do plan to upgrade him). He definitely has an eye for unique photographs and they are shots I just don't see until he shows me. It makes me excited to encourage this passion for photography and cinematography in him. Now that we have been home for a week and are settling back into our school routine, Buddy is picking up where he left off in this course.
These are just some of the pics Buddy took using light, angles, and more that he learned from this course so far.
So far, we are very, VERY pleased with this course. Buddy likes that he is learning all about something that is interesting to him and he is excited to see what he will learn as he gets further into this course. I am happy that I have found a Christian company that teaches this material because I can rest assured that they are teaching safe material in a God-honoring way. I also appreciate that it is teaching him to use his talent to honor God and this is something I definitely want to encourage. Buddy will finish using this course and I am excited to see what he ends up doing with it. He has talked about making a small movie and when he does so, I will do my best to upload it for you to view (I hope there is a lesson in his course on this so he can help me with it).
If you want to learn more about the Online Christian Filmmakers Academy you can checkout their
website
. You can also find out more information about them on
Facebook
. The course costs $299 for a full year of access. You can get a discount code of $100 just for being my reader if you enter FALLCREW16 on their checkout page. This code is good only until November 30, 2106. Check it out and see what you think after you read the reviews from my friends on the Homeschool Review Crew by clicking the banner below.