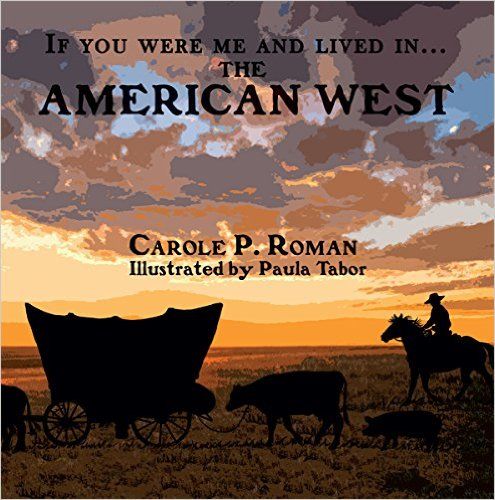 The books we received are part of a new series from Carole P. Roman. The "If You Were Me and Lived in…" series is a non-fiction series that encourages readers to explore what life might have been like if you lived in a different time period in countries around the world. They are written from the point of view of a young student so that readers can feel like they are part of the country they are reading about. So far this series includes 8 different titles which allows readers to visit Greece, Italy, England, Colonial America, China, The Middle Ages, Europe, and the American West. The books we received had between 40 and 70 pages. They tell where the country or area of the world the book is discussing can be found. Then the books tell facts about what life may have included for you if you lived during the time period. It tells facts like what kind of housing you might have lived in, what kind of government existed, the kinds of food you would have ate, where you would have went to school and what you would have learned there, and much more. Each book also had a glossary that defined terms used throughout the book and gave the proper pronunciation of the glossary terms. The books also listed and discussed important people from the time period it represented. At the end of each book the author lists her
blog
so you can go to it and find resources to use with each book. The resources on the blog are worksheets, coloring pages, topics for essays, and critical thinking questions.
I gave Little Miss, my 3rd grader, If You Were Me and Lived in…Ancient Greece (An Introduction to Civilizations Throughout Time) (Volume 1) to read. For her history this year, she has learned a little bit about Greece and I thought this book would help her learn a little more. She was able to pick up the book and read it on her own with only a few questions about how to pronounce some words. The book gave the proper pronunciation either beside the terms or in the glossary. She did very good reading this book out loud to me over a couple of mornings. I asked her questions about what she was reading to check her understanding and she was always able to answer pretty quickly. I went to the author's blog and printed off the worksheet of questions for this book and had Little Miss work on them after she completed the book. It was a great way to follow up and see what she remembered from reading. The worksheet had a few questions that were hard for her, but we looked back through the book to see what it said on some topics and after we discussed the question more, she was able to come up with an answer. She had to do some critical thinking so I encouraged her to break down the information fact by fact and she got it. I thought it was really good to challenge her in this way and show her that sometimes you have to think things through little by little. Little Miss enjoyed reading this book about Ancient Greece and thought that she would really like to eat their food because she loves fruit and cheese. She decided that she would not like to wear what they wore because that would not leave her room to put her touches on her fashion. She did not like that girls were not considered citizens and they didn't go to school. She is looking forward to learning more about Greece in school this year and she is excited because of the facts she knows from this book.
I gave Buddy, my 8th grader, If You Were Me and Lived in…the American West (Volume 2) to read. For history this year he is studying the Civil War and one of our topics in studying that will be how involved the American West was in the war. I thought it would be good for him to read this book and learn the background of the American West. He read the book in just one morning and said the reading was very easy for him, but interesting still. I had printed off the questions worksheet from the author's blog for this book so he answered those the following day. I told him that he had to give complete, detailed answers for the questions since he was older and should be able to find more detailed facts in the book. He did a good job of answering the questions and it was very evident to me that the information that he read in the book stuck in his mind. Buddy decided that he really would have liked living during this time. He thought that moving west would be a great adventure and that it would be a lot of fun to travel by wagon train like they did in the book. He did agree that crossing the Columbia River would be pretty scary like they mentioned in the book because he looked it up on Google Maps and saw how wide it was in some parts. Buddy really enjoyed reading this book and learning what life was like in the American West. He is still telling me facts about this book today (a few weeks after he read it) and he is having fun harassing his sister about how she could have been named Minerva if we lived during that time.
We also received If You Were Me and Lived In…Ancient China: The Han Dynasty and If You Were Me and Lived in…Renaissance Italy (An Introduction to Civilizations Throughout Time) (Volume 2) to look through. I have looked through them, but I have not assigned either one to either of the kids yet. Buddy will just be reading them for fun as they are not topics in his history this year. Little Miss will be reading each of these books later on in the school year when her history matches up with these countries. I think she will really enjoy the book on Italy because it discusses fashion, art, and food which are some of her favorite things. In the back of that book it discusses some of the famous artists from Italy so I would like to put together a little mini art unit for her to go along with the book. I think she will also like the book about China. It is one of the longer books so I will probably break the reading up over a week or so. This book will open the door for some good discussions of different religions. I know she will also like reading about how the Chinese invented silk and how they use color to represent different things in their culture. There are lots of possibilities for activities to go along with this book so I will have to try and narrow some down before she gets to reading this book.
We really enjoyed these books and both kids look forward to reading the books they didn't read yet. I thought the books did a great job of making life in a different time period seem very real and they gave a very clear picture of life in other countries. I liked the fact that these books were easy enough for my 3rd grader to read and understand on her own yet they still had enough content that my 8th grader could learn from them as well by asking more in-depth and detailed questions. In the future when we study other countries and time periods I will not hesitate to look for more of the books in this series. You can find out more about Carole P. Roman on her
blog
and on the following social media sites:
Facebook
,
Pinterest
,
Goodreads
, and
Twitter
. You can read more reviews of these books from my Homeschool Review Crew friends by clicking the banner below.