Teaching Grammar can be very tricky, but it doesn't have to be when you start with the basics like we recently did. We recently received a copy
Sentence Diagramming: Beginning
from
The Critical Thinking Co.™ to review. This paperback book made it easy for Little Miss to learn about Grammar while learning to diagram sentences.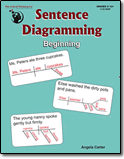 The Critical Thinking Co.™ offers many products in their online store that are designed to teach your child critical thinking. Their products help teach your child to identify and evaluate material using in-depth analysis. They offer products for students from toddler age through 12th grade. Some of their products are physical books and others are online software downloads. They even offer programs for preschoolers.
The Critical Thinking Co.™ explains the
Importance of Preschool Academics
and suggests a software bundle to get them started. Some of the other members of the Homeschool Review Crew reviewed software from the
Reading, Writing, and Arithmetic Before Kindergarten!™
bundle which you can read about by clicking the banner at the end of this review.
We received Sentence Diagramming: Beginning for Grade 3-12+. I originally intended to use this with both of my kids. Once I actually got the book in my hands, I realized that Buddy had already learned much of the Grammar taught in the book and that it would work better for Little Miss who has not completed as much Grammar since she is just in 3rd grade and he is in 8th grade. The purpose of the sentence diagramming is to show the sentence relationship and the structure of the sentence while learning information organization skills and making a visual representation of language. It also teaches many Grammar skills like subject, verb, adjectives, direct objects, predicate nouns, and more. We began at the very beginning of this book because Little Miss has never dissected and diagrammed sentences.
We worked through a lesson of Sentence Diagramming: Beginning each day and some lessons we stretched to two days because Little Miss was struggling to get some of the diagramming as it got harder. As we worked through the lessons we learned about direct objects, adjectives, adverbs modifying verbs, predicate adjectives, predicate nouns, prepositional phrases (adjectival and adverbial), and compound subjects. We have to finish up the lessons on compound predicates, compound direct objects, and compound predicate adjectives and nouns. The final lesson in the book is a review of everything we learned. The very first lesson in Sentence Diagramming: Beginning taught Little Miss the difference between simple subjects and main verbs. This was a good opportunity for us to review nouns and verbs and how they are used. It taught her to break apart the sentences and then diagram them according to the subject and the verb. Each lesson had her correct diagrams that were incorrect, fill out diagrams for sentences they created, create her own set of sentences, and then she had another opportunity to practice diagramming again with sentences they created. Each lesson that followed built on the last lesson and concepts taught. Once I explained what she was supposed to do, Little Miss was able to figure out the first few lessons on her own without a lot of help from me. As we added more concepts, she did need a little more help from me. Sometimes this help was as simple as asking what is the noun of the sentence and what is the verb and then after that she could figure out where the rest of the sentence fit on the diagrams. Other times we worked together on the lessons so that we could discuss each part of the sentence especially when Little Miss started working on the prepositional phrases lessons. Those confused her some because to her the preposition sometimes felt like the verb which can be very confusing. She also tended to need more help when her sentences had helping verbs because she would tend to only get half of the verb when it had a helping verb so I helped her figure out common helping verbs and we practiced these over and over. We only have two lessons plus the review to finish up before we complete this book.
Little Miss really liked diagramming the sentences. She thought it was fun and asked if she could work on this first thing every day for school. It has helped her learn the parts of a sentence and really get to practice them a lot. She is writing more descriptive sentences now in her other school work and she can tell me the different parts of the sentences she is writing. Before using this product I can't recall ever diagramming sentences so this was a new concept for me too. It helped me break down basic Grammar concepts for Little Miss and now that I know what areas confuse her, I know what concepts we should work on for Grammar and I can seek out lessons specific to these concepts. We will finish up this book and in the future I will look for more like it. We will also continue learning the various parts of sentences and how they work together.
You can find out more about
The Critical Thinking Co.™ on their website. You can also find them on Facebook, Google+, and Pinterest. You can find out about the Sentence Diagramming: Beginning book we received by clicking here. Also don't forget to check out the other product this company offers like their Reading, Writing, and Arithmetic Before Kindergarten!™ designed for preschoolers. My friends on the Homeschool Review Crew have been reviewing several of the products this company offers, so please click on the banner below to read their reviews.