Our family has been greatly blessed this past year to be a part of the Homeschool Review Crew. We got the chance to review over 50 products this year and share our opinions on them with you. Recently we got to vote for our favorite review products this year and let the companies know how much we loved their product. Today I am going to share with your our 2016 Blue Ribbon Award Choices, but if you want to go and see how the Homeschool Review Crew as a whole voted click
here
.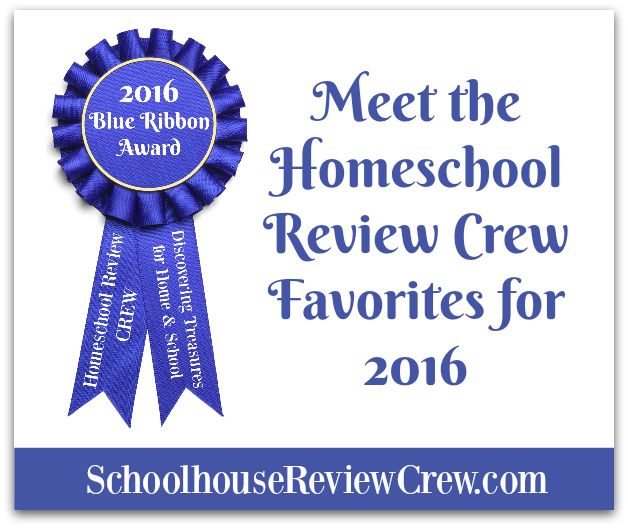 There were several categories to vote in because the Crew reviewed A LOT of products this year. So I will list the category and then our families vote. It was tough voting because we loved so many of the products we reviewed, but we had to pick the top one for us. Remember if you want to see how the Crew voted overall, you have to click the picture above or the link I gave above.
Favorite Reading Curriculum: MaxScholar
Favorite Writing Curriculum: Writers in Residence
Favorite Vocabulary Program: HelpTeaching.com
Favorite Spelling Program: Essential Skills Advantage
Favorite Grammar Program: The Critical Thinking Co. (Sentence Diagramming)
Favorite Literature Curriculum: Progeny Press
Favorite Literature Resource: Heirloom Audio: Cat of Bubastes
Favorite History/Social Studies Curriculum: Home School in the Woods
Favorite History/Social Studies Supplement: Carole Roman
Favorite Science Curriculum: Science Shepherd
Favorite Science Supplement: HelpTeaching.com
Favorite Math Curriculum: CTC Math
Favorite Math Supplement: Trigger Memory System
Favorite Foreign Language Curriculum: Middlebury Interactive Languages
Favorite Fine Arts Product/Curriculum: ArtAchieve
Favorite Elective Curriculum: Online Christian Filmmakers Academy
Favorite Christian Education Curriculum: YWAM Publishing
Favorite Christian Education Product: Chara Games
Favorite Elementary Product: The Pencil Grip
Favorite Middle School Product: Art Achieve
Favorite Parent Product: Hey Mama! Schoolhouse Planner
Best Resource I Didn't Know I Needed: NotebookingPages.com
Best Online Resource: MySchoolYear
Best E-Product: Trigger Memory System
Favorite Book, Novel, Audio Book, or Audio Drama: Heirloom Audio: Beric the Briton
Just for Fun!: Chara Games
Kids' Choice (Ages 0-12): The Pencil Grip, Inc.
Teens' Choice: ArtAchieve
All Around Crew Favorite: CrossTimber
These are our votes for our favorite products this year. There were so many companies and products we really enjoyed using and we continue to use in our school currently. I am already looking forward to our next year on the Crew! What are your favorite homeschool products you used this year?