One of our favorite things to do as a family is to play games together. We love all kinds of games so we were super excited when we recently received
Commissioned
from
Chara Games
to review. We
were really excited not only to play Commissioned, but we were also excited about the theme of this game and what we would learn from it.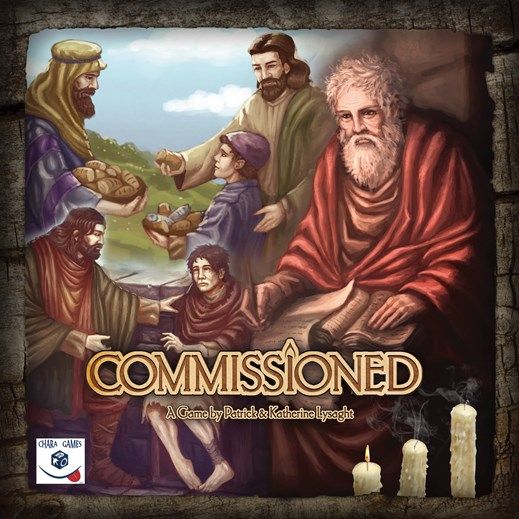 Chara Games was founded in 2014 by Patrick and Katherine Lysaght. Their goal is to design and develop games with Christian themes. Their mission is to build games that create joy by developing relationships with God and the people around you. Their games are unique because you work together strategically with each other to accomplish the mission rather than each player trying to accomplish their own mission.
Commissioned is a cooperative style board game for 2-6 players and they recommend it for ages 14 and up. This game is historically based and takes about one hour to play. The players are acting as the Apostles of the early Christian Church. All the players work together to grow the church, collect the books of the New Testament, and overcome persecution. Your mission is a success if you succeed in spreading the Gospel to all the countries on the board, collect all the books of the New Testament, and have at least one candle left ignited which represents the church (if you can survive the game with all 5 candles lit that is the best case scenario). There are 5 different scenarios for the game that you can choose to play and 2 difficulty levels. The game comes with:
Instructions for playing
A Double-Sided Game Board
6 Unique Player Boards (the characters you can choose to be)
96 Faith Cards
27 Trial Cards
4 Wood Missionary Meeples
75 Wood Church Member Cubes
1 Wood Elder's Staff
6 Wood Player Pawns
30 Double-Sided Stop Tokens
5 Double-Sided Extinguished Tokens
1 Converted City Leaders Token
1 Roman Legion Token
1 8-Sided Die
Theme Appendix
Even though the ages suggested on Commissioned is 14 and up, I thought Buddy (who is 13) would be able to get the concept of the game especially since he has recently really gotten into playing strategy board games. I figured if he didn't quite get all the rules at first, he would pick them up the more we played. Chara Games has made an "Official How to Play" video that makes understanding the rules much easier. It is a 24 minute video, but once we watched it, we were set to play the game. We did have to reference the written instructions several times the first time we played because there are several types of cards you can draw and we wanted to make sure we were using them in the game correctly.
We were so close to victory this night...
I am also very excited about the newest game that Chara Games has to offer. It is called
3 Seeds
and it is designed by Anthony and Holli Buhr. This is a card game style game and it is currently in production. A limited amount of this game has been sent out so far and I am lucky enough to be on the list to receive this game to review in the very near future. My understanding is that 3 Seeds is a game about using your resources to mange your time, money, and labor. I am looking forward to receiving it and playing it so I can tell you all about it.
You can find out more about Chara Games on their
website
. You can also find them on
Facebook
and
Twitter
. You can find out more information about their game Commissioned by clicking
here
. My friends on the Homeschool Review Crew have also been playing Commissioned so you can click the banner below to check out their reviews too.