This year for Buddy's History we are studying the Civil War and one of the questions within our study that I want him to research is "What role (if any) did Native Americans play in the war?" We have not done a lot of studying about Native Americans so far which is why I was very happy when
Homeschool Legacy
sent us their
Once-a-Week Micro-Studies: Many Nations
for grades 1-8 to review. This downloadable e-book introduced us to several of the Native American nations that called America home long before European settlers arrived.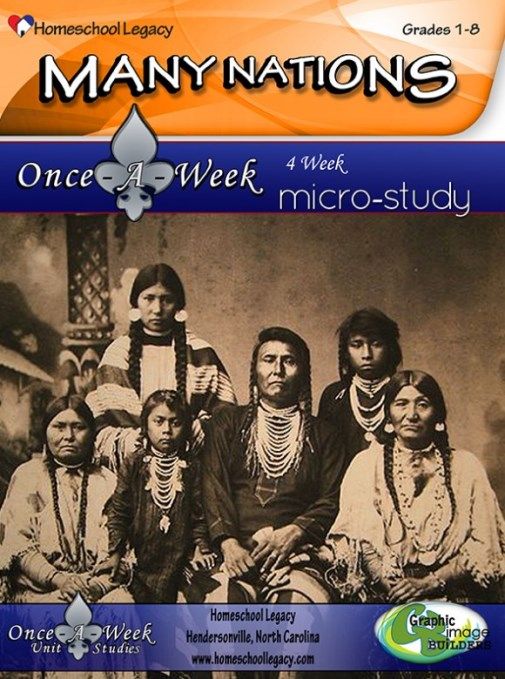 Homeschool Legacy is another company that was developed by a homeschool mom, Sharon Gibson. As she researched what would work best for her family for school, she decided that unit studies would fit everyone and she could adapt them as needed to fit each child. She chose unit studies because they cover several subjects while immersing you in one theme. She developed her Once-a-Week Unit Studies to help other parents have less preparation for school so that they could focus more on interacting and engaging with their students during the study. Mrs. Gibson has since developed many Once-a-Week Unit Studies and just recently started developing Once-A-Week Micro-Studies. Her most recent Once-a-Week Unit Study is
Christmas Comes to America
. The current Once-a-Week Micro-Studies offered are:
Pirates or Privateers: You Decide
,
Cooking Up History with the Founding Presidents
,
Victoria and Her World
,
Thanksgiving with the Pilgrims
, and
Many Nations
.
The Once-a-Week Micro Study that we received is designed to be used for 4 weeks. You can break each of the 4 lesson plans down into three, 30 minute assignments or you can choose to do each lesson plan once a week in a single day depending on your students. In the Many Nations study, students will learn about the Iroquois, Cherokee, Navajo, Northeast Woodland, Southeast, Southwest, and Great Plains Indians. They learn about their ways of life and contributions to their nation. In addition to the required reading for each lesson, there is a suggested optional family read-aloud book and several creative and hands-on assignments for each lesson. Each lesson also includes a geography lesson pertaining to the nation(s) they are studying and then other lessons for other classes such as history, Bible, or language that compliments the required reading.
Buddy and the Tomahawk he created. We learned about tomahawks and burying the hatchet that day.
Buddy was very excited to get started on this study because it is a topic that always intrigues him. He has worked his way through this whole micro-study. We did just one lesson a week for the last four weeks. We chose to complete each week in a single day as I have a longer time period scheduled out for History and this is the class we used this Micro Study in. This gave us time to read the material in the e-book, complete the geography lessons, and complete several of the hands-on assignments. We also looked up additional information for some of the activities just to get a little more history and information on what we were doing. We used some of the links given in the e-book and for some of them we had to look up the information on our own as the link in the book did not work. Buddy really enjoyed reading about the different Indian nations. He also really liked the hands-on activities that he completed. He created a model longhouse, a tomahawk, and a Plains Indian diorama. Buddy says that he feels like he has a good understanding of the tribes that this e-book covered and he would like to do more unit studies on Native Americans in the future.
Buddy's diorama. When I asked why the tee pee was so small he said, "They are on the great plains."
I appreciated this micro-study because I feel like it gave us a lot of background information on the Native American tribes it covered. It didn't give us the answer to our History question we are seeking to answer this year, but I didn't expect it to since the description of the book talked about "before European settlers arrived." It did give us a starting point for finding the answer to our question because we know from the geography lessons of this study, which tribes lived in parts of the country affected by the Civil War. I will also use this study again later in the year with Little Miss because she will be studying Native Americans later in the school year. I feel like this Micro-study will be appropriate for her too, but we probably won't go as in-depth as I did for Buddy since she is only 3rd grade. We will definitely be checking out some of the other studies that Homeschool Legacy has to offer.
You can check out all of the resources that Homeschool Legacy has to offer on their
website
. You can also find them on
Facebook
. You can check out the
Once-a-Week Micro Studies: Many Nations
we received by clicking the title I linked. They even have a sample week that you can check out on their site. This site has many other studies to offer you too. You can read about many of them by clicking the banner to check out other reviews by my friends on the Homeschool Review Crew as we got to choose which material we reviewed. I know I will be checking their reviews to learn about the other studies, so I hope you do too.