In today's world it is way too easy to run across inappropriate content while you are online, which makes internet accountability a necessity in my opinion.
Accountable2You
recently gave us the choice of one of their four plans: Individual Plan, Family Plan, Group Plan, or Small Business Plan to review, We chose the
Family Plan
.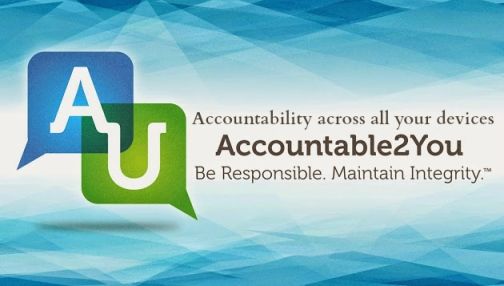 Accountable2You is an online website that is designed to help with online activity accountability on multiple devices. Their goal is to build character through accountability. This company knows that sin can enter our lives on a daily basis especially when it comes to our online activity. They also know that if you have someone keeping you accountable for your online actions, this will greatly help reduce sin. That is why they have created their software that you can download to monitor your online activity and then it sends a report to your accountability partner. Not only do they offer accountability reports, this online site has a lot of options for customizing their software in a way that works best for you and your family, group or business.
Activity tracking reports that your accountability partner receives.
This software (or an app for mobile devices) can be downloaded on multiple devices. You can decide who your accountability partner is and even if you want multiple accountability partners. Your partner receives a report either daily or weekly of all the activity on the selected device. There are special alerts your accountability partner can receive for questionable activity. There are even instant alerts for highly questionable activity. All of these things can be customized for each device. There is also an option of GPS tracking for certain devices. All of this tracking might sound questionable or like an invasion of privacy, but you don't need to worry because this is a device and app monitoring service. You can opt out of monitoring certain apps, but any modifications you make will be sent to your partner. You have the ability to set time limit alerts with this software so you can know if anyone in your family is on a device during restricted times. This software rates your online activity based on keywords in your activity. They also allow you to add your own objectionable words, specify non-objectionable words, and set a level of strictness on each device. They offer all of this monitoring and more for each off the 4 plans they offer at reasonable prices.
This report shows our usage for a week
We received the Family Plan to use. I had the option to install this on up to 20 different devices, have unlimited accountability partners, and set up child user accounts. I installed this on our main home computer, our iPad, and the Kindle Fire I have. I set up an account for myself and our kids. My hubby doesn't really use our computer much at home as he deals with computers enough at work. I didn't set this up on my phone because I do not access the internet or apps from my phone. Once I got it all set up on our devices, I had the family use the devices like they normally would. The kids use the computer and iPad for school on a daily basis. I use my Fire tablet to read books, play games, and occasionally search for things on the internet. I set up our family email account as our accountability partner on each device. So the daily emails of our activity went right to the family email account so that my hubby could check them. I even set up some questionable words on purpose and had my kids do some searches just to see how that feature worked since nothing questionable was showing up on the daily report.
I appreciate the option of being able to add objectionable words
We feel that you can never be completely safe when it comes to internet activity and monitoring the content that is accessed even though we constantly teach our children that they need to be accountable for what they do. We know that it is still easy for kids to be curious or be influenced by their peers so while we wish there was never a need for internet accountability, we know that realistically you can't be too safe. Our kids have been really good about using the internet and only accessing the sites they need for school or the ones they ask to access, but we feel that using this accountability software has been a very good thing. Many might view it as an invasion of privacy, but we view it as a layer of security and appreciate being able to see the reports and know that our kids have been to the websites they say they have been. Using this software has also helped me see that I could spend my time better on my Fire tablet either reading more books or only playing games once a day. That is something I plan to work on. I am glad to have this software so that our family can be held accountable for our internet and app usage.
You can check out Accountable2You for yourself by visiting their
website
,
Facebook
, or
YouTube
. They do offer several different plans that can be used in many ways, but you can find out more about the Family Plan we received by clicking
here
. You can also check out what my friends on the Homeschool Review Crew learned by using this product by clicking on the banner below.