History can be a dry and boring subject especially for younger students since they are reading about events that took place so long ago, but it doesn't have to be boring. We learned that history can be fun and exciting when we recently received
HISTORY Through the Ages Project Passport World History Study: Ancient Greece
from
Home School in the Woods
to review. The digital download version that we received is packed full of hands on activities, projects, and reading on Ancient Greece.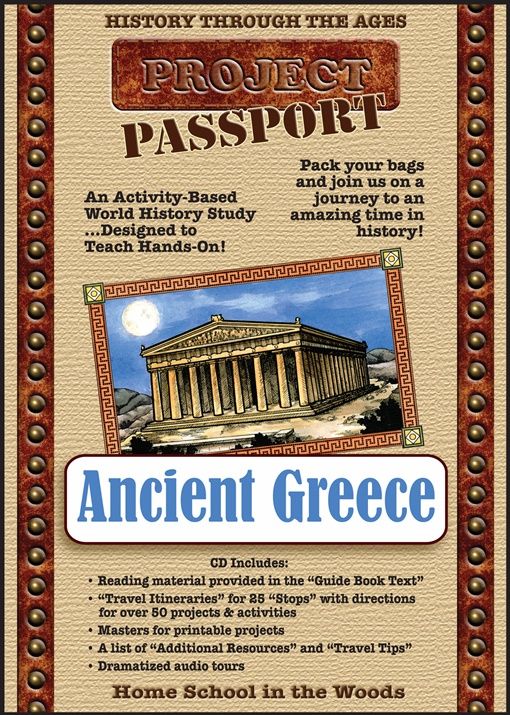 Home School in the Woods is a family run company that was created when the Pak family began their homeschooling journey. Amy saw a need to make history come alive and not bore her own children, so she dove in and started pulling together resources. She used the resources she pulled together and others she created to start the business. Now her whole family is involved and they each have their own unique role at Home School in the Woods.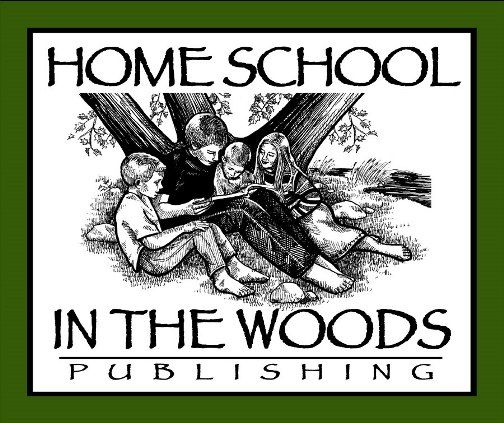 HISTORY Through the Ages Project Passport World History Study: Ancient Greece is Home School in the Woods' latest Project Passport Hands-On History study. This new study unit includes 25 "Stops." These "Stops" spread out across 8-12 weeks. They help your child learn about the events, people, and culture of Ancient Greece through reading, creating a scrapbook and timeline, and the various hands-on activities. These activities cover many different topics like Government, every day life, business, transportation, medicine, education, and more. This unit study is available as a digital download or you can purchase the unit on CD. It is recommended for grades 3-8.
Little Miss working on pop-up project for her scrapbook
Little Miss has been using this study on Ancient Greece. She was very excited to have her own Home School in the Woods unit to work on and it really fits with some of the things we have already been learning in our history this year, but our other history did not cover this subject in depth like this unit study does. I started by downloading our copy of Ancient Greece and then I found the "Start" document which is a FANTASTIC cheat sheet for parents/teachers. It is a quick guide to printing each page, "Stop," and project. It has everything listed in order and there are pictures you can click on that show you what the finished project should look like. I am so glad it was included as it made it easy to get the right things printed for each stop. I printed up the reading for each of the "Stops" we have completed. This was easier for us as we use the computer for several subjects between my 2 students, so by printing the reading, Little Miss could highlight important facts and it freed up the computer for other things. Each "Stop" also has a "Travel Itinerary" that gives the details for each project to be completed during the "Stop." The first travel stop takes the longest because it is where you set up the basics of the Scrapbook, suitcase, and timeline for the entire project. Once you have these items set up, the other stops go faster. We worked through travel stop a week and broke our weeks up between the reading and projects each day. Some days I would have her read and work on a project and then on other days she would do one or the other, but not both. Little Miss is in third grade and did need some help pronouncing some of the words, but for the most part, she could read through the reading on her own. The reading is full of facts, but it is interesting at the same time and it held her attention while she was reading. Her favorite part of this unit study has been the hands-on activities and projects. She keeps telling me she likes it because she likes completing each part of her scrapbook and getting to see the progress of each stop. I feel like she is understanding the material and she is able to tell her dad facts that she learned about Greece each day.
Little Miss liked having the reading printed so she could highlight facts she thought were important.
I have really enjoyed this study of Ancient Greece because I see the versatility of it and even though my 8th grader isn't currently using it, he could and I could just print the blank sheets where he has to write the information he learned from the reading rather than using the pre-printed sheets I have been using for Little Miss. I like that it keeps her attention and she has been bringing her History to me first thing every day and saying that is what she wants to do first for school. This is a first for us as she usually saves History for last because she tends to dread it. I am very thankful for the "Start" guide which makes my job as a teacher much easier because it is so well laid out and has links to everything you need to print and do for the unit. This study is extremely thorough and well-written in my opinion. I find myself learning as much about Ancient Greece as Little Miss is which is a great thing. We have completed 5 "Stops" and we are working on "Stop 6." We have taken this at a little slower pace because we are in the process of moving, but next week once we are moved we are kicking up our pace so we can finish this study and we can get to the recipes, more crafts, and finish up our Greek Newspaper which Little Miss is enjoying writing and I am enjoying her creativity with it.
We highly recommend HISTORY Through the Ages Project Passport World History Study: Ancient Greece from Home School in the Woods. They also have several other products in their Project Passport World History Studies line of products. These products include studies on Ancient Egypt, The Middle Ages, and the Renaissance & Reformation. These products start at $33.95 and in our opinion they are worth the cost. We will definitely be checking out their other products for our history needs in our school. You can learn more about Home School in the Woods on their
website
,
Facebook
,
Google+
,
Pinterest
, and
Twitter
. You can learn more about the Ancient Greece study we received
here
. You can also learn what my friends on the Homeschool Review Crew thought of the products they received from Home School in the Woods by clicking the banner below. We got to review many of their products so definitely check out what my friends are saying.