Reading books can bring characters and time periods to life especially when they are based on true stories. This is definitely the case for the book
Bessie's Pillow
published by
Strong Learning, Inc
. that we recently received to review. This book follows the story of just one young lady, but it tells so much more.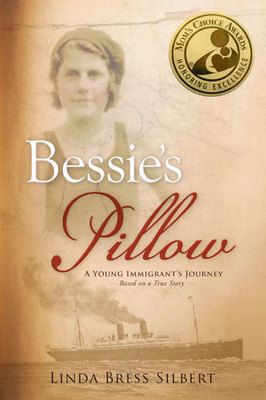 Bessie's Pillow is the story of Bessie Markham, a young immigrant from Lithuania. This story is written by Linda Bress Silbert who is the owner of Strong Learning, Inc along with her husband Al. It is based on a true story because Bessie is Linda's grandmother. The book is based on a series of conversations between the author's grandmother, Bessie, and the author's mother, Ann. The events that happen in the book are all true and the majority of the stories told in the book are true. The author did change the name of some of the secondary characters to give their families privacy.
Can you imagine being an 18 year old Jewish girl and being sent to a foreign country? What if this was the only way to escape persecution in your own country? This was exactly what Bessie had to do. At just 18 years old, she had to say goodbye to her family and board a train because it was no longer safe for her as a Jew in her home country of Lithuania. This began her journey to the United States and her new life. As she arrived in America, things didn't go exactly as she planned but with each situation Bessie faced, she persevered. Bessie faced the daily struggles of the life as an immigrant in America and she was determined to make the right decisions and face each challenge as it came. There were many situations in the book where Bessie could have given up, but she didn't. She knew she was where she was meant to be and that she was stronger than she knew. I don't want to give away too many details because this is a story that you should read for yourself.
I had Buddy read this story aloud as part of his school. It is very well written and as I listened to him read, I quickly found myself absorbed in the story. I thought this would be a great supplement to History as it tells the story of an immigrant and it was. As he read through we would discuss different topics from the book such as how he would feel if he had to leave his family, what he would do if things didn't go as he planned in a new country, and how he would survive if he could only get certain jobs. The discussion topics were easy for me because the author offers extra materials in the back of the book and online called
Bessie's America
. This extra material has information on what life was like during the time when Bessie came to America from political events to popular radio shows during that time to food they ate. There is also a teacher's guide that you can download and use that has vocabulary, discussion questions, and ideas for research papers. I used some of the discussion questions with Buddy to check his understanding of the book. We also referenced the vocabulary in the teacher's guide when he had some questions about what he was reading.
Buddy thought the story was "pretty good even though it featured a girl." You have love the response of 8th grade boys, right? He liked the story even more when he found out that it was about a real person. He thought parts were funny and other parts were very sad. He said that Bessie did a good job of making the best of situations that came along and that he liked it that she relied on God to get her through life. He did not particularly care for the "mushy parts" of the story (again these are his words not mine). He also liked the pictures in the back of the book that showed the real people in the book.
As a mom and a woman, I truly enjoyed this story. I thought it was inspiring, touching, and there were many values and morals presented throughout the book. I appreciated Bessie's perseverance through very tragic situations. She always seemed to make the best of the circumstances and never complained. That was very inspiring to me. I love that this story was about a real person and it is written in such a way that you feel like you are right there watching Bessie live her life. I also truly appreciated all the extra bonus material that the author gave so this book could be studied and discussed. It was very helpful to have the teacher's guide so I could pick what parts of the guide to use. I feel this book is appropriate for middle school and high school students as well as adults as some of the topics of the book can be pretty deep.
Overall both Buddy and I would suggest adding Bessie's Pillow published by Strong Learning, Inc. to your reading list. It was a very good book and could be read in either a short amount of time or drawn out more depending on your school needs. There are several topics and subjects you can tie in with this book. You can learn more about Strong Learning, Inc. and all they have to offer on their
website
. You can learn more about the book Bessie's Pillow on it's
website
,
Facebook
, or
Twitter
. You can read more what my friends on the Homeschool Review Crew thought about the book by clicking on the link below.