As parents we want to make sure that our children grow up with a strong Christian foundation and that we help them on their journey to adulthood. One way to do that is by taking time with them and teaching them. This is exactly what the Manhood Journey Father's Starter Kit that we recently received from Manhood Journey & City on a Hill Studio to review teaches to fathers and mentors for their sons.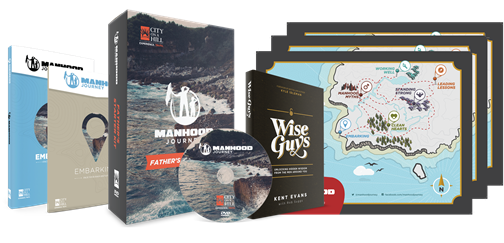 City on a Hill Studio is on a mission to equip the church and its people to change and transform their lives to magnify God's truths. They do this through the feature films, books, and group studies that they offer. City on a Hill Studio knows that life is messy sometimes, but God's Word and truth can help us through the messy parts. The Manhood Journey Father's Starter Kit that we received is a program for fathers (or another male mentor, such as an uncle) and their sons. It is a non-denominational, Biblical approach to guiding sons on their journey to manhood. This is done through discipleship and mentorship by their father or another male mentor if their father isn't present. This program features guided Biblical discussions, suggests fun activities, and offers encouragement for the journey. The kit we received includes: Embarking Group Discussion guide (if you choose to use this with a group), Embarking 1 on 1 Discussion Guide, DVD of introductory videos for the 6 modules, 10 Maprochures, and a copy of Wise Guys: Unlocking Hidden Wisdom from the Men Around You. The Embarking Guide features 6 weeks of study that introduce the five key areas that are focused on in the Manhood Journey Series.
For this review my husband worked with and through the materials since this program was designed to be completed by a father for his son. So the following are his words about this program:
"

The Manhood Journey is an excellent and well-formatted program for nurturing the father-son relationship. I have struggled to connect with my son now that he has entered his teenage years, as this was also a struggle for me and my dad so I do not have the experience in this area as much as some do. I have wanted to start something with him that will build his foundation for future development and provide a larger foundation for him as he enters manhood and this tool has been the exact spring board that I needed.
I must admit, as an honest Christian must do, that I have not dove into the journey as deeply as I had hoped to do. My wife and I recently moved to the home of our dreams and to establish a "Fresh Start" and God has been opening my eyes to so much more than I had expected. I began the "Wise Guy" book and was literally blown away with the fact that the relationship feature of our life is a vital element to our growth in Christ and ability to have a fulfilling life. The whole idea of relying on others was certainly something that I was not taught and this has held me back for much of my life. I am a "If you want it done right, just do it yourself" type guy and will nearly kill myself to avoid asking anyone for help (just the way I was raised). All this said, when I read the starting pages of this book I realized that this was what I was missing. I am currently experimenting with asking for help and letting my guard down and have already noticed a change in my life.
I thought this was a great study for my son, but have realized that I needed this first. I have learned that children are best led by example, so I need to be living this life with building relationships and leaning on other brothers before I can ever expect my son to see what this means. This said I did start the journey with my son by initiating a weekly bike ride to start talking with him to get a better idea of where he is at in his life. The journey aspect of the product is very well laid out and provides excellent topics and opportunities to dig deeper into my son's life/interests/struggles by simply spending quality time with him. Amazing what happens when you put away the phones, TVs, and other distractions and do something that interests him....the discussions become much more real and honest with almost no prodding!
I plan to pursue this study in full with my son after I have completed the Wise Guy book and am truly excited to see how this will impact both of our lives. Additionally, I am prayerfully considering a ministry for youth that would be ideal for the group study that is laid out with this product. I explained some of the features to another dad in the group with sons and he immediately recognized the value of this study and can see its application in the near future. We were not certain what our ministry function was going to be but after beginning this book and realizing just how big an impact a father or mentor could/should be, I believe that this could be a vital tool in building real MEN in our culture today. Thank you for the thoughtful effort and time and Godly wisdom presented in this journey."
As you can see, this Manhood Journey is making an impact on my family. While my hubby didn't get as deep into this as he wanted to, I can already tell that the bond between him and my son is deeper and they just chat more naturally now. I am looking forward to seeing their bond as they continue to dig even deeper into this journey. We definitely recommend the Manhood Journey Father's Starter Kit from Manhood Journey & City on a Hill Studio if you have boys in your home. You can learn more about City on a Hill Studio at their website, Facebook, and Twitter. You can learn more about the Manhood Journey Father's Starter Kit by clicking here and on Facebook and Twitter. You can also find out more about how my friends on the Homeschool Review Crew used this starter kit by clicking on the banner below.