My kids love to work on art projects, but it is truly one subject that I am not qualified to teach. I seriously can't draw a straight line with a ruler and the last time I tried to teach an art project to someone, the preschoolers in the homeschool group we were in told me not to draw again. So as you can imagine, when we got the chance to review the
Monthly Plan
from
Creating a Masterpiece
, I jumped at it because I knew my kids would want to check it out. Even though I am not good at art, my kids love to draw, paint, and sketch.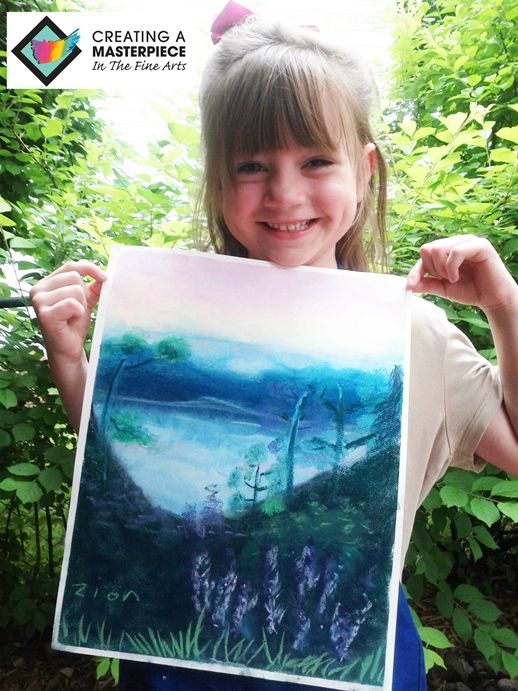 Creating a Masterpiece was designed by Sharon Hofer. She is also the master artist who teaches the lessons on the website. She designed Creating a Masterpiece so that anyone can follow the step by step instructions and follow along at each stage of the the projects. She believes that the teaching must be simple enough for a child to follow while producing a quality project that is at masterpiece level work. Her goals are for her students to be able to create projects they are proud of and for each project to inspire confidence in her students. She wants students to be able to see they can create projects they didn't think they could create if they follow the step by step instructions and work to master various techniques.
The Monthly Plan from Creating a Masterpiece gives unlimited family access to all projects. Projects range in levels from Beginner to Level 5 and they even include Art in History lessons. This means you get access to over 144 lessons each month. There are also additional videos and tips that you have access to that will help you fine tune your projects. The lessons cover a variety of media including:
Acrylic Painting
Soft Pastels
Oil Pastels
Sculpture
Watercolor
Block Printing
Ink
Silk Dyeing
Pencil
Bombay Ink
Conte Crayon
Portraiture
Colored Pencil
Copper Tooling
Charcoal
Glass Mosaic
Watercolor Pencils
Gouache
Balsa Carving
Plus there are more projects and media added as the lessons are prepared. The amount of time each project takes varies on the method being taught and how long it takes each student to get it to their level of masterpiece. You can get all of this for just $39.99 per month. Creating a Masterpiece offers other plans as well. Each lesson begins with Sharon telling the students all the supplies they will need. Then she begins with explaining what they will be drawing and how they will be drawing it. Next she has you sketch the basics and finally you fill in the details. It is all shown with step by step directions that are easy to follow.
Buddy and Little Miss were very, very excited to get access to this website and these online art lessons. They both love creating art and trying out new lessons. They were excited to work with new mediums and try different techniques than they have in the past. Their hardest decision was figuring out which lesson to work on first. For the first lesson I had them work on the same lesson at the same time even though they are at completely different grade levels and they have completely different skill levels when it comes to art. They started with the "Lessons in Oil Pastel: Winter Cabin." They got out their paper, oil pastels, pencils, and erasers. Then they turned on the video of Sharon and followed her instructions. At first it was a little frustrating for Little Miss, but this was because she was trying to make her work exactly like Buddy's. When I assured her that her cabin was supposed to be how she drew it and that it didn't have to look exactly like Buddy's or Sharon's, Little Miss stopped being so hard on herself and let her creativity flow. They both ended up producing beautiful winter cabins and they were both very happy with the final product. After that day, I had them do their art individually (unless they specifically chose to work on the same lesson at the same time), so that they didn't compare their work to each other's and instead they just focused on doing their best.
Buddy and Little Miss each completed several different lessons. They worked with colored pencils, soft pastels, oil pastels, charcoal pencils, watercolor pencils, and watercolors. They enjoyed watching the online video lessons and the methods that Sharon taught. She taught them how to draw complicated things by using simple methods. They tried their hands at drawing panda bears which started out as an egg and a triangle and then built from there. Little Miss tried doing a charcoal drawing that had her draw several other items before the sunflower because she needed to learn curves, lines, and shading before getting to the real project. Buddy did have one project that didn't turn out well. He tried doing a charcoal drawing of Abraham Lincoln, from the Art in History lessons since he has been learning about the Civil War. He got a great start on the project, but then when he started shading, he felt he messed it up. I think that he started rushing and just needs to try the project again and plan for it to take him a few hours.
Both kids LOVED these art lessons. They loved the lessons so much, they have even worked on them on the weekends. They both have said they were easy to complete and they liked that they could pause the lesson at any time and fine tune parts of their project. They really liked being able to work at their own pace and Little Miss liked being able to start over when she felt like she didn't get it on the first try. The kids said the pace of the videos were good and they liked the step by step instruction. As I watched a couple of the videos with them, I could see that Sharon did a great job of encouraging the students, making the projects simple, and really explaining the how and why of what she was teaching. The videos are very thorough and easy to follow. I think that I might even try a couple of them now that I have a little more time. The kids are really looking forward to working through more of the lessons and when our subscription runs out, I will definitely look at the purchase options for these lessons because I think this is truly a quality product that is helping build their art skills.
You can learn more about Creating a Masterpiece on their
website
and on their
Facebook
page. You can learn about the Monthly Plan that we received by clicking
here
. We highly recommend you check out all they have to offer if you have artists in your home. You can also find out what my friends on the Homeschool Review Crew think about Creating a Masterpiece by clicking on the banner below.