I love to read and I love it when I find a good series of books to read. So it should be no surprise that I want to find the same thing for my kids to encourage their love of reading. This is why I was so excited to receive
Andi Saddles Up
and
Andi Under the Big Top
from the new
Circle C Stepping Stones
Series written by
Susan K. Marlow
and published by
Kregel Publications
to review. This new series of books features Andi and her horse which makes my daughter want to read them all and that makes me happy.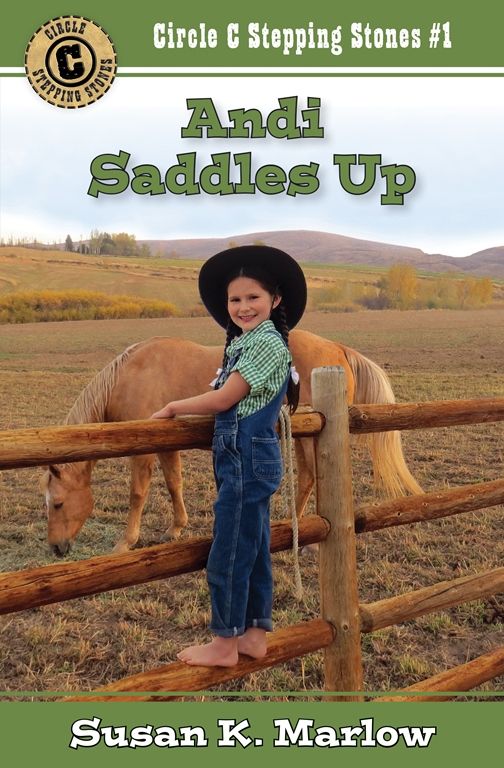 Kregel Publications has been producing great Christian resources since 1949. Their mission as a Christian publisher is to develop and distribute biblically based resources that lead individuals to know and serve Jesus Christ. Being a Christian myself, this is a company that I can stand behind. They feature many great Christian authors, including Susan K Marlow. Susan K. Marlow is a homeschooling mom, author, and writing teacher. She is the author of several series that are set in the Old West in the 1800's. Her book series are written for children of all ages. The Circle C Beginnings Series is for children ages 6-9 and that is where we first meet Andrea (Andi) Carter and her horse, Taffy. Circle C Stepping Stones, the series we received, is for children ages 7-10 and they continue to feature Andi and Taffy and the adventures they have. The Circle C Adventures Series is for children ages 9-13 and features Andi as she is 12 years old. The Circle C Milestones Series features a teenage Andrea and they are meant to be read by children ages 11 and up. Ms. Marlow also has a series geared towards boys called Goldtown Adventures.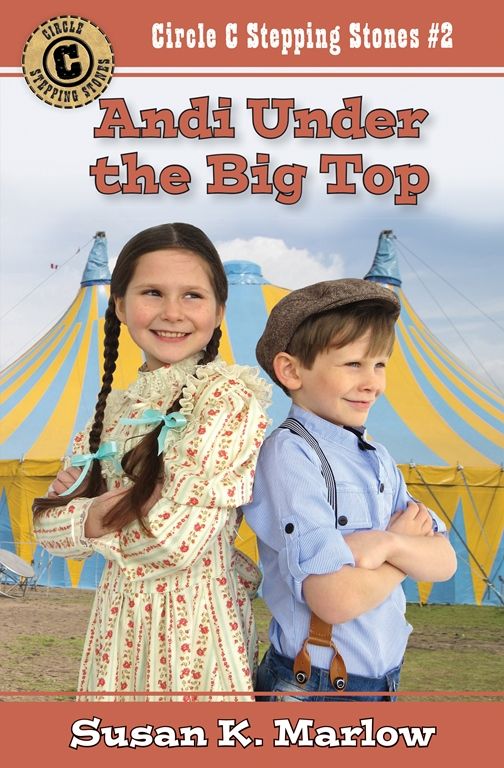 Andi Saddles Up is the first book in the Circle C Stepping Stones Series. This book is all about Andi and her horse Taffy. Andi has just turned 9 and wants nothing more than to learn to trick ride on Taffy. Her older brother, Chad, wants to make sure that Andi is safe and he dashes her hopes of becoming a trick rider. This is when Andi meets a new friend, Sadie. Sadie and Andi quickly become friends, but they have no idea that their families are in a boundary dispute. You will have to read the book yourself to find out what happens to Andi and Sadie and if they are allowed to be friends.
Andi Under the Big Top is the second book in the Circle C Stepping Stones Series. This book follows Andi as she gets a chance to go to the circus that has come to town. Here she loves everything she sees from the big acts to the bareback rider. She dreams about how much fun it must be to be a part of the circus. While at the circus she meets Henry, young boy working with the circus. Henry has a secret and once Andi learns it, she wants to help him. You will have to read the book yourself to find out if Andi is able to help Henry.
In addition to these 2 books, there are some great resources to go along with them. On the website for the books you can find free coloring and activity pages that accompany these books available to download. There are also lapbooks available to purchase if you want to do more in-depth projects to accompany the books.
Little Miss was super excited to get her hands on books about a girl close to her age who has a horse. She is all about horses ever since she started learning to ride last year. She started reading book #1 about Andi and Taffy and I had to make her stop reading each day. She devoured the story and couldn't wait to read it each day. She had a hard time putting it down and walking away to do other school work. The first book she read aloud to me so we did not use the activity pages for it. Once she made it through book one, she was super excited to read more about Andi in book two. She wondered if Andi would be in the circus or just visiting the circus. For this book I printed off the free activity sheets from the website. Little Miss wasn't able to read this one out loud to me as much as she was the first book because we have been on the go off and on. So when we were out and about at various appointments, she would read quietly and then she would come home and answer the questions for the chapters she read. We also discussed the vocabulary words for the chapters. I liked being able to use these activity pages to check her understanding of what she read when she was not able to read aloud to me. I also really appreciated the variety of activities that the free activity pages offered because it kept them interesting to Little Miss. She had fun filling them out rather than complaining that they felt like school work. Little Miss truly enjoyed these 2 books and she can't wait for the next one in the series to come out. She wants to read the Circle C Beginnings Series while she waits for the next book in the Stepping Stones Series. I appreciated that the books were easy for her to read on her own, interesting for her, and they also had lessons on values and morals in them. We were able to have good discussions about who our friends are, how we treat friends, and what to do when people are being mean to you in addition to some other conversations. I like that these books were fun for her, but she could still learn life lessons from them. This is the type of book I always encourage my kids to read.
We really encourage you to check out the Circle C Stepping Stones Book Series for your kids and check out all other book series from Susan K. Marlow too. I know we definitely will be checking out her other series. You can find out more information on Kregel Publications and all they have to offer on their
website
,
Twitter
, or
Facebook
. You can follow Susan K. Marlow on
Twitter
and
Facebook
. You can find more information about the books we read at the
website
for the Circle C Stepping Stones Books. You can also read what my friends on the Homeschool Review Crew thought about these books by clicking on the banner below.