Math can be a hard subject for children to understand and because of this I am always on the lookout for math curriculum that works for my kids. They each learn a little differently and what works for one doesn't always work for the other one. This is why I was excited to receive
Grade 3
of the
Light Blue Series
from
Math Mammoth
to review recently. Little Miss and I had a lot of fun exploring this product to see what it was all about.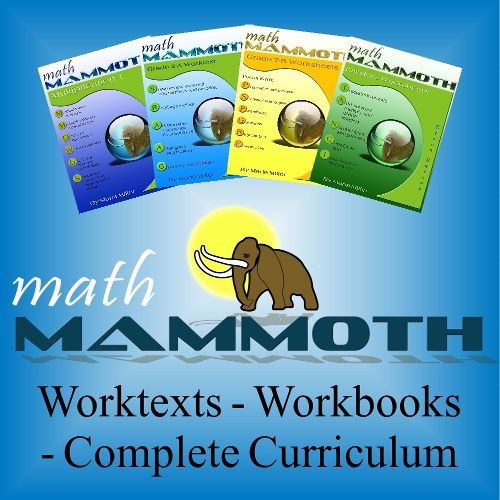 Math Mammoth's goal is to explain math in very simple terms while helping students understand the concepts of math. They use visual models and exercises to help students understand how math works. Math Mammoth has 2 different series - The Blue Series and the Light Blue Series. The Blue Series are worktexts on specific math topics for grades 1-7 while the Light Blue Series are full elementary mathematics curriculum for grades 1-7. The worktexts that Math Mammoth has created are self-teaching and do not require a separate teacher's manual. All of the explanations are in the student's book and they include the instructions along with the work.
The Light Blue Series that we received is a full Grade 3 elementary mathematics curriculum. This series focuses on being mastery-oriented. They organize the chapters by topic and each chapter concentrates on just one theme and its connecting topics. The curriculum also focuses on conceptual understanding so that your student truly understands each concept taught. There are lots of visual models and exercises for each topic. This series emphasizes mental math. It includes full explanations of the concept in the student book leading to self-teaching and little preparation time from the teacher. This curriculum is designed to meet and exceed Common Core Standards. Each grade level in this series consists of two student worktexts that contain both the teaching explanations and student exercises. You also get the answer keys, tests, cumulative review lessons, and a worksheet maker. The download version we received had some extras that included files to replace the chapter on money, bonus software, a user guide, and Common Core alignment documentation.
You can check out Math Mammoth for yourself on their
website
,
Facebook
,
Google+
, and
YouTube
. You can find out more about the Light Blue Series we used
here
and more on their Grade 3 curriculum
here
. They do offer several different math products for your homeschool needs. You can also check out what my friends on the Homeschool Review Crew thinks about Math Mammoth by clicking on the banner below. We have been reviewing many of the products Math Mammoth offers so please make sure you look through our reviews.