History can be a tricky subject to teach because there are so many topics to cover and it can be hard to figure out how to break it down so that your students really understand it. I am thankful that Buddy does like to study History, but I still sometimes have trouble trying to break it down into manageable parts for him. This is why we were both excited to receive
The Story of the Thirteen Colonies & the Great Republic Set
and
200 Questions About American History Set
from
Memoria Press
to review recently.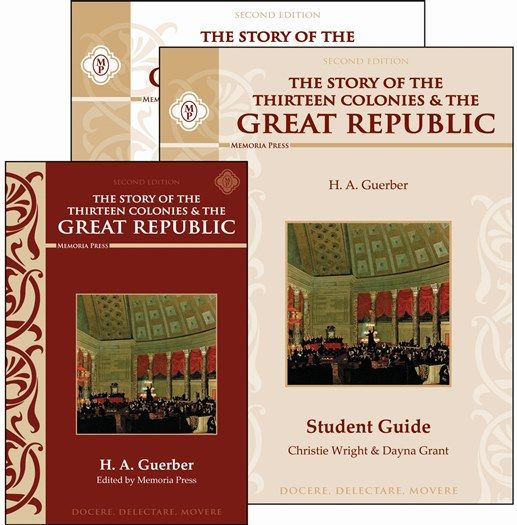 Memoria Press is a family-run publishing company that was started in 1994. They produce simple classical Christian education materials for homeschools and private schools. Since 1994 this company has grown a lot and they offer various subjects of study for preschool through twelfth grade. They even offer an online academy for grades 3-12. The Story of the Thirteen Colonies & the Great Republic Set we received comes with the student text by H.A. Guerber, the student guide, and the teacher guide. It is recommended for grades 5-8. It covers the time period from Christopher Columbus up through the Spanish-American War. The book is broken down into manageable chapters that focus on one topic of history at a time. It also has pictures and illustrations of the topics so students can see who or what they are reading about. The Colonies guide is broken down into four parts: Facts to Know, Vocabulary, Comprehension Questions, and Enrichment. The Facts to Know are great reminders of important facts from the reading text. The Vocabulary are words that were read in the reading selection. The Comprehension Questions check your student's understanding of what they read. They are detailed, but not too hard to answer. The Enrichment section has different activities for each lesson. They might include map activities, writing, or research activities. The 200 Questions About American History Set comes is a supplement to The Story of the Thirteen Colonies & the Great Republic Set. It comes with a student guide, a teacher guide, and flashcards. It contains 200 questions that every one should know about American History. It consists of Drill Questions, Timeline of American History, Notable Quotes from American History, and Presidents of the United States. It also includes selections for reference like The Star-Spangled Banner, Old Ironsides, and O Captain! My Captain!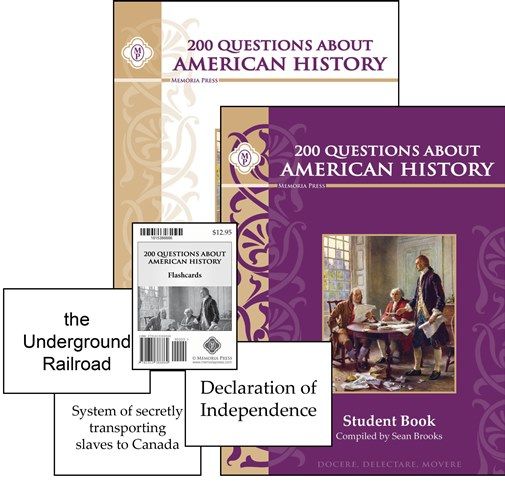 Buddy started reading Thirteen Colonies as soon as we received it. Hr really enjoys History and I though this would be a good change of pace from all the Civil War material we have been working on. I also thought it would be really good for him to find out what happened in our country before the Civil War. I looked in the teacher's guide to see that each lesson told which sections he should read and that each reading selection was followed up with questions. There was also a suggested reading schedule in the 200 Questions teacher guide that would help him work through that resources as well. After Buddy read sections in the text book, he would answer the appropriate questions in both the Colonies student guide and the 200 Questions student guide. He really liked the reading because it was filled with facts and then he could use those facts to answer the questions. He also started studying the flashcards to get the facts down. He flips through a small stack of them each day that he works on this curriculum to help him remember the facts from the books. He is about halfway through the Colonies text book and on the corresponding lesson in the student guide. We plan to use this as our history for the rest of the school year.
My hubby sat down the other night and picked up the Thirteen Colonies book. He was reading through some of it as he likes to see what we have been working on in school. This is what he had to say about the book: "It is short, concise, and right to the point which makes it perfect for boys. Boys typically do not want long drawn out descriptions and large amounts of backstory, but rather prefer facts and interesting short stories to paint a timeline in their head. This is exactly what this book gives and it grabbed my attention quickly because I didn't have to sift through tons of words to get to the meat of the lesson." As Buddy's teacher, I really appreciate that this curriculum is easy enough for him to work through by himself, but challenging enough that he has to pay attention while he is reading. I think it is very well balanced and I have already been checking to see what other History curriculum Memoria offers.
We definitely recommend that you check out this History curriculum we received from Memoria Press. It has been one of Buddy's favorite products he has worked on this school year. You can learn more about Memoria Press on their
website
,
Facebook
,
Twitter
,
Instagram
, and
Pinterest
. You can learn more about
The Story of the Thirteen Colonies & the Great Republic Set
and
200 Questions About American History Set
we received by clicking each individual title. You can also check out what the Homeschool Review Crew thinks about the Memoria Press products we have been reviewing by clicking the banner below. Some of us got to review the History products and some of us got to review Literature products.