My daughter loves crafts, especially painting. I love that she loves painting, but I don't love cleaning up messes from painting. We found a happy medium for painting without a mess when we recently received Thin Stix 6pk of Classic Colors from The Pencil Grip, Inc. to review. My daughter was very excited to try out a thinner paint stick so she could do more detailed work since we have previously tried out Kwik Stix.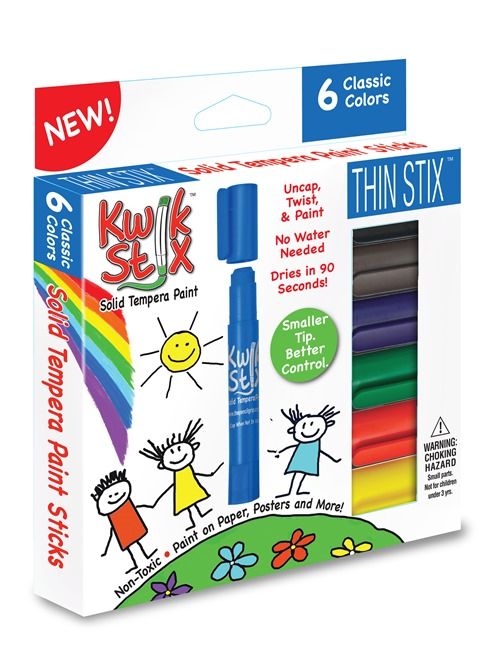 Thin Stix, like their predecessor,
are Solid Tempura Paint sticks that come in many colors. We received a 6 pack of the classic colors which include red, yellow, green, blue, black, and brown. They are about the size of a thick marker which is an easy size for little hands to hold. They are easy to open and easy to use. You just pull off the cap, twist the paint up a little, and paint. They feature a fast drying formula that allows them to dry in just 90 seconds with a paint-like finish. You can use them on paper, poster board, cardboard, wood, and canvas. You can even layer the colors on top of each other with our creating a mess because they dry so quickly.
Like I already mentioned Little Miss was very excited to get her hands on these Thin Stix. She was anxious to see if she could draw finer lines and write with the Thin Stix because this was her only complaint about the Kwik Stix, they were too thick to reach in tight spots. Little Miss drew on cardstock, regular printer paper,construction paper, and wood popsicle sticks. The Thin Stix go on super smooth and dry quickly. This let her layer colors for a project for a church fun night. She also loved that she could write words and have them be legible with the Thin Stix since this wasn't something she could easily do with the regular Kwik Stix. She could use the Thin Stix to flat to get a wide line or use them tipped to the side to make a finer line. She loved being able to do fine work with the Thin Stix. Little Miss loves that she can paint and clean up her own mess. I love that she can paint without make a mess. It is a win-win for both of us. I also had fun trying out the Thin Stix. I sat down with Little Miss and drew a picture using the Thin Stix and they glide across the paper. I was also able to write words which was fun to do. Now Little Miss is hoping they bring out more colors of Thin Stix.
Drawing with the Thin Stix flat on the left and tipped on the side on the right line.
The picture I drew with Thin Stix.
We DEFINITELY recommend the Thin Stix 6pk of Classic Colors from The Pencil Grip, Inc. They are recommended for ages 3 and up. They would be great to give as a gift. The Pencil Grip, Inc. also has several other products they offer. You can find out more about all they have to offer on their website, Facebook, Twitter, or Pinterest. You can buy Thin Stix 6pk of Classic Colors we received here or from ToysRUs website.
Now for the really good news!!! The Pencil Grip, Inc. has graciously offered to provide a set of Thin Stix 6pk of Classic Colors to one lucky reader of this post (U.S. Residents only please). Enter using the Giveaway Tools widget below. This giveaway runs from now through Tuesday, May 30, 2017 at 11:59 pm EST. Good Luck!!!!
As always you can find out how my friends on the Homeschool Review Crew have been using their Thin Stix by clicking the banner below.