Little Miss loves music and she started piano lessons this past fall. When we were given an opportunity to review
Music Appreciation: Book 1 for the Elementary Grades
from
Zeezok Publishing LLC
, I was very excited. I thought this product would help her piano skills since she would be learning about composers and the history of music. I thought it would encourage her to practice her piano more and it would give her a better understanding of the theory she was learning in her piano lessons. We chose to work through the biography of Joseph Haydn first for the review. We had not heard of him and thought Joseph Haydn would be a very interesting composer to start with.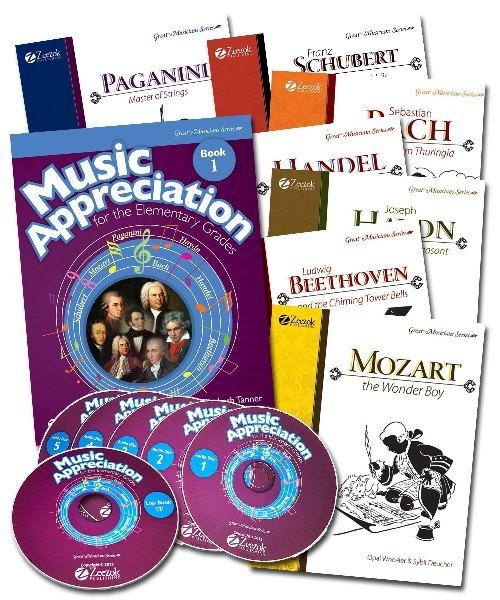 Music Appreciation: Book 1 for the Elementary Grades from Zeezok Publishing LLC is a collection that includes a student activity book, music discs, and seven composer biographies. The seven composers featured in this collection are: Bach, Handel, Haydn, Mozart, Beethoven, Paganini, and Schubert. The biographies include information about each composers childhood and adult life. They even include written music that your student can learn to play. The student activity book includes a wide variety of assignments to work on that include geography, history, recipes, instrument facts, and much, much more. It also comes with a disc that has instructions and papers to print off to create a lapbook for each composer. This collection could be used for Kindergarten through Sixth grade.
Little Missreading about Joseph Haydn
We started out by reading the first chapter of the biography of Joseph Haydn. The book was easy enough that Little Miss was able to read it. She only needed help pronouncing names and places as his story takes place mostly in Vienna. The biography starts in Haydn's childhood so she got to learn about his family and how he grew up. It was amazing to her that as a very young boy Haydn was sent from home to be a choir boy. She couldn't imagine leaving home to go live away from us at this age to live in a completely different town. She thought that was very brave of him. After she read through the first chapter of the biography book, she began work in the student activity book. I was happy that it started out comprehension questions for the chapter she had just read. We continued working our way through the student activity book reading and creating our very first lapbook. I have seen several projects with lapbooks, but we have never made one before. This curriculum came with a disc for my computer that had all the pages I needed to print off for the lapbook and several pictures of what the finished lapbook should look like which we found extremely helpful. Little Miss had a lot of fun creating her lapbook. She liked completing each part and then as she was adding new parts she would go back and tell me all about the other parts that were in the lapbook. We learned that Haydn is known as the "Father of Symphony" and he wrote over 100 symphonies. This curriculum was easy for Little Miss to work through because she would read some and then work in the workbook on the activities. This curriculum is scheduled to take four weeks to work on a composer which is a very reasonable amount of time to complete each composer. We completed our work on Haydn and now Little Miss has started work on George Handel.
Adding to the lapbook for Haydn
We really enjoyed working on this Music Appreciation curriculum from
Zeezok Publishing LLC
I really liked that it was not just all reading and book work. I liked that Little Miss was encouraged to try out instruments in the activities and that there were hands on activities for her to complete after she finished her reading. I liked the pace at which this curriculum was scheduled because it wasn't too fast or too slow. We really enjoyed the music discs that came in the curriculum. It was clearly marked where to listen to them and which disc and track to listen to. Little Miss thoroughly enjoyed listening to different kinds of music and she really enjoyed Haydn's music. She loved how lively and upbeat it was. She loved being able to get up and march to it or dance around the room to it. She also had fun learning about all kinds of new instruments which the book taught her about. I loved the variety of activities in the workbook from making Kugelhopf to learning some history on our own town to the sweetest thank you note I have ever graded, there were so many activities that Little Miss didn't complain of getting bored while learning all about Haydn. I also really appreciated all the character qualities of the composers that were pointed out. It gave us a chance to discuss why you would want those qualities and how she could work on them. Little Miss also really liked trying to read the music in the biography book so that she could play it in her piano lessons even though it is much harder than the music she is currently learning. She was at least able to read some of the notes and she has set a goal for herself to work hard to eventually learn some of the music from one of the composers.
The completed lapbook
The sweetest little note I've ever graded.
We highly recommend
Music Appreciation: Book 1 for the Elementary Grades
by Zeezok Publishing LLC. It has plenty of choices of composers to work on and plenty of material to learn. It is a great way to introduce a music curriculum into your school. You can find Zeezok Publishing LLC on their
website
,
Facebook
, and
Pinterest
. You can find the collection we used
here
. Please go and check it out for yourself and see how it could work for your family.
Little Miss is now working on learning about George Handel
My blogging friends on the Schoolhouse Review Crew have also been working their way through this curriculum. Please go and check out their reviews since we all got to choose which composer we wanted to start with.