Notebooking is something that has always intrigued me for our school, but I have never really looked into it until recently. We were given the opportunity to review the
Lifetime Membership
from
NotebookingPages.com
and I finally got the opportunity to figure our what notebooking is all about. I can't believe that I haven't started using this in our school before now.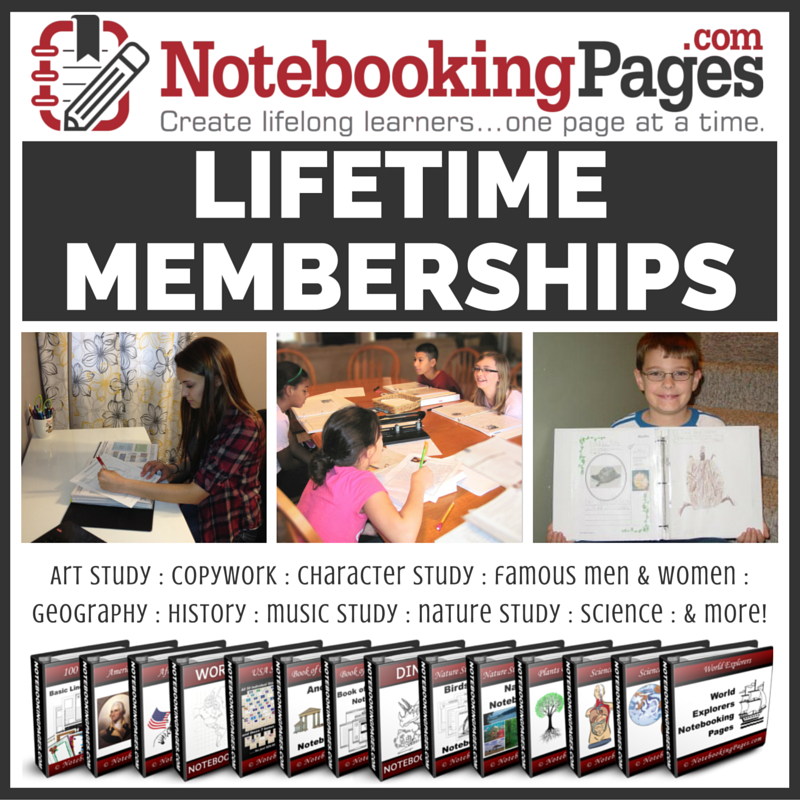 Notebooking is creating a personal notebook of learning. Your student can notebook about anything - experiences, new information learned, insights, sketches, drawings, creative writings, reflections, and any other way you can think of to get your students' thoughts down on paper. It is taking the information that your student has learned and letting them express it on paper while showing the knowledge they gained in their own words, images, and personality.
Little Miss working on her Summer Mini-Book
Her work on George Mueller's biography (please ignore the spelling errors as I just wanted her to focus on writing what she knew not spelling for this).
The Lifetime Membership from NotebookingPages.com that we received to review is a plethora of notebooking pages and resources. This site features thousands of notebooking pages for their lifetime members. There are topical pages, theme pages, and they are perfect for any subject or study your students are working on. They offer pages on art, copywork, character study, famous men and women, geography, history, music, nature, science, timelines, and so much more. Their pages can be used for Kindergarten through 12th grade. The pages feature a variety of layouts and multiple line formats (regular lines and dotted lines) so they can be used for multiple grades. As part of the Lifetime Membership you receive ALL of their current notebooking products, ALL of their future notebooking products (which they produce regularly), and access to tutorials, tips, and videos. They also have a search bar and table of contents to help you find what you are looking for faster and easier. With the Lifetime Membership you get unlimited access to download and print all their products so you can do that when it is convenient to you. You can also print their pages as many times as you need to for your students.
A glance at the member dashboard
So many notebooking categories
I wanted to review this product because I thought that Little Miss would really enjoy the notebooking pages. She likes to write creatively and I thought this would encourage that. It really did. We are on summer break so I don't have her writing as much as she does during the school year, but I did find the 3-D Mini Books that I thought she might like to start out. I picked out a layer mini-book for her and printed it off. I gave her the pages, showed her where she needed to cut it out at, and let her be creative. The assignment I gave her was to create a mini-book of what she wanted to do this summer. She happily accepted the assignment while I began reading through the "Easy Start Guide" and printing off the pages to set up my binder as it suggests. Little Miss loved creating her book and she had me print off more of the mini-books so she can write some stories. I also had her work on writing out what she had learned this year about George Mueller. I used the "Famous Missionaries Blank Notebooking Pages" for this as they have several missionaries pages, but they don't have one for George Mueller yet and we had read a book about him earlier this Spring. She enjoyed going through the book and picking out the details that she wanted to remember about him. She filled one page and asked if she could write another. Then she asked me to print off more blank missionary pages so she could use a different book we read earlier in the year to write down the things she remembered from those stories. I also printed off some music pages for Little Miss to write about her piano recital she was in. I found a reading log to print off for her so she can keep track of summer reading. Every time I login to NotebookingPages.com I find more things to print off that are helpful to us.
Along with your Lifetime Membership you get access to this Easy Start Guide along with helpful emails to get started.
This
Notebooking Pages Lifetime Membership
is a product that I never knew how much I needed it until I began reviewing it. I wanted to do the review because I thought Little Miss would like the notebooking, but once I started looking at what I had received I realized we were missing out in our school by not doing notebooking. I am now a HUGE fan of notebooking and it will play a large part in our school from now on. As I continue to work on printing resources for my master binder, I find more pages I want both of my kids to work on in their own grade levels. I also find more useful videos, tips, and resources every time I log in. I honestly love this product and the possibilities are endless with it.
Videos to help you be successful with notebooking.
You can find our more information about NotebookingPages.com on their
website
. They do offer free resources which includes a 600 page sampler of their notebooking pages, but you can purchase the Lifetime Membership for just $97. That may sound like a lot but remember you pay it once and get lifetime access. You can also find NotebookingPages.com on
Facebook
and
Twitter
. You can check out the Notebooking Pages Lifetime Membership that we received
here
. Also you can check out what my friends on the Schoolhouse Review Crew thought about this membership by clicking on the banner below.

(P.S. This post does contain affiliate links which means I will get a commission if you decide to purchase anything. I signed up for the affiliate program after discovering how much we love notebooking. It is a product I highly recommend.)