Let's face it, we live in a digital age where it seems everyone is connected to a computer, tablet, smart phone, or other device much of the time. Since we live in such a plugged in age, I think it is very important to have solid computer skills. We were happy to receive the new
Digital Savvy
course from
CompuScholar, Inc.
to review recently so that Buddy could build his computer skills.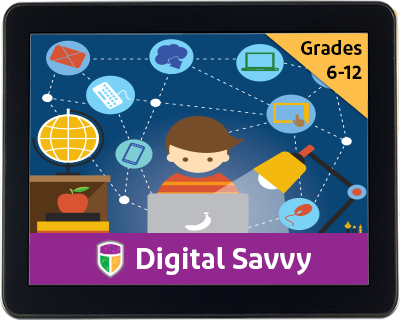 CompuScholar, Inc. has a vision to teach and prepare students for the computing jobs of the future by using real world experience. They strive to publish computing curricula that makes it fun and easy for parents and teachers to teach their students about Computer Science and Digital Literacy. They hope that their classes will be the first step towards a lifelong hobby, career, or passion for the students that use their courses. CompuScholar, Inc. was formerly known as Homeschool Programming, Inc. They offer many different computer courses from general computer skills to web design to game programming and more. The Homeschool Review Crew was asked to review Digital Savvy, Web Design, and Java Programming.
I chose the Digital Savvy class for Buddy to review. The Digital Savvy course is designed to teach students about computers and the applications that run on them. Some of the skills and concepts taught in this class include: hardware, software, and operating systems, manging files and folders, basic networking, online safety and computer security, using Word processors, spreadsheets, and presentation programs, creating simple databases, image editing, and more. It is very thorough and really helps students learn all about the computer. The courses are a combination of reading, videos, hands-on activities, quizzes, and exams. It is a one-year (two-semester) course with approximately 36 weeks of instruction. It is self-paced so if your student works on more than one lesson a day, they can complete it faster. It is recommended that students have minimal computer usage skills before they start the course. It is for 6th grade through 12th grade students. They offer 2 different payment options for this course for Self-Study, which requires the parent to grade the hands-on assignments while the system grades the tests, quizzes, and exams. You can choose a monthly subscription and pay a few every month for one student for as long as it takes them to finish the course. You can choose a yearly subscription and pay one fee for the entire year (this is a reduced rate from the monthly). This gives your student access to the course for one year and they can complete it in this time frame. They also have options for adding siblings on to each plan if you have more students. They also have Teacher-Led options for this course too if you want CompuScholar, Inc. to take care of all the grading and more expert support for your student.
Buddy was quick to jump into the lessons for Digital Savvy. He really liked learning more about the computer that he uses for school. He liked it being a self-paced course because there were a few things about the computer he already knew so he was able to work quicker through those lessons. Then there were a few things he work on that he needed to go slower through because they were new to him. He is already into Chapter Five which means he has already covered: Fundamentals of Computer Hardware, Fundamentals of Computer Software, Operating Systems, and Computer Files. In Chapter Five he is learning about Computer Maintenance and Troubleshooting. He really likes the variety in the lessons. Sometimes he has to read a selection, sometimes it is watching a video, and sometimes it is both. There is a quick quiz after each lesson to check for understanding. Near the end of each chapter there is a hands-on activity. Usually it was to research something he had learned about in the chapter and then type up a report about it. Then he submitted the report for me to access on the parent dashboard and grade. The chapters concluded with an exam to check his understanding. When I asked Buddy what he thought of this program he said that he really liked it because it was divided into short lessons that were easy to follow. He liked being able to get instant feedback on the quizzes, but wasn't always happy with me because I didn't always grade his hands-on activities right away (moms are busy people). He said that he definitely wants to finish the course and finish learning about the computer because it is really interesting. He likes knowing how things work and what makes them work so this is a great course for that. The only complaint he had was that he said the instructions would tell him to watch the video and read the text, but the text was just the video transcript so he didn't understand why he had to read it, if he had already watched the video.
As a parent who should be great with technology, but isn't, I appreciated this course. I like that he knows the how and why about the computer. I appreciate that the course encourages him to explore and learn about so many different parts and features of the computer. I feel that this course is very well-rounded and it encourages him to learn the why and how before proceeding with more in-depth topics like word processing, digital images, Internet communication, and basic web design. I also appreciated that it is self- paced for Buddy so that he can work quicker on the things he does know about and slow down when it is a new concept. As a busy mom, I like that most of the grading is done for me and the part that I have to do gives me a rubric to use so I know exactly what I should be checking for. I watched a couple of the videos for the course with Buddy and they were very thorough and easy to understand. I truly believe this course is worth the cost and I will definitely have Buddy complete it as I think it is very valuable knowledge to have so that in the future he can take other computer courses if he chooses.
In our opinion CompuScholar, Inc. offers great computer courses. Once Buddy finishes working through the Digital Savvy course, we will look at the Web Design course and then the Java Programming course as computer courses he can take in high school because they are quality courses. You can learn more about CompuScholar, Inc. on their
website
,
Facebook
, and
Twitter
. You can also learn more about them under their former name, Homeschool Programming,
Facebook
and
Twitter
pages. You can learn more about the Digital Savvy course we reviewed by clicking
here
. You can also learn more about what the Homeschool Review Crew thought of the different courses that CompuScholar, Inc. offers by clicking the banner below. We got to review different course so be sure to click the banner.