Typically older students learn about algebra starting in junior high or high school, but what if you didn't have to wait that long to teach students the concepts of algebra? What if you could teach children the concepts of algebra as early as 3rd grade? This idea of teaching algebra concepts at a younger age was intriguing to me so you can see why we were excited to recently review
Algebra for Breakfast
. The
Grades 3/4 Lessons
from Algebra for Breakfast has helped Little Miss gain a better understanding of algebraic concepts even though she just finished 3rd grade.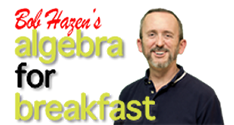 Algebra for Breakfast is an online video-based math program created and taught by Bob Hazen. Mr. Hazen is a teacher who took his ideas about learning and really explored them more. Through his years of work with various students in the math classes he taught and through helping his own children learn, Mr. Hazen has identified a half dozen principles that make algebra and all arithmetic fun and rewarding for kids to learn. The principles he has identified help reveal the unity of math in ways that cross grade levels and topics. This means that the earlier your kids learn these principles, the earlier they can learn and understand algebraic concepts. Learning these algebraic concepts at an early age will help students struggle less in upper elementary math, junior high math, and even high school level math classes. Algebra for Breakfast was designed to teach these principles to students in Grades 3/4 and Grades 5/6. This program is taught using hands-on activities, music, manipulatives, and games.
Little Miss and her Math Dice
We received the Grades 3/4 lessons of Algebra for Breakfast to review. This gave us access to 40+ lessons of this supplemental math for six months. We also received a set of Math Dice, a Skip Count CD (ours came in the form of a digital download), and access to Printable Worksheets for each lesson. If you purchase the full membership package you also get a set of math manipulative blocks that are required for this program. The lessons cover topics such as:
Countability
Single Variable Expressions
Known vs. Unknown Values
The Skip Counting Principle
The Meaning of Variables
Equivalent Amounts
There are many, many more topics. The lesson content is released incrementally so that students can't rush through it. This makes sure that they take their time and work through the material at a pace that will help them understand the concepts being taught before they more on. The lessons include an introductory video that introduces the concept they will learn that day and one or two videos that teach the concept. Each lesson also includes a Parent's Corner that has videos with helpful tips for parents and also includes the answer keys to the worksheets.
Little Miss was excited to start her adventure with Algebra for Breakfast. I think even more exciting for her was that she was going to be doing the same type of math as Buddy, who was working on Algebra I this year. Once I got our account all set up on the website, I had some prep activities to complete. These prep activities were quick and easy activities where I assembled and learned how to play the games that are utilized in this course. Once I finished those activities and dug out the set of math manipulatives we own, Little Miss was ready to get started. Mr. Hazen teaches the videos in a classroom setting with real students so Little Miss felt like she was right there with him. She would watch the introductory video to see what she would learn that day and see what manipulatives she needed to have ready for the lesson. Then she watched the lesson video/videos (some days there were 2) and then had me print off the worksheet for her. After she watched each lesson, she would race to the table to do the worksheet. Little Miss was excited because she could do the worksheets all by herself and the best part was that she was understanding the lessons and getting the answers right. She loves using the manipulative blocks and relating those to the concepts being taught because she is my hands-on learner. This really helps it all sink in for her. She had finished her math that we normally use for the year so I had her working on this a little more than the 2 days a week that the program recommends. I had her doing at least 3 lessons a week and then I would ask her questions off the worksheets she had completed to review the lessons and keep them fresh in her mind the other 2 days a week. Little Miss also liked the games she got to play with the Math Dice. One of the very first lessons had her playing a game with them and she thought it was pretty fun. She has completed 15 lessons of this program so far and she can't wait to finish the rest.
As a mom and teacher, I am really impressed with this program. The videos are clear, concise, and they break down concepts so that they are easy to understand. I appreciate the classroom setting so that my daughter can feel like she is in the classroom with the other students. I appreciate that Mr. Hazen encourages deep thinking and that he uses manipulatives to help make the concepts real. I feel that this program is very well put together and that Little Miss has really learned a lot from it. I am excited that she wants to work on this program and that she is excited about learning algebra. I never really thought about teaching algebraic concepts at younger ages, but I am truly happy to have found this program and I do recommend it to others. I feel that it is worth the cost of it and they offer several options for pricing for each level they offer.
You can read more about Algebra for Breakfast and all it offers on their
website
and on their
Facebook
page. You can read about the Grade 3/4 Lessons we received
here
. I would definitely recommend that you check out the reviews of this program from my friends on the Homeschool Review Crew since we got to work on different levels of Algebra for Breakfast by clicking the banner below.