Sometimes being a homeschool parent is really hard. To the outside world we look like we have it all together, but on the inside we feel like we are messing it all up. We need support and encouragement on our homeschool journey just like we give our kids. This is why I was excited to receive
Homeschool Rescue
from
Only Passionate Curiosity
to review recently.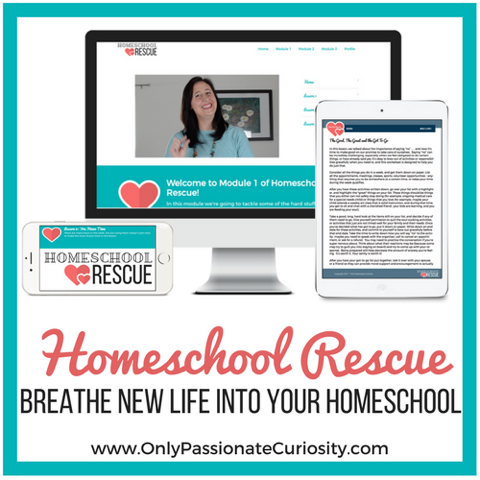 Only Passionate Curiosity is a website that was created by a fellow homeschool mom, Heather Aliano. She knows homeschooling because she is currently homeschooling 4 kids so she has been right in the thick of it, like other parents. Her website offers many resources from free resources to great printables that you can purchase.
Her latest offering is Homeschool Rescue. This unique e-course has been created specifically for homeschool parents who are struggling and want to refresh their school. This self-paced course gives you lifetime access to over 20 video lessons to listen to, printable homework assignments that coordinate with each video, resources for homeschooling success, online support from other homeschool parents, and bonus content that is regularly being added. One thing that makes this class unique is the way it is run, it is sold and run in sessions. Sign ups for the class open for a couple of weeks at a time, they are currently open from now until May 31, 2017. Then when sign ups end, the course will begin and run from June through July. It is self-paced, but the online support part will be presented live in a private Facebook group so that Heather can give each "class" her full attention and support. When that class nears completion, the next sign ups will start. Running the class in sessions allows for more personalized support via the private Facebook group and email.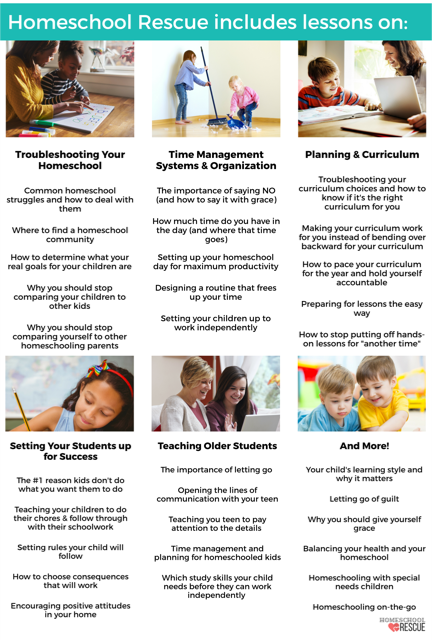 The Homeschool Rescue course is currently divided into 5 modules with more modules coming soon. Each module focuses on a different area of homeschooling from fixing the broken parts of your homeschool to time management to teaching different age kids and more. Each module is then broken down into individual lessons to listen to. Then you complete the homework for each lesson which encourages deeper thinking about the lesson and the direction you want your homeschool to go in. Each lesson is only 20 minutes or less and the homework assignments are usually only 1-2 pages. Each lesson also includes resources that Heather suggests that apply to the topic she discusses. There is also bonus content that you receive when you purchase the course. There is a 60 Day Course Plan that you can follow for completing this course in just 60 days, but if this plan doesn't work for you, you can go at your own rate.
Being a veteran homeschool mom, I wasn't exactly sure how I would use this course. I have been homeschooling for 10 years, but I was very curious about this course because I know it is never too late to revive your school and we have made a lot of changes in the last year or so including a big move. The kids have done great with all the changes, but I have been feeling like I wasn't on top of my game and I was hoping this course would help me get my focus back and help me give our school a direction. It has done exactly that and I couldn't be happier!
The first module requires you to take a tough look at your school and really see what is working and what isn't going so well. I can't lie and tell you that this module was easy for me because it wasn't. I had to face the fact that I don't always give our school the full attention because I am also busy being a mom, wife, blogger, and friend. Sometimes while the kids are working on school, I am not giving them my full attention because I am trying to do too many other things and label it multi-tasking. This module really opened my eyes to the fact that next school year, I need to determine a schedule that works for us so that I can focus on each task I need to complete one at a time - school time is only school time, etc. This module also helped me sit down with my hubby (our Superintendent) and discuss what we really wanted to set as overall goals for our school and for each of our kids. It took me longer to go through this module than I thought it would, but I really spent some time digging deep and discussing with my hubby what I thought I needed to change and what he sees that I might need to change.
The second module is all about time management and organization. This is where I need a lot of help. I have a tendency to think I can do it all and do it all at once. It was very good for me to work through this module and see what I could say "NO" to and what I needed to change the priority level for. It also has a lot of great ideas for teaching your kids to help around the house and for getting routines for housework set up. I am just getting into the third module because I have been taking my time on the homework and really doing deep digging for my answers because we want our life at our new house to be a fresh start and I don't want to fall into the same old routine we always had that didn't always work for us.
This course has been a great tool for me and I definitely recommend it if you want to make changes in your homeschool. Like I said before I wasn't sure how I would use it at first, but now I see that it is a must if you are questioning any part of your homeschooling. Heather has done a fantastic job of providing support and encouragement in this journey of homeschooling. She is also very direct and intentional with this course. She wants to make sure that homeschool parents are not burnt out and are giving their best to their schools and this truly comes across during this course. She gives a multitude of ideas and resources for lots of different areas of homeschooling. The private Facebook group for the course has been a great place to chat with fellow homeschoolers and get ideas and encouragement. I will be finishing up this course this in the next few of weeks and I look forward to finishing it to continue finding my direction for our school and get us set up for next Fall.
There are 2 different pricing options for this course and while it may seem costly as first, you do gain lifetime access to the course so any updates that are added you will also receive and you can work through the course again anytime you need to. You can learn more about the Homeschool Rescue course and get signed up for it if you choose to by clicking
here
. You can learn more about Only Passionate Curiosity and all they have to offer on their
website
,
Facebook
,
Twitter
,
Pinterest
,
Instagram,
and
Google+
pages. You can also learn what my friends on the Homeschool Review Crew learned by working through this course by clicking the banner below.