Language Arts isn't the easiest subject to teach in our house, mostly because I love anything to do with Language Arts and my kids don't love this subject. So there always seems to be a little bit of a battle because I want them to be strong readers and good writers, but they just want to get the work done. This is why I was excited to receive
Gr 8 Lightning Lit Set
from
Hewitt Homeschooling
to review with Buddy. We also got a chance to try out their paper evaluation service which was very helpful to me.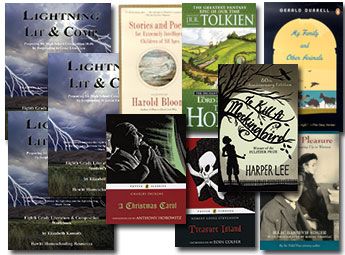 Hewitt Homeschooling has been around since 1964. Their goal has always been to improve education. In 1983, they changed their primary function from consulting with educational institutions to becoming a proponent of homeschooling. They offer services, testing, and products for students in Kindergarten through high-school. One of their main products they offer is their Lightning Literature program. This program is available for Grades 1-3 (Grade 4 is coming soon), Grades 7-8, and they have 12 different Lightning Literature courses for high school. They developed their Lightning Lit program when they saw a need for curriculum that uses whole books, teaches deep reading and writing skills, and maintains or encourages a love of reading in the student.
It's a lot of red and yellow, but it showed Buddy he needed to edit his writing before turning it in.
My thoughts on this curriculum are that it is very detailed and thorough. It has a format that I really like and it is scheduled out well. I like that it gave Buddy options when it came to the writing assignments so that he didn't feel forced to writing about something that didn't matter to him. I like the way it broke down reading the books for the curriculum. It made the reading a good pace, but not overwhelming. I also really, really appreciated being able to try the paper evaluation service. It was a confirmation for me that I am not expecting too much out of Buddy's work, but that he does need to try harder when writing and he needs more grammar work. It helped me see that I do need to make grammar a focus next school year and that it wouldn't hurt to practice the basics of writing. I do plan to check out the high school curriculum from Lightning Lit to see if one will work for us and I would definitely check out the elementary offerings for my daughter.
website
. You can also find out more about them on
Facebook
,
Twitter
,
Pinterest
, and
Google+
. You can learn more about the Gr 8 Lightning Lit Set we received
here
. I do recommend that you check out all the reviews from my friends on the Homeschool Review Crew by clicking the banner below because we got to review many different products this time.