Health education is a very important topic to cover in school and it can be hard to find one company that covers a wide range of ages since I teach two completely different grades in our school. This is why I was intrigued to get access to the
Homeschool Special
from
MarshMedia
to review recently. MarshMedia's health education videos cover a wide range of ages and topics.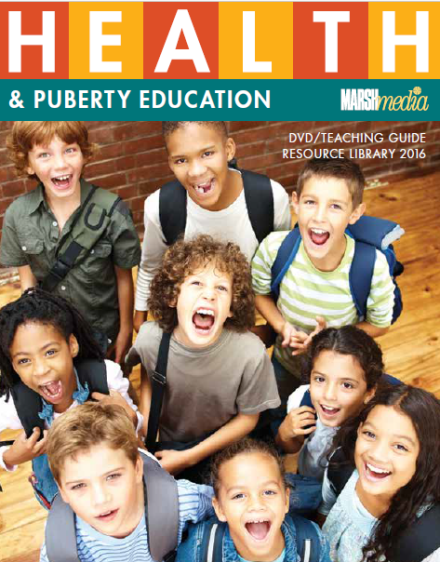 MarshMedia has been around since 1969. Their goal has always been to produce distinctive educational materials that teach children to live more effectively in the diverse and fast changing world. While they formerly focused on getting their materials into public schools, they have recently begun reaching out to homeschools. They want to make their educational video library of over 50 videos about a range of health topics available to the homeschool world. Their videos cover the topics of:puberty, hygiene, health, nutrition, safety, the immune system, bullying, social skills, and more. Their videos are geared towards grades K-8 and they are around 15 minutes long (some are a little longer). When you click on each video you can see the rating, the age recommendation, and a brief description of the video. In order to reach homeschool families they have created the
Homeschool Special
. This special offer gives you unlimited access to all of their streaming videos for only $50 until the end of this year (12-31-17). This offer doesn't limit the amount of time you have to watch the videos and it doesn't limit the number of times a program can be viewed. This is really a great offer they are doing for homeschool families.
When we received access to MarshMedia's video library we had to "check out" the videos by renting them. They were still in the process of developing their Homeschool Special microsite so that now homeschoolers can find all of their videos in one place. This one place will be really nice and easy to access for parents. I wanted to watch some of the videos before letting my daughter and son watch the videos just to make sure that they were a good fit for us.
Helpful tips from the anger video
I first watched a video on the topic of Anger. I thought this would be a good video for my son to watch since he is in his teenage years and just finished 8th grade. This video presented anger clearly and gave helpful strategies for dealing with this emotion. It showed specific situations that students may deal with and gave suggestions for dealing with those situations. The information was good even though the video was a little dated and the kids in the video were using actually telephones with cords. My son thought the video was good and to the point. He understood why learning about anger was important and said they had good ideas for dealing with anger.
This was a good video, but it is truly for grade 5-7
The next video I watched was Growing Up! for Girls. This video is recommended for grades 5-7. I wanted to check out this video because my daughter just finished 3rd grade and we have already had talks about how her body will change and why her body will change over the next few years. I thought this video might reinforce our talk. I was glad that I watched this video first without her. It is a very detailed and accurate video. The information is presented clinically, but is very specific and even showed drawings of how the boys bodies change during this time which I have not covered with my daughter. I knew this video was aimed at older girls and I definitely agree that it should only be viewed by older girls.
An "every day food " was explaining the foods we need to my duaghter
I did have my daughter watch Go Slow Whoa. This was a video on nutrition which I thought would be fun for her to watch since she is very interested in cooking and she is always asking me about the food we eat. This video was designed for grades K-3. It presents nutrition information in the form of a fun game show where the contestants are healthy foods that are okay to eat every day versus the foods we should have occasionally. It was informative and my daughter thought it had good facts, but she said she felt the video was geared more towards littler kids than her.
I like that MarshMedia offers a wide range of topics that can be covered in their educational videos. I think the videos are factual and clear about the topic being discussed. I did not watch all the videos they offer, but the ones I did watch were good. I would advise parents if you are going to have your students watch the videos about sensitive topics like puberty, watch the video by yourself first to make sure that you know what the video will be presenting to your child. I think the puberty video I watched for girls was well done, but it would not have been appropriate for my daughter at this time. My kids thought the videos they watched were okay. They said they learned from them and when I asked them questions about the videos they could answer them. Overall this was just an okay fit for us.
You can find out more about MarshMedia on their
website
. You can also find them on
Facebook
,
Twitter
,
Google+
, and
YouTube
. If you wish to take advantage of the opportunity to introduce the MarshMedia curriculum to your homeschooler(s) click on this link for more information:
https://marshmedia.com/pages/homeschool-offer
As always you can find out more about this product by clicking the banner below to find out how my friends on the Homeschool Review Crew used these videos.