If I am honest with you, I have to admit that science is not my favorite subject and it is one I struggle to teach because it is hard for me. This is why I was intrigued and grateful to receive a copy of
Introductory Physics
from
Novare Science & Math
to review. I had not ever thought to teach Physics in 9th grade, but since receiving this textbook for Buddy, I am changing my mind.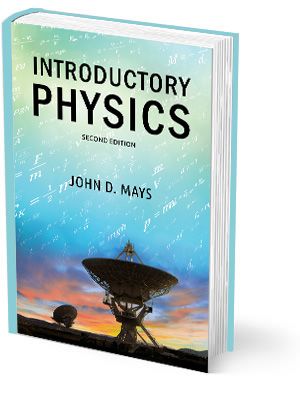 Novare Science & Math, created by John D. Mays, is on a mission to change how our students look at science. They promote a teaching philosophy based on the core principles of Mastery, Integration, and Kingdom Perspective. Their goal is to teach our students to master the material in their textbooks by focusing the scope of their curriculum. This enables the students to learn the material at a deeper level because they are not only learning new material, but also consistently reviewing the material they have previously learned. Novare Science & Math also highly encourage the integration of math and science because they believe that both subjects compliment each other. They also integrate writing into their curriculum by encouraging students to write full sentences and paragraphs in their homework and tests. Finally, they approach their textbooks from a Kingdom perspective because they are a Christian company that believes God created our world and everything in it so we cannot leave God out of science.

Novare Science & Math offers several different textbooks and resources. The members of the Homeschool Review Crew got the opportunity to review:
Earth Science: God's World Our Home - This textbook is recommended for middle school aged students. This textbook teaches students about the Earth and its many features.
Introductory Physics - This textbook is recommended for 9th - 11th grade students. This textbook teaches students about motion, energy, atoms, heat, and more.
General Chemistry - This textbook is recommend for students in 11th grade or students taking Algebra II. This textbook teaches students about measurements, atoms, atomic structure, chemical bonding, the Periodic Law, and more.
Science for Every Teacher - While this resource is not a textbook for students, it is a valuable resource for parents and teachers with students in K-8th grade. It gives clear, accurate explanations of scientific concepts. It is designed to increase your confidence and knowledge of science so that you can teach it confidently.
They also offer other science curriculum, student resource CD's for their curriculum, experiment manuals, teacher resources, and parts kits for their experiment manuals.
We received the Introductory Physics textbook and Student Resource CD for the textbook for Buddy to review. Buddy is going to be in 9th grade this fall and Novare recommends Introductory Physics for 9th through 11th grade. Their philosophy behind teaching this Introductory Physics course is that their curriculum focuses on the basic principles of physics while the math in this curriculum is limited to the typical math taught in Algebra I and Geometry which is generally taken during 9th grade. They save the advance level physics that requires advance math like Trigonometry for an advanced level of physics. Once I learned this information about this introductory course, I figured it would be perfect for Buddy since he just finished Algebra I and will be working through Geometry this year.
This Introductory Physics textbook that we received includes 13 chapters, a glossary, and several appendices. These appendices include reference data, chapter equations and objective lists, laboratory experiments, scientists to know about, and making accurate measurements. The 13 chapters are:
The Nature of Scientific Knowledge
Motion
Newton's Laws of Motion
Energy
Momentum
Atoms, Matter, and Substances
Heat and Temperature
Pressure and Buoyancy
Waves, Sound and Light
Introduction to Electricity
DC Circuits
Fields and Magnetism
Geometric Options
The Student Resource CD that can be purchased to use along with the textbook contains an Overview of Teaching that explains the how and why of teaching the course along with recommendations for grading, a sample lesson calendar, quizzes, quiz keys, weekly review guides, sample answers for the verbal questions of this book, semester exams, and the exam keys. It is very thorough and helpful to have.
Quiz - we are still working on getting Buddy to answer in complete sentences this is something he is not used to doing.
After reading through how to use this curriculum, I had Buddy get started in chapter 1. The chapters begin with an interesting fact and then it lists the objectives of the chapter. Then each chapter is broken into topics and each topic has sub-topics. This makes the reading manageable and easy to plan out for lesson planning. There are study questions at the end of each chapter where Buddy was encouraged to write out full sentences for answers and to check his grammar and spelling for the answers. The questions can be divided to answer each day or if your student prefers they can answer them all at once. I also printed off the weekly review guide for Buddy to work through to make sure he was understanding what he was reading. I also printed off the quizzes for chapter 1 for him to complete at the appropriate times when reading. The weekly review guides encouraged him to look back at his quizzes to see what he missed, review vocabulary learned in the chapter, and review the major concepts in the chapter while thinking more about them. Buddy did a good job of answering all the questions, quizzes, and review for chapter 1. The only thing he could have done better is answering in complete sentences all the time. He did for some of the questions and others he didn't. He is currently almost finished with chapter 2 and we will be using this curriculum for his science in the fall since he is enjoying it and likes the format of it.
Buddy likes how this textbook is set up and how the topics are broken down into smaller parts. It helps him retain what he read and be able to answer questions about the material confidently. We like the format of the textbook and the way it highlights ideas, key points, and examples. I like it that the questions for the chapter are all listed together at the end of the chapter and so I can quickly divide them for him to answer as he reads. A warning about the questions though is that in the questions for chapters 2-13, some of the answers are given at the end of each sections questions so make sure to cover those or do something so your student can't take a peek at those before answering the questions. Buddy is also enjoying the topics he is reading about in this textbook. He says it isn't as boring as some of the other science books we have used and it is easy for him to understand so far. I really like all the background information he has been learning so far and that this book is written from a Christian perspective. I like that it references what God says and not just what man says. This is a big plus to this curriculum for our family. We haven't gotten terribly far into the math side of physics with this book so far, but I like that what Buddy has been doing of the math in chapter 2 is a review for him because it was something he learned in Algebra I so it isn't too hard for him and he understands how it works. I really appreciate the integration aspect of this textbook and now that we have been using it, this method really makes sense to me and I really like it.
We definitely recommend using Introductory Physics from Novare Science & Math. I also want to check out their other curriculum for our science needs in our family. Novare Science & Math is also recommend for use by Memoria Press which is a company we have come to really love. You can find out more about all the products Novare Science & Math offers on their
website
,
Facebook
,
Pinterest
, and
Instagram
. You can find out more about the Introductory Physics we received by clicking
here
. I also highly recommend that you check out the other reviews from my friends on the Homeschool Review Crew because we received different curriculum from this company to review. I know I will be clicking the banner below to learn more about the other curriculum from Novare.