I must confess that I have not had Little Miss focusing very much on geography yet for school. It isn't because I didn't want her to learn about geography, it is more because I usually don't focus on it until about 4th grade. So I was very excited to receive access to the
Make-a-State Activity
from
Home School in the Woods
to review with Little Miss. The Make-a-State Activity is part of the
Activity-Paks
series from this company which includes: Make-a-State, The Old Testament, The New Testament, Composers, and Artists.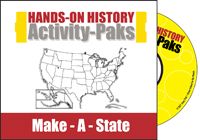 Home School in the Woods is a family run company that was created when the Pak family began their homeschooling journey. Amy saw a need to make history come alive and not bore her own children, so she dove in and started pulling together resources. She used the resources she pulled together and others she created to start the business. Now her whole family is involved and they each have their own unique role at Home School in the Woods.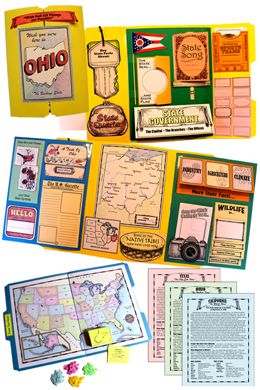 The Make-a-State Activity-Pak can be purchased as either a digital download, like we received, for $18.95 or a CD version for $19.95. You can use it to study any state in the U.S., including Washington D.C. Using this Activity-Pack, your student creates a lapbook for each state you choose. There are 20 projects for each state and each projects uses a variety of methods such as creative writing, illustrating, coloring, research, and mapping. The projects include learning about:
Key State Facts
Origin of State Names
State Motto
State Symbols
State Song
State Wildlife
Regions
State Landmarks
State Geography
State Government
State Seal & Flag
State History
Famous People From...
Native Tribes
State Industry/Agriculture/Climate
Sports Teams
State Quarter
Recipes
State Vocabulary
State Timeline
This Activity-Pak can easily be used along with state study, books, or history curriculum you are using. It includes an introduction for the teacher, the directions for each project, lapbook assembly instructions, photographs that show the completed projects, bonus "State Pages" that give basic information about each state, a bonus "Name That State!" File Folder Game, and a list of other suggested resources for further state study. It is recommended for grades 3-8.
Little Miss decided that she wants to do all the projects for the lapbook and then put the book together all at one time. She thinks this way will be easier for her to make sure she has room for each project. She completes a project and cuts it out and then puts in her file folder that will hold all of her work until she completes all 20 projects. She is currently half way through the projects and is trying to decide what state she wants to work on next when we start the school year this fall.
alacarte
at checkout.
We definitely recommend the Make-a-State Activity we reviewed. My son has been asking me if I can add this to his school this fall to even though he is going into 9th grade. I'm all for it. You can learn more about all of the different products that Home School in the Woods has to offer on their
website
. You can also find them on
Facebook
,
Twitter
,
Pinterest
,
Google+
, and
YouTube
. You can learn more about the Make-a-State Activity we received
here
. I highly recommend that you click on the banner below to read the reviews from my friends on the Homeschool Review Crew because we got to review many of their different series. I know I will be checking out the reviews so I can decide which series I need to add to my upcoming school year for each of my kids.