We love family movie night in our house. I do my best to make sure the movies are interesting, wholesome, and appropriate for everyone since we do have an age gap between kids, but it isn't always easy. This is why we were excited to receive
Trust Fund
from
Mapelle Films
to review recently.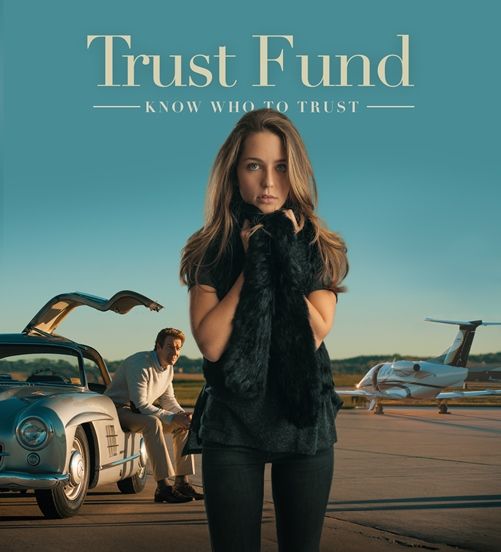 Mapelle Films is a production company ran by Sandra Martin and Isaac Alongi. Sandra has the role of writer, director, and producer. She has also written three books. Isaac has the role of cinematographer and producer. In addition to the two movies Mapelle Films has produced, Isaac's work has been seen in many feature films, tv shows, documentaries, and more. He has over 20 years of cinematography experience and those experiences began when he was homeschooled and given creative freedom to pursue his passion of photography and cinematography. This was another reason I was excited to review this movie. I love showing my homeschooled kids what other homeschooled kids have accomplished.
Trust Fund is a faith-based movie that is inspired by the Prodigal Son story found in the Bible. It is the story of two sisters who seem like night and day, but when it really comes down to it, they want the same things. Audrey, the older sister, seems like she has everything under control and like she is very successful. It is easy to see that she just wants to make sure that everything is done the right way and she doesn't upset anyone, especially her father. Reese is the baby sister who seems like a free spirit. She wants to explore her creative side and accomplish her own goals, her way. At the beginning of the movie, Reese's motives and intentions seem purely selfish. She finds out there is a trust fund set aside for her and Audrey and once she learns about it, the fund is all she can think of. Reese finds a way to gain access to the money, but once she gets it she runs off to Italy where things go badly for her. She makes many bad decisions and gets involved with Milo who leads her further astray. Reese finally realizes that she can't keep doing what she is doing and calls her dad to see if she can come home. The tension between Audrey and Reese builds as Audrey thinks Reese gets off easy for all the things she did and when things start to fall apart for Audrey. Audrey wants Reese to grow up and take responsibility for her actions and Reese wants Audrey to live a little. You will have to watch the movie to find out if they ever see eye to eye or if they give up on each other. This movie received the Dove seal for approved viewing for ages 12 and up, but it can also be watched by younger children when viewed as a family.
Our family enjoyed this movie. There was enough action to keep the boys interested in the movie and there was plenty of drama to keep us girls involved in the storyline. There were just enough plot twists and turns that kept us from being able to guess how the whole movie would turn out. It was very interesting for our kids to watch this movie because while they are not exactly like Audrey and Reese, their personalities are very similar to each of them and they found that they could sympathize with each character. They also found that sometimes when you don't think you understand your sibling it is because you are more like them than you realize. This movie lead to some really great family discussions about the choices we make, understanding your sibling, and why parents make the decisions we do. We also discussed how the storyline of the movie was like that of the Prodigal Son from the Bible. I was also able to get some more topics to talk about from the download
study guide
that Mapelle Films put together for the movie. Their study guide has questions, deeper topics, and plot summaries for the movie. It is a nice resource that they have right on their website. They also offer the book Love was Near by Sandra Martin. This book was inspired by the movie and it is designed for girls ages 12 and up. It digs deeper into Reese's story and what she is thinking when she makes the decisions she does. I really appreciate that Mapelle Films didn't just create a good movie, they offer resources that can help you make it a family movie and a family discussion. It is a movie that we will watch again.
You can learn more about Mapelle Films on their
website
. You can learn more about Trust Fund, the movie we watched
here
and on
Facebook
,
Twitter
,
Pinterest
, and
Instagram
. It is definitely a movie worth watching and discussing. My friends on the Homeschool Review Crew also got to review this movie and some of them even got to review the Love was Near book, so click on the banner below to read their reviews.