Little Miss is a hands-on student. I have noticed that she learns best when she studies something and then does a project for a subject or creates something from what she studied. This is why I was excited to receive
The Greatest Inventors
from
A Journey Through Learning Lapbooks
for us to review recently. Lapbooks have been great for her so I thought she would like learning about famous inventors by creating a specific lapbook all about them.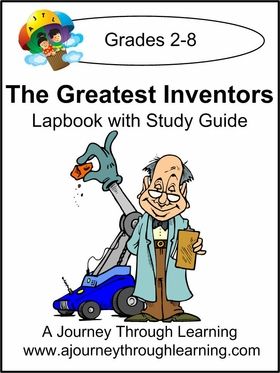 A Journey Through Learning Lapbooks is owned and operated by Paula Winget and Nancy Fileccia. They are two homeschool moms who saw and felt a need for their own homeschooling purposes which they decided to turn into a business since they thought others could benefit from their need too. Their website offers many different topical lapbooks, curriculum lapbooks, unit studies, copywork, and notebooking for your homeschool needs.
The Greatest Inventors lapbook we received covers 18 great inventors and their inventions. It includes a study guide for reading and learning about the inventors and projects to do for each inventor for the lapbook. The projects have students write about the inventor and their invention. Sometimes it does this by asking a specific question and other times it is an area for the student to free write. There are a couple of extra little projects they can do to help them better understand some of the inventors or their invention. There is even a project where they get to decide on something they will invent. At the end of the lapbook, there are several resources for deeper study of the inventors if you choose to do so. These resources include a reading log, a book report form, a form for taking notes, an outline form, and a narration form for using with younger students. It even includes a list of other books you can read to learn more. This lapbook sells for as a download for just $8.00 or as a print version for just $18 and it can be used for students in 2nd through 7th grade.
website
,
Facebook
,
Twitter
,
Google+
, and
Instagram
pages. You can learn about The Greatest Inventors lapbook we received
here
. You should also check out the reviews from my friends on the Homeschool Review Crew by clicking the banner below because we got to review many different products from this company. I will be taking a look at the reviews to see which lapbooks I need to put on my list of things to purchase.