Little Miss has shown an interest in learning a foreign language for awhile now. She has been trying to learn Spanish, but like all young kids she tends to get bored with it. I knew she needed a break from this foreign language, but I wanted her to continue to learn some foreign language. This is why I was excited to receive Hey, Andrew! Teach Me Some Greek! - Level 3 Set from Greek 'n' Stuff to review with her recently.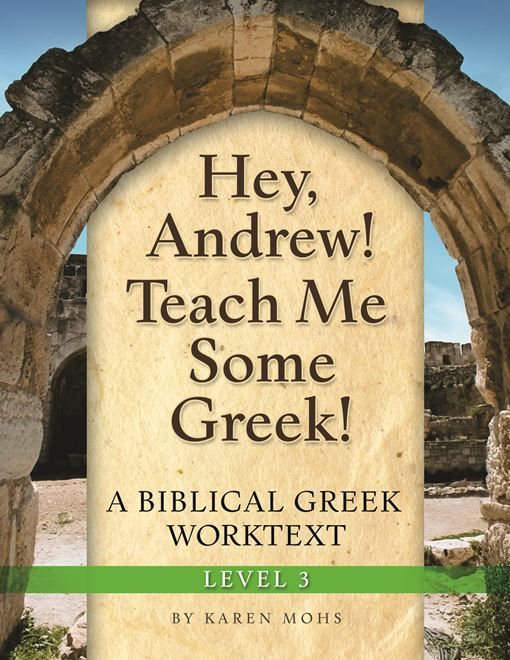 Hey, Andrew! Teach Me Some Greek! - Level 3 Set that we received includes the student workbook, a "Full Text" answer key, and a pronunciation CD for levels 3 and 4. The consumable student workbook has 36 lessons. The lessons are designed so that your student works on a page in the workbook each day. This means that you could use this for a full school year if you worked at their recommended pace. It also includes an appendix which has flashcards for your student to practice with, a copy of the Greek Alphabet, information on the vowel sounds, information on verbs and nouns, and more. The "Full Text" answer key we received is just like the workbook, but it has the answers filled in. It also gives a recommended teaching schedule, teacher tips, and some translation walk-throughs that are helpful. The pronunciation CD has a Greek Alphabet song on which is very helpful for hearing how the letters should be pronounced. It also features word

pronunciations

for many lessons. The tracks are clearly marked for which page number they match with. Greek 'n' Stuff recommends this Level 3 set for upper elementary students through adults. Even though you may have never studied Greek before like us, you can start here because the first part of the workbook is review from previous levels before they jump into new material. The workbook and the "Full Text" answer key are available for just $21.95 each and the pronunciation CD is available for $10.00. Since these products are consumable, you need a workbook for each student.
Little Miss was curious and excited to start this review. She was excited to learn a language that no one else in our house knows. I started her off with lesson one which starts by reviewing the Greek Alphabet. She really liked learning the letters and the unique writing of Greek. These pages had her practicing saying the letter name while writing it and she did a good job learning them. Spent about two weeks working through the alphabet pages and the review of the alphabet pages. I wanted to make sure she took her time and actually learned the letters instead of rushing through. When she got to lesson three, she started learning Greek words. She really liked the "new" way to write man and brother which were some of the words she learned in that lesson. She also liked making up the flashcards so that she could practice her new words when she wanted to. She worked at the pace of a page a day which took her about 10 minutes or less each day, but it had her full attention while she was working on it. She just finished up lesson four and will pick up the lessons again when our school year starts.
Little Miss really enjoyed learning Greek. She said she felt like she was learning a secret language since the rest of us do not know Greek. She has been sharing her new words with us and making us guess what they mean. I like this set from Greek 'n' Stuff because it is easy to work through for my 4th grader, but she is really learning at the same time. I appreciate all the teaching tips in the answer key because I wouldn't have an idea without them. I also really liked the pronunciation CD that we received. It helps me know the correct pronunciation so I can tell if Little Miss is pronouncing the words right. We definitely recommend checking out this product for learning Greek.
Greek 'n' Stuff offers many products in addition to their
Hey, Andrew! Teach Me Some Greek! series. They offer Bible Study books, other Greek levels, and courses in Latin. They are definitely a great resource for homeschool materials. You can learn more about them on their website, Facebook, Twitter, Pinterest, and Instagram. You can learn about more about the
Hey, Andrew! Teach Me Some Greek! - Level 3 Set we received here. I would also encourage you to check out the reviews from my friends on the Homeschool Review Crew by clicking the banner below because we did get to review different products this time. I know I will be reading them because I am interested in some of the Bible Studies for my kids.