Last year was the first time we were introduced to audio dramas and since then we can't get enough of them. Our favorite audio dramas are from
Heirloom Audio Productions
and I can tell you that we were very excited to receive their latest title,
In the Reign Of Terror
, to review. We have not spent much time studying the French Revolution yet in our school, so I thought this might be a great way to introduce it.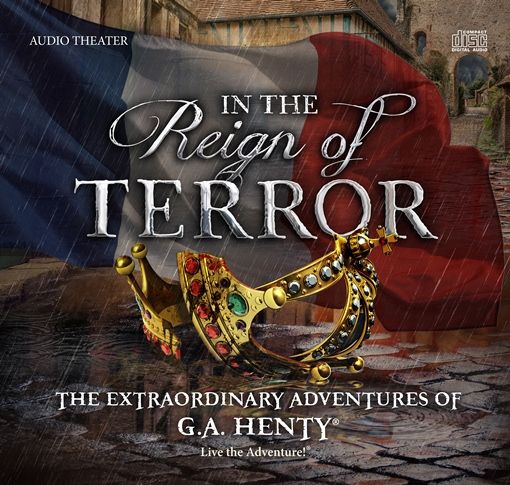 Since we have reviewed products for Heirloom Audio in the past, we knew we could expect a quality audio drama that not only captures our attention and but it also keeps us on the edge of our seats. As a homeschool parent, I have come to really appreciate this company because their priority is bringing real history to life for their listeners and they strive to tell the stories of true Christian heroes while teaching strong moral values. Their audio dramas are based on the popular book series
The Extraordinary Adventures of G.A. Henty.
His books are filled with themes of bravery, loyalty, family, and happy endings while featuring moral values like loyalty, courage, honesty, and perseverance. Since Henty's books are filled with such great themes and morals, you can see why Heirloom Audio would base their audio dramas on this series. They make it easy to complete their mission which is "to engage the listener's imagination by taking them back in time and immersing them in a great Christian story " because their audio dramas captivated us from the opening lines of score to the ending credits.
Live The Adventure Club
. This is a new way to access all of their bonus material they offer and right now they are offering a 3 month trial of it, plus their latest adventure for just $1. After the trial period you would pay just $24.75 every three months. The Live The Adventure Club is packed full of extras for listeners, teachers, and families. Heirloom Audio productions generously gave us access to this club so that we could access all the bonus material for In the Reign of Terror. It was through this access that I was able to download the study guide and the script for this audio adventure. I love having access to the study guide so that I can discuss the parts of the drama with my kids. I usually use it as a reference to make sure they know what is happening in the drama since it has questions you can ask for each chapter of the audio drama. The study guide also has vocabulary words, deeper questions for further thinking and research, and "Expand Your Learning" sections that give history details related to the story or recipes that coordinate with the story. There is also a section for Bible study in the study guide.
Our whole family definitely recommends listening to In the Reign of Terror from Heirloom Audio Productions. You can find out more about In the Reign of Terror
here
. You can learn more about Heirloom Audio Productions on their
website
,
Facebook
,
Twitter
,
Google+
, and
Instagram
. Please be sure to check out all that Heirloom Audio Productions has to offer. I know we will be checking them out to see what other series we can use this year for school. My friends on the Homeschool Review Crew have also been reviewing this audio drama, so make sure you read their reviews by clicking the banner below.