Algebra can be a very tough subject for kids to learn. Buddy just finished Algebra I this past school year, but I am always looking for ways to keep this subject fresh in his mind since he will need the skills he learned for other math classes. This is why I was very happy to receive a copy of
No-Nonsense Algebra
from
Math Essentials
to review recently.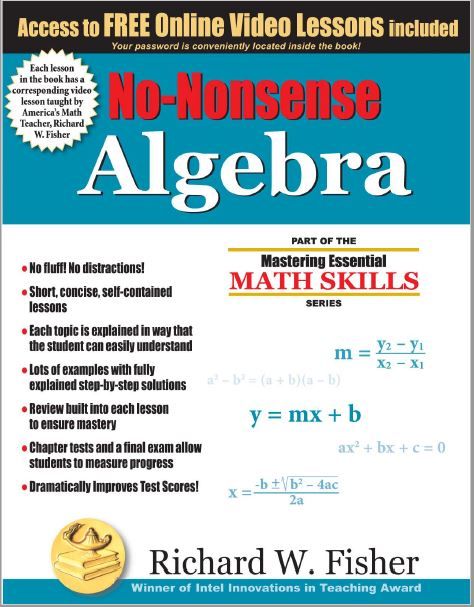 No-Nonsense Algebra is a textbook style book that is designed to help students master essential math skills. Each lesson begins with an introduction which explains the topic for the lesson. The introduction also has helpful hints for students to remember when solving the problems. Next there are several examples that show exactly how the problems should be worked. Then there are exercises for the students to complete so that they can practice what they have learned. Finally there are some review problems that review concepts that have been previously covered. There are 10 chapters in this book and at the end of each chapter there is a chapter review which you could use as test if you would like to. There is also a final review that covers the contents of the entire book. The 10 chapters cover:
Necessary Tools for Algebra
Solving Equations
Graphing and Analyzing Linear Equations
Solving and Graphing Inequalities
Systems of Linear Equations and Inequalities
Polynomials
Rational Expressions (Algebraic Fractions)
Radical Expressions and Geometry
Quadratic Equations
Algebra Word Problems
When you purchase this book for $28.95 you also get access to free online video lessons. They have a video for every lesson in this book and the videos are clear, concise, and helpful. This textbook can be used in a variety of ways. It can be used as a main Algebra curriculum, a supplement to another Algebra curriculum, or as a review if your student has already completed Algebra.
website
and on
Facebook
. You can learn about the No-Nonsense Algebra we received
here
. As always you can see what my friends on the Homeschool Review Crew are saying about this textbook by clicking on the banner below.