We are a huge fan of books here in our house, especially if they are educational. So it shouldn't be a surprise that we would jump at the chance to review books. We were super excited to receive
If You Were Me and Lived in...Colonial America
and
Oh Susannah: It's in the Bag
by
Carole P. Roman
to review. She was also very generous and sent us copies of
I Want to Do Yoga Too
and
Can a Princess Be a Firefighter?
to read as well.
We got our first chance to know Carole P. Roman books last year in this
review
. We fell in love with her books because they are interesting and educational. They are written so that kids can understand them, but they are also full of information that everyone can learn. Even though it
can be difficult to find quality books about different time periods that multiple ages of children can read and understand, you don't have to worry about that with these books.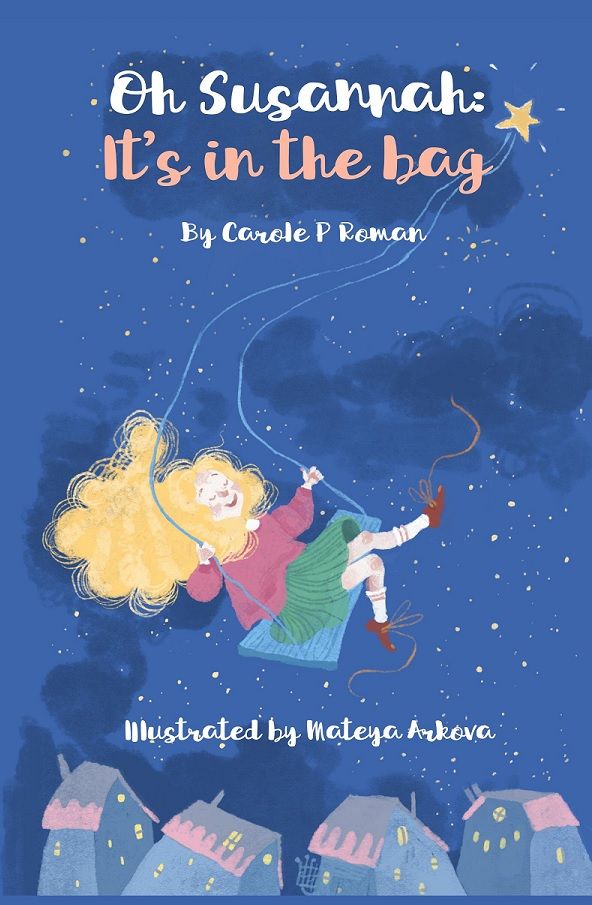 The If You Were Me and Lived in…Colonial America is part of Carole's Historical series. It is a non-fiction series that encourages readers to explore what life might have been like if you lived in a different time period in countries around the world. This series is written from the point of view of a young student so that readers can feel like they are part of the country they are reading about. So far this series includes 10 different titles which allows readers to visit Greece, Italy, England, Colonial America, China, The Middle Ages, Europe, the Mali Empire, Viking, Europe, and the American West. The book we received had around 60 pages. The books tell where the country or area of the world can be found. Then the books tell facts about what life may have included for you if you lived during the time period. It tells facts like what kind of housing you might have lived in, what kind of government existed, the kinds of food you would have ate, where you would have went to school and what you would have learned there, and much more. Each book also had a glossary that defined terms used throughout the book and gave the proper pronunciation of the glossary terms. The books also listed and discussed important people from the time period it represented. At the end of each book the author lists her
blog
so you can go to it and find resources to use with some of the books. The resources on the blog are worksheets, coloring pages, topics for essays, and critical thinking questions.
Oh Susannah: It's in the Bag
is part of Carole's Early Chapter Reader Books - Oh Susannah Series. This series features Susannah Logan, a third grade girl. This series currently only has 2 books, but I am sure more are coming. In
Oh Susannah: It's in the Bag,
Susannah has lots of problems and feels like she has no solutions to any of them. It starts with unfinished homework that she just shoves down in her backpack. Then there is the sleepover invitation that gets shoved in the backpack. A library book, a banana, and more get shoved down in the backpack, but soon the backpack can't hold it all and Susannah can't hide it. Her parents help her deal with her problems once Susannah finally feels like she can tell them what is going on.
I gave Little Miss, my 4th grader,
If You Were Me and Lived in...Colonial America
to read. For her history this year, she will be learning what early life in America was like. She did read this book out loud to me over a couple of mornings. I asked her questions about what she was reading to check her understanding and she was always able to answer pretty quickly. Little Miss enjoyed reading this book about Colonial America and thought that life would have been harder back then without all of our modern appliances. She decided that she would not like to wear what they wore because that would not leave her room to put her touches on her fashion. We will use this book again later on in the year as a reference for life in the early colonies.
Little Miss also read
Oh Susannah: It's in the Bag
out loud. She really liked this story. She said there has been times when she felt like Susannah and it was a great opportunity for us to discuss what to do when you feel overwhelmed. Little Miss was a little shocked when I told her that there are many times I feel like Susannah too. This book not only helped Little Miss, but it was a great reminder for me that not only do I need to make sure I keep things under control so I don't get overwhelmed, but I also need to check with Little Miss regularly so that she isn't shoving things down and getting overwhelmed. This story was very touching for us.
I Want to Do Yoga Too
and
Can a Princess Be a Firefighter?
are a part of Carole's Bedtime Stories Series. There are four books in this series. These are easy story books with lots of pictures and simple stories.
I Want to Do Yoga Too
is all about little Hallie who wants to go to yoga with her mommy. She wants to do everything just like mommy does. Hallie doesn't even realize that she is doing yoga when Robin, the child care worker, shows her how to be a tree, butterfly, airplane, and cobra. She is excited that she can be like her mommy.
Can a Princess Be a Firefighter?
is a sweet little story about wanting to be a princess, but do other things too. The little girl asks her mom if she can be a princess and a firefighter which starts a conversation. The mom explains that there are tons of careers the little girl can have and she can have more than one. In the end the mom reminds the little girl that no matter what career she chooses, she will always be a princess to her mom. Little Miss loved both of these books too. They were just fun to read. She read them and then she had Daddy read them to her before bed too.
We highly recommend the books we received from Carole P. Roman. She is a favorite author in this house and we look forward to reading many more of her books. You can find out more about this author and all her books on her blog, Facebook, Twitter, Pinterest, and Good Reads. Check out all the books she has to offer. You can also read the reviews from my friends on the Homeschool Review Crew by clicking the banner below to learn about her other books because we all got to review different books.