Charlotte's Web is my favorite children's fiction book. I loved reading this book as a child and I love reading it with my kids. I have not read it with my daughter yet, but it was on my list of books to tackle this year. So when we got the opportunity to review the Charlotte's Web E-Guide from Progeny Press, I knew it was time to read my favorite book with Little Miss.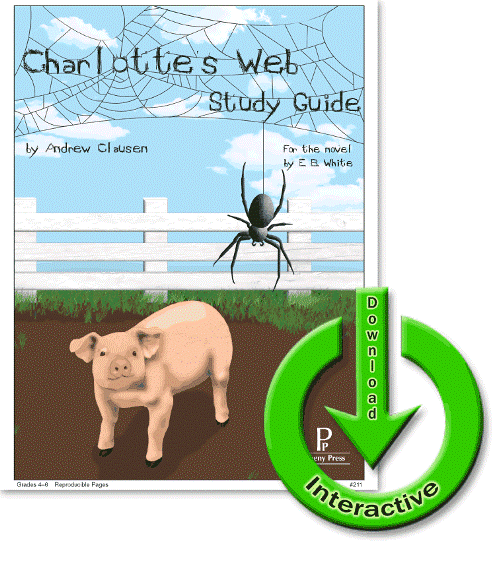 Progeny Press is a company that started out when Michael and Rebecca Gilleland were homeschooling their own children and saw a need for quality study guides with a Christian perspective for Classical Literature. They started out by writing 18 study guides and today they offer well over 100 study guides in several different formats. The study guides that they write are designed to teach children to analyze what they read while checking their comprehension. Progeny Press has study guides for lower elementary right up through high school which is why they have become one of our favorite resources for enhancing our language arts.
Since we have reviewed a Progeny Press study guide before, we kind of knew what to expect from them. When I received the download of our Charlotte's Web E-Guide which is designed for grades 4-6, I downloaded it and got the book from the library. While I scrolled through the 55 page study guide, I had Little Miss start reading the book aloud to me. The study guide begins with a "Note to Instructor" that clearly explained how to use the study guide, what additional resources may be needed, and it gave a suggested schedule for reading. They suggested reading a large portion of the book before beginning work on the questions. The guide included an about the author page, an about the illustrator page, a synopsis, and ideas for pre-reading activities. Then the guide had all the study questions, vocabulary, and deep thinking questions. It did a good job of breaking the book into manageable sections of 3-4 chapters of reading. Then after you read the chapters you did the study guide work. There were vocabulary questions for each section of the book, questions that checked comprehension, questions for thinking about the story, and digging deeper questions for each section.. Some sections of the study guide had Bible references and asked the student to look up a passage in the Bible and then relate it to the story. The study guide also included post-reading activity suggestions and a list of additional resources. This E-Guide is available for just $17.99.
After Little Miss had read a couple of chapters of Charlotte's Web, I had her complete the corresponding questions in the study guide. Since she is a little older now, I let her work on this guide by opening it with Adobe Acrobat which makes it interactive. She could just type her answers right on the computer and I didn't have to print all of the pages of the study guide. She really enjoyed working on the study guide this way because she could easily find her place and scroll to answer the questions for the chapters she read. When she would finish her work for that day, I would save the study guide. It was also easier for me to grade because I could open two windows side by side and see both her work in the study guide and the answer key. This was really good guide for her to work on because she knew she was going to have to think in detail about what she was reading. She knew she couldn't just give quick answers for all of the questions because some of them asked for more detail and her opinion. She said this study guide was harder than the last one she worked on, but she liked it better because it did challenge her to think more about the story and think about what the characters were feeling and why. I really appreciated this study guide because it asked multiple levels of questions. Some were just surface questions that checked to see if she read and other questions were in-depth so that she truly had to think and reason to answer them. I also liked the interactive aspect of this study guide because it made it so that Little Miss didn't lose pages of the guide and we could easily find where she left off with the work. I felt like this was a very thorough and well written study guide. Little Miss is over halfway through the study guide and on Chapter 14 of the book. She will be finishing up both in the next week or so.
This is a screenshot of how I graded the study guide side by side.
I will definitely be checking out Progeny Press for other study guides at other levels especially since I have both an upper elementary student and a high school student in our school.

You can find Progeny Press at their website

, on

F

acebook,

T

witter, Instagram, YouTube, and Pinterest

. You can find Charlotte's Web E-guide we received

here

. Please make sure to go and check out all that Progeny Press has to offer since they do offer so many guides for so many levels. There are many, many titles to choose from with Progeny Press.

Please check out the reviews from my friends on the Homeschool Review Crew by clicking on the banner below. The Crew is reviewing many of the E-guides that Progeny Press offers. I know I will be checking out the reviews so I can see what books we need to add to our list for reading.