My son loves all things geography and it is his favorite subject. Little Miss is just getting started in the world of geography and it is a little bit of a struggle for her to keep it all straight. This is why I was excited to get the chance to review a
weekly homeschool geography curriculum
from
Let's Go Geography
with Little Miss. I was hoping that it would help her learn geography so that it stuck in her mind.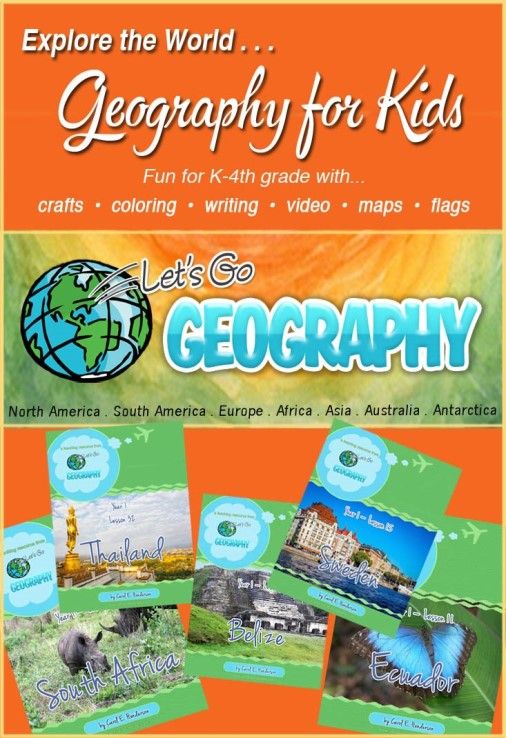 Let's Go Geography is a company and curriculum that was created by Carol Henderson. She understands homeschooling because she successfully homeschooled 5 kids who are now grown. She knows how to teach geography to students because she currently teaches geography to elementary students. Let's Go Geography is for students in Kindergarten through 4th grade. It is designed to be used for 3 years. Each year your student will learn about countries around the world. If you completed all three years with your student they would learn about all of the countries on all seven continents, but you can complete just one year and have your student learn about 26 countries from around the world and 2 regions in the United States. There are multiple plans available to purchase this curriculum and if you wanted to get an entire year's access like we received it would cost just $21.99.
This curriculum is very easy to follow and very easy to use. Each week you are sent a reminder of what week you are on and the link to that week. Once you login to your account you can download the week's materials. You could print everything off or work like we did and only print the necessary materials from each week. Each week begins with some facts to learn about the country of the week. Then there is a map it activity. This has the student locate the country or region on a map and color it. This is followed by questions about the map they are working on and some detailed items to add to the map like lakes and rivers. Then there are a few more detailed map questions each week. The next part of each lesson is learning about the flag from the country. Then students learn about the music and the national anthem of each country. The next thing they do is explore the country through photos and YouTube videos. Then they create a craft. There are instructions to make an easier version of the craft for younger students too. The last part of each week's lesson is all the printable materials you need. These printables include notebooking pages, a coloring sheet for the country, and any patterns you might need for the crafts. These extra pages and all the finished work are designed to fit into a three ring binder that becomes your student's travel journal so they can record where they have been around the world.
Little Miss has been learning a lot of geography with this curriculum. She has worked through the first five weeks of year one and is looking forward to working through the rest of the weeks. So far she has learned about the US Northeast and Hawaii, Canada, Haiti, and Nicaragua. She has not only learned where these places are on the maps, but she has also learned facts about each of these places. Just the other day she was telling a friend of mine all about the lighthouses in Maine that she learned about the first week of this program. The maps challenge her, but she likes learning about them and now that she has completed five weeks she is getting better at completing them. She likes watching the videos to explore the country and see places around the world. She also loves the crafts she gets to do for the countries. Her favorite so far was the maple leaf painting for Canada. Little Miss also loves the coloring pages for each country (art is her favorite subject). She has also had a lot of fun creating her Kid's Passport which Let's Go Geography was very generous to give us as well. She loves adding a country flag to her passport each week when she completes the work for the country.
Little Miss will complete the rest of this curriculum this year for school. I think it is very thorough and the fact that it is a mix of hands-on activities and "book work" type of learning makes it the perfect tool for her to learn from it. I am looking forward to having Little Miss complete a review lesson (the first one is in week 12). This review lesson is very thorough and asks the students to use all they have studied to do things like fill in a map with all the countries they learned about so far. match the country flags to the right country, and explore the countries even more. These review lessons teach your students more about things like compasses, latitude and longitude, and hemispheres. They are jam packed full of review and things that will add to your student's geography knowledge. Little Miss has done well on the lessons she has completed so far and the fact that she is remembering what she is learning about tells me that this curriculum really works for her. I also like that this curriculum has resources in it for further learning about each country. It lists out library books that you can use to study more about each country and it even lists the call numbers for the books so you can teach your students about that too.
We really like this curriculum and I will definitely consider buying the other two years for Little Miss to complete. You can learn more about Let's Go Geography, the company and their curriculum, on their
website
,
Facebook
, and
Pinterest
. You can read more about what my friends on the Homeschool Review Crew thought about this curriculum by clicking the banner below.