Picking out science classes for high school can tough especially when your student is not a huge science fan. I have been looking for science curriculum that would be personally interesting to Buddy so that science would not seem like such a chore to him. This is why I was excited to receive
Marine Biology 2nd Edition Advantage Set
from
Apologia Educational Ministries
to review recently. Apologia Educational Ministries was also kind enough to send along their
Marine Biology 2nd Edition Audio CD
, read by Marissa Leinart, to accompany this curriculum and for us to use.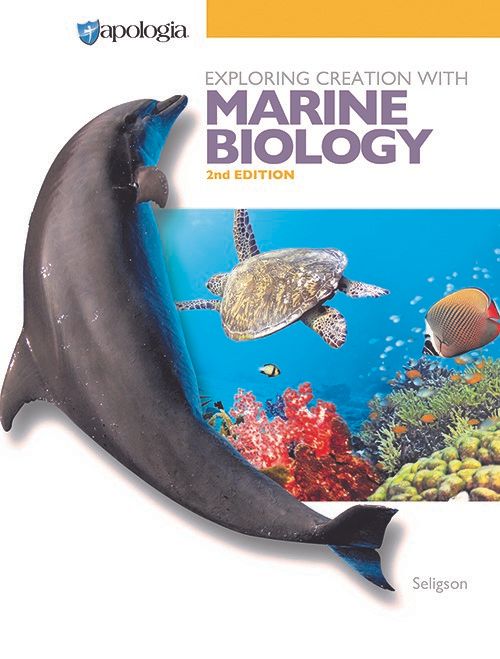 Apologia Educational Ministries is the #1 publisher of creation-based science and Bible curriculum. They believe in homeschooling, being able to defend the Christian faith, and that every academic subject can be taught from a biblical worldview. They publish materials and curriculum for many different academic subjects covering grades K-12. They also offer resources for homeschooling families and even have an Online Academy that students can attend to. Apologia has been a company we have used for years and one that we truly appreciate because of the view they offer.
The Oceans of Our Planet
Life in the Sea
The First Four Kingdoms
Marine Invertebrates I
Marine Invertebrates II
Marine Vertebrates I
Marine Vertebrates II
Marine Ecology
The Intertidal Zone
Estuary Communities
Coral Reefs
Continental Shelf Communities
The Epipelagic Zone
The Deep Ocean
Ocean Resources
Effects of Humans on the Sea
The book also has a glossary, an appendix with many helpful reference resources in it, the module summaries, and a list of lab supplies. It also has an index for looking up subjects quickly. In addition this book is filled with beautiful pictures, highlighted vocabulary words, and experiments for each module. The student notebook we received has a suggested daily schedule for working through this curriculum. It also has an area for notes from each module and personal thoughts on each module. It includes the On Your Own Questions, Study Guide Questions, and Summary of the Module that is also in the textbook. It also has a Lab Notebook that includes the experiments, questions, and a conclusion of each experiment from the textbook. There is also a special section on Presenting Your Research where it helps students create a presentation project for Marine Biology. The test and solutions manual has a blank test for each module and quarterly tests for the textbook. It also gives the test answers along with answers to the study guide questions and the answers to the module summaries. We also received the Marine Biology 2nd Edition Audio CD, read by Marissa Leinart to review. This audio CD is filled with mp3 tracks of each section of reading in the textbook. The tracks we listened to for Module 2 were matched the textbook exactly word for word. It is great for auditory learners or those that might struggle in reading the textbook.
Buddy's answers to the "On Your Own" questions
Area for notes for the module
This is what the experiments look like in the Lab Notebook section.
Buddy likes the way this curriculum is laid out and that it gives a set schedule to follow. I also appreciate this because it frees up my time to plan out other subjects. He said that he is looking forward to getting into further modules because the first couple that he has went through so far are pretty basic. He can't wait to start reading and learning about all the marine animals, but he knows he has to get through the basics first. I am glad that this curriculum does cover the basics that he should have learned in Biology, but only touched on in his Physical Science course. Buddy does enjoy using the Student Notebook. He likes having a place to write notes and having the questions all in one place instead of having to flip around in the textbook. I really like the lab notebook part of the workbook because it has everything listed out for each lab in one place. It also guides him through the different phases of scientific experiments. Buddy was not a huge fan of the audio CD, but it is only because he has a hard time focusing on what is being read when he is not the one reading. I like the audio CD because I can listen to his chapters ahead of time and know what he should be reading about. Buddy is looking forward to working through this Marine Biology course. He is glad it will count as a full science credit for his transcript. We definitely recommend this science curriculum from Apologia. It honors God, teaches students, and is interesting. You can find out more about all the products Apologia Educational Ministries has to offer on their
website
,
Facebook
,
Instagram
,
Twitter
, and
Pinterest
pages. You can find out more about and download a sample of the Marine Biology 2nd Edition Advantage Set we received
here
. You can find the audio CD we received
here
. As always you can see what my friends on the Homeschool Review Crew are saying about this curriculum by clicking on the banner below.