I personally believe that the most important thing we can teach children is the Gospel message and how they can get saved. I know that there are a lot of different methods of sharing the Gospel out there and I think this is a good thing since not all kids learn the same way. This is why was I very interested in receiving the
Gospel Tracts and Evangelism Tools Sampler Pack
from
Let the Little Children Come
to review. This sampler pack is full of tracts and tools for spreading the Gospel with children.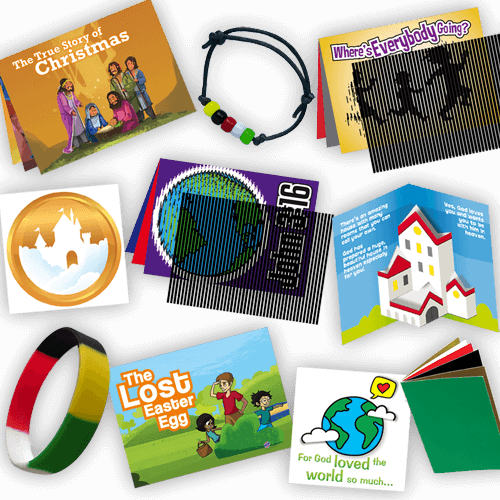 Let the Little Children Come is a company that is on a mission to provide effective and useful child evangelism tools and resources to share the Gospel message with children. They offer several different tracts, salvation bracelets, and other items designed specifically to help you teach children the Gospel message which is salvation through Jesus Christ. They offer many tools and tracts for specific occasions along with their general tracts.
The Gospel Tracts and Evangelism Tools Sampler Pack we received contains 10 of the most popular tracts and evangelism tools that they sell. It included:
John 3:16 Animated Tract
The True Story of Christmas Animated Tract
Where's Everybody Going? Animated Tract
John 3:16 FlipAbout
Gospel Buttons FlipAbout
The Most Amazing House Pop-up Tract
The Lost Easter Egg Pop-up Tract
Wordless Book
Wordless Bracelet Kit
Silicone Salvation Bracelet
These sampler packs are available on their website. They are $11.95 each if you order 1-10 packs of them, $10.95 each if you order 11-20 packs of them, or $9.95 each if you order more than 20 packs.

When these arrived we opened them to check them all out. I have to tell you that they are some of neatest tracts we have seen. Each of the animated tracts tell a story that you can easily share with children. Not only do they do that. They have fun pictures that you can make move using the special plastic film that is included with the tract. The John 3:16 Animated Tract helps you walk children through the Bible verse with neat moving pictures for each part of the verse. At the end of the tract, it tells us why this verse is so important and what it means. It tells how we can be with God forever and has a prayer the child can pray if they choose to. The Where's Everybody Going? Animated Tract is very similar. Instead of telling a Bible verse, it speaks about how God created us all and wants us to be with Him. It tells what you need to do to be with God forever and also shares a prayer that the child could choose to pray. The True Story of Christmas Animated Tract follows the same methods except it tells the story of Jesus' birth and how He can be your forever Christmas present. It also has a prayer to lead a child through if they choose to. These animated tracts caught our attention because of the fun moving pictures and the detailed stories. We all had fun making the pictures move and reading the tracts. These will be perfect for my hubby to share with the boys he teaches in the Awana program at our church because they are interactive and will hold their attention for a few minutes.
The FlipAbout books are a fun and unique way to share the message. They have 4 simple pictures that are used to tell the Gospel. You fold and flip the little books and then open the page to a new picture. The Gospel Buttons FlipAbout has a picture of heaven, a picture to represent sin, a picture of the cross, and a picture of a clean heart. The message is simple - God wants us in heaven with him, we can't just go live with him because of our sin, Jesus died on the cross to pay the price for our sin, and we can be made clean from our sin by believing in Jesus Christ. The John 3/16 FlipAbout use the verse to tell how we can be saved. My kids had a lot of fun flipping through these and my daughter said that her old Sunday School teacher had one of these to tell about the Gospel. Once you figure out the right way to fold and flip, they are a neat little tool to use and I like them because it is a simple message that is easy to remember.
website
or on
Facebook
. You can find out more about the sampler pack we received by clicking
here
. Also you can get more ideas of how to use these tracts by clicking the banner below and reading the reviews of my friends on the Homeschool Review Crew.