One of the things I like best about homeschooling is that if there is an area that your child struggles with, you can really focus on that area until it improves and you can constantly gauge where you are at in that process. I know that Little Miss loves to read, but she struggles with reading comprehension. I had already started to tackle this issue this school year when we received a 6 month subscription to
Reading Eggs
, which is an online reading program to review. This subscription includes access to all of their reading products - Reading Eggs Junior, Reading Eggs, and Reading Eggspress, along with access to Mathseeds their new math program.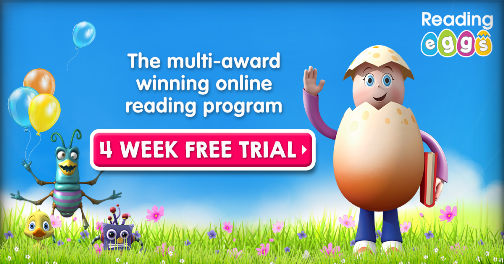 Reading Eggs is an online learning website that is for children 2-13. This is a wide age range, but they offer different levels of learning to different age ranges of children. For children ages 2-4, they offer Reading Eggs Junior. This first steps program has games, books, and videos that build pre-reading skills and help get your child ready to read. For children ages 4-7, they offer Reading Eggs. This program helps get children ready for school with self paced lessons. It teaches phonics, sight words, vocabulary, spelling, and comprehension to help your child learn to read and build their reading skills. For children ages 7-13, they offer Reading Eggspress. This part of the program focuses on reading comprehension, spelling, and vocabulary to build your child's reading skills and to help them understand what they read. Reading Eggs also gave us access to their Mathseeds which is their new math program. It is for children ages 3-9. It focuses on teaching core math skills and problem solving skills while being fun and interactive.
Each part of the Reading Eggs that we have tried (we did not try out the Reading Eggs Junior) has started with a placement test. This test has multiple questions and it determines what reading level your child starts at. In the parent area you can adjust the reading level that your child starts at or you can reset the placement test so that your child can retake it. I felt that Little Miss was placed at the right levels after her placement tests. In the Reading Eggs and the Reading Express there were several different areas that Little Miss could work in. There were the lessons of course that each worked on different skills. There was also a reading library with over 2,000 books, storylands, a story factory, driving tests, spelling areas, games, puzzles, English skills, the stadium, avatars they could customize, and places they could decorate. For everything that the student works on they earn golden eggs that they can use to "buy" decorations, play extra games, and customize their avatar. Reading Eggs offers lots of extras in the parent dashboard. They have activity sheets that you can print off and take on the go with you. These worksheets have a small story and then questions to answer. They also just released Homeschool Guides for Kindergarten through 2nd grade, These guides list a plan and the specific Reading Eggs programs and lessons that can be used to achieve them. They would be very helpful if you had a child in this age range. There are so many ways that Reading Eggs can be used in a homeschool setting. Right now you can get a
Free 4 week trial
to the program so that you can try it out for your own family. After the trial, they offer a monthly subscription, a 6 months subscription, or a yearly subscription for your purchase options.
These show their worksheets and an example of the worksheet.
Little Miss has been loving the Reading Eggs program. From the moment I got our account set up and logged her in, she took over. Even though the Reading Eggs portion is for ages 3-7, I did have her do the placement test for this part of the program. I just wanted to see what it was all about and before she could just play in this area, she had to do the placement test. She worked through the test with no issues. She ended up testing out at an age just a little below her actual age. I expected this because she doesn't always read carefully. I tell her this all the time, but it was really confirmed for me with this program. I have had her focus on working in the Reading Eggspress portion because it fits her age range. This part of the program also focuses on reading comprehension and I know this is her weakness. Little Miss really enjoys this part of the program. She has had to work consistently to bring up her comprehension level because this program is thorough and she can't just guess her way through the questions. Reading Eggspress asks comprehension questions not only about the details of stories, but also about the understanding of grammar and words. I like the fact that it makes her dig deeper and read more closely. I like it that this part of the program has challenged her because now she is starting to understand that she doesn't always read everything closely, but she is getting much, much better at it. She honestly likes working on this program. It is her favorite part of school every day and when I asked her why she liked it so much she said it was because it didn't feel like school work, it just felt like playing a game. She likes being able to go into different areas of each level and work on different tasks to collect eggs (points). She also asks me if her scores are going up and I have been able to tell her that on my dashboard, I can see that she is really improving in her reading comprehension and for this I am happy. Little Miss asked me if she can continue playing Reading Eggs every day even after I write about it and I assured her that it wouldn't be a problem.
They even send out progress reports. (I blocked out my daughter's real name)
This is a product I wasn't sure if we needed, but I thought why not give it a try. I am really glad we did. It has been helping Little Miss with her reading comprehension not only in the program, but also in her other schoolwork as she has started looking for the little details in reading. It is a program we will continue to use and one that I do recommend for any students that fit the 2-13 age range. You can learn all about Reading Eggs on their
website
,
Facebook
,
Instagram
,
Twitter
,
Pinterest
, and
YouTube
. You can take advantage of the Free 4 week trial by clicking
here
. I would also encourage you to read the reviews of my friends on the Homeschool Review Crew by clicking the banner below since we all have kids that are different ages and I am sure we all found different parts of this program helpful.