Purity is a tough, tough subject to approach with your teen, I know because we are currently raising a teen. It is such a delicate, but important subject to discuss with your kids. It's one of the subjects that we as parents dread, but we know we have to talk about it. We have discussed this subject with our teen, but it is always good to have other options for discussing this topic and all that goes with it. This is why I was intrigued to receive
Sex by Design
from
Abby Ludvigson
to review recently.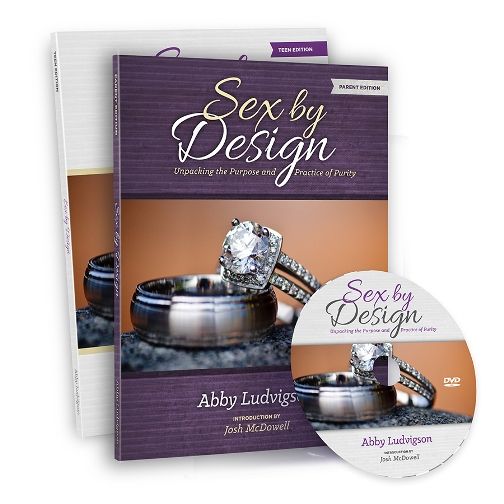 Abby Ludvigson is not a name that I had heard of before this review, but she has a message that she wants to get out. She has a message that God has laid on her heart and it is a very important message. Abby's message is all about bringing the truth for God's design for sexuality to youth and families. She knows what the world tells teens all about sexuality and she is on a mission to change what they hear and share what God says about sexuality and purity. She does this in a very sensitive, but matter of fact way. Abby has created Sex by Design to share her message. It is made up of 3 parts. It has a film series that includes 7 different lessons. The second part is the companion guidebooks that are for both parents and youth. These books accompany the lessons and give ideas and topics for deeper discussions. The third part is an online resource guide where Abby has put together various articles, suggested books to read, and topics to study for each lesson. This set is available on her website for just $55.00. You can even purchase extra teen or parent guidebooks if you are working through this series in a bigger group.
The 7 lessons that Abby teaches about in her film series are lessons that every teen needs to hear and think about. They are 7 lessons that every parent needs to watch and discuss with their teens. These lessons include:
Plan Ahead: Living Pure in a Sex-Saturated Culture
Counting the Cost: Every Decision Has a Price Tag
Dating: Doing Relationships God's Way
Sex: God's Purpose and Plan
Modesty: God Cares What I Wear
Pornography: Its Deception & Steps to Get Out or Stay Out
Secondary Virginity: Running Back to God
I know that some of these lesson titles sound scary, but they are not as scary as what the world wants to tell your teen about these topics. Each one of these lessons is presented very honestly, very openly, and grounded in Biblical truths rather than the lies from the world. Each lesson in the film series opens with real teens telling what their peers, media, and friends are telling them about each of these subjects. These teens talk about the pressures they face on each of these subjects and the way they try and deal with it. Then Abby speaks on the topic and presents the message she has prepared. Her messages are presented with facts, statistics, and what the world says versus what God says about each subject. The guidebook follows along with the lesson and has an outline you can choose to fill in for the lesson. Then the guidebook has a "Follow It Up" section which gives questions to ask and topics to chat about for further discussion. This is followed by a "Personalize It" section where your teen can work through steps to help them remember the lesson (for example lesson one is about purity so the personalize it mentions printing off a purity card from Abby's website and/or getting a purity ring as a visual reminder of your pledge). Finally the guidebook has an "Apply It" section. This section has ideas of things your teen can do to help reinforce the topic. It has suggested books to read, ideas to discuss, and encourages your teen to make a plan for being true to each lesson.
We used this in our house a little differently. We don't believe purity is a topic that can be rushed through or overlooked. I have watched all the videos in the series including the parent introduction video. These are GREAT videos. Abby does a fantastic job with the topics. She is very matter of fact, very real and genuine, and you can easily see her enthusiasm for sharing her mission. The topics of the lessons are SO, SO important in today's world where our teens are being bombarded with lies about sexuality, purity, and God. My favorite video was the lesson on modesty. Abby nailed it! She approached this topic not only from the point of view of what girls wear, but she also called out the boys for letting their pants sag and their boxers show. I appreciated this lesson so much because this topic is such a hot topic in our house as I try and teach my teen boy to not give the attention to girls who are dressed immodestly and I am trying to teach our young daughter why modesty is so important and we don't just wear the latest fashions without making sure they are modest first. I also really appreciate having the parent guidebook that I can look through and study. It has everything that the teen guidebook does, but it also has tips and notes for helping us parents talk to our teens. As a mom, I know that my son may not be as comfortable talking to me on these subjects as he is talking to his dad about them. That is okay as long as he knows he can come to me (he does) and as long as he is talking to his dad about them (he is).
My son watched the first two videos, but that is as far as he has gotten in this series. I am okay with this because they are videos you need to watch and let soak in. I want him to take this series seriously and do some deep thinking on each and every video. I also have him taking his time with his book work and then he is discussing it all with his dad. They are having good discussions and it is a good opportunity for my hubby to pour practical knowledge into him on this subject. We really want this to be something he takes his time working through and learn from it rather than rush through it all. I am not sure when he will finish this series, but he will finish it. In the meantime we get a chance to pray about the videos he will see and the discussions that hubby will have with him.
If you have a teen and you want a great way to discuss Biblical purity and sexuality, then I definitely recommend that you check out this series and book set. You can learn more about Abby Ludvigson and the mission she is on by checking out her
website
and
Facebook
. You can learn more about the Sex By Design product that we received by clicking
here
. You can also learn how my friends on the Homeschool Review Crew used this series with their teens by clicking on the banner below.