Literature is one of the subjects that is dreaded by my high school student. He knows he has to take it, but he doesn't look forward to reading or discussing books. This is why I was intrigued to receive
Illuminating Literature: Characters in Crisis
from
Writing with Sharon Watson
to review with Buddy recently. I wanted to see what this literature program was all about and if it would work for him.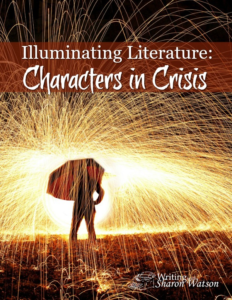 Sharon Watson understands that reading and writing isn't every student's first love. This is why she creates the programs that she does. She wants to help students learn to love literature and become a better writers. Illuminating Literature: Characters in Crisis was created as a year long high school literature class and it is worth 1 high school credit if your student completes it. This course does not have a specific grade associated with it, rather it is just suggested for high school use. It was created to help students become familiar with the terms and devices used in literature while they gain an appreciation for fine literature. It is also designed to develop better readers and to increase their writing skills. It features 38 lessons, a suggested weekly schedule, and focuses on reading complete novels or short stories. This course has your student read:
"A Jury of Her Peers'" by Susan Glaspell
Frankenstein by Mary Shelley
Silas Marner by George Eliot
Much Ado About Nothing by William Shakespeare
"A White Heron" by Sarah Orne Jewett
"The Garden of Forking Paths'" by Jorge Luis Borges
"Haircut" by Ring Lardner
"The Lady or the Tiger?" by Frank Stockton
"Of the Passing of the First Born" by W. E. B. DuBois
"A Child's Christmas in Wales" by Dylan Thomas
Sense and Sensibility by Jane Austen
Biography or Autobiography of student's choice
The Hobbit by J.R.R Tolkien
The Illuminating Literature: Characters in Crisis set that we received included the Textbook, Teacher's Guide, and the Quiz and Answer Manual. We were also able to download the Novel Notebook from the website for free and print it off. When this arrived, I read through the teacher's guide to see what we needed to do. I really like that this course is designed so that Buddy can work through it all on his own and I only need to provide guidance and discuss questions with him. I read through the first chapter of the student textbook so I could see what he would be working on and everything is very detailed and clearly explained. I knew that I could let him loose on it and he would be able to work away. It starts off with explaining the philosophy of the course and why the student should read literature. It then goes on to explain the different kinds of characters that are found in books. The textbook then gives the student a chance to use their favorite movie or book to explore the characters and see what kind of characters they are. The textbook clearly presents concepts and then builds on them.
Suggested schedule for the short story.
Chapter 1 of the textbook is where Buddy really started digging into literature work. This is where he learned he would be reading the short story "A Jury of Her Peers'." Before he read this short story, the textbook had him exploring empathetic characters and the context of the story in-depth. There were several things the textbook taught him to watch for and think about while he read so that he would understand the short story better. After he read the short story, there were several questions and activities for him to complete. These things taught him more literary terms and devices. There were also a couple of quizzes for him to complete. I could have had Buddy use the Quiz and Answer Manual, but the textbook also gives the option to take these quizzes online. The thing I liked about him taking the quiz online was that it was automatically graded for me and sent me an email of how he did on the quiz. He did well on the "Yes I read it" quiz, but not so well on the "Literary Terms Quiz" so I had him re-take the second quiz and then averaged the scores for that one. Then there were questions about the short story he had read. I had him write out his answers and then we picked a few to discuss. The final activity I had him do for this story was to write a song based on the short story. At first Buddy was not excited about this option, but when I told him he could be as creative as he wanted to, he didn't complain. He also created a pretty good song. The other part he liked was the Novel Notebook. This helped him keep track of important thoughts while he read. He also said the questions that were in the notebook about the story helped him know which parts were really important. It was a good tool for him to use while he was reading. I liked the Novel Notebook because I could look through it and quickly see what he should focus on for each book.
Buddy isn't a huge literature fan, but in this case he thought there could have been more details.
The second chapter of the textbook begins the work for the book Frankenstein. I had Buddy begin this chapter while I did some research on this book. I have never personally read or watched Frankenstein so I had no clue what it was about. After I did some research on this book, I decided that as a freshman, Buddy is just not quite ready to read it yet. It has some pretty in-depth and mature topics for this book. I do appreciate that Sharon Watson uses it and why she uses it. She picked it for the themes in the book, but there are a few ethical dilemmas in this book that I personally feel are best for older high school students. I substituted a different book and we will pick up again with the next chapter and the next book which is Silas Marner.
Buddy liked the creative activities.
Themes of Frankenstein in the Teacher's Manual
Overall, I feel like Illuminating Literature: Characters in Crisis is a good fit for us. I like the way literature is broken down into understandable pieces. I like that she tackles one part of literature at a time and digs into it so that students can understand it. Buddy and I both liked that he could work through this course at his pace and we can easily adjust the weekly schedule it we need to. Buddy is not a huge fan of literature or reading, but he did say that this course was easy for him to understand and he liked that he could be creative with the projects at the end of the chapters. He liked that it encouraged him to tell the stories in different ways and think about how the story would be different if you changed bits and pieces. Even though I didn't have Buddy read Frankenstein, I am using the work in the textbook as a guide to the book he is reading instead. I feel like you can alter this course if needed. We will continue working through this course for the rest of the school year.
I liked the graded online quizzes (I had Buddy use my name instead of his).
If you have a high school student and need a literature course, we do recommend you check out Illuminating Literature: Characters in Crisis and see if it is a good fit for your student. You can learn more about the course we received by clicking
here
. You can learn more about Writing with Sharon Watson from her
website
,
Facebook
, and
Pinterest
. You can also check out what my friends on the Homeschool Review Crew have been using this course by clicking the banner below.